2020 in Review – Top 5 Rides from PBR Canada Competition
By: Kacie Albert Tuesday, December 8, 2020 @ 11:44 AM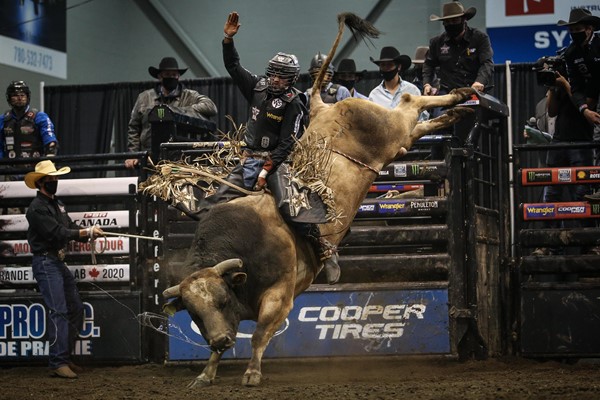 NEW YORK CITY – While the 2020 PBR Canada season may have followed a trajectory unlike any other, it wasn't without its monstrous rides.
As the 2021 campaign begins to take shape, we look back at the Top 5 rides recorded this past season on Canadian soil.
No. 1: Dakota Buttar rides Tykro Pound Sand for 90.5 points at the Glen Keeley Memorial Bull Riding in Stavely, Alberta
In 2020, Dakota Buttar matched up with the Wild Hogg's Tykro Pound four times, reaching the requisite 8 each time. While all of the rides propelled Buttar to victory, inching him closer to the 2020 PBR Canada Championship, none was marked higher than his season-best 90.5 point trip aboard the two-time World Finals bucker at the Glen Keeley Memorial.
"There were a lot of good bulls in that short round at the Glen Keeley, easily five or six that I would have picked, but when he is in there it's hard not to pick him, especially with how much I have been on him and all the luck I have had on him," Buttar said. "Why change something that is working?"
RELATED: Buttar Captures Coveted Glen Keeley Victory as His Dominant 2020 Season Continues
"Every trip he seems to have that little bit of move forward, which can shake you loose a little bit. The trick to him is you have to wait on him enough so that he doesn't drop you in there when he moves ahead, but you have to be ready to be there when he does. You have to wait to go at him."
Across all levels of competition, the 90-point score is fourth of Buttar's tenure with the PBR, and ties for the high-marked ride of his career. The Saskatchewan man was also marked 90.5 points on Rising Sun in 2018 in Milwaukee, Wisconsin.
No. 2: Lonnie West rides Happy Camper for 90 points during the PBR Shell Rotella Challenge part of the 2020 PBR Canada Monster Energy Tour Finals Week in Grande Prairie, Alberta
After an injury-riddled 2019 season, Lonnie West returned to competition in March 2020, keen to capture his first national title and return to the PBR World Finals. However, just one week after his return in Lethbridge, professional sports came to a crashing halt as the world responded to the onset of the COVID-19 pandemic.
RELATED: Lonnie West to Return from Injury at Monster Energy Tour Stop in Lethbridge
Competing at the limited events that were able to be held throughout the year, West quickly regained his form which led many to recognize him as one of the nation's preeminent talents. Recording an event win and five additional Top-10 finishes throughout the regular season, the Albertan concluded the unique season in momentous fashion.
Marked 90 points for the first time in his career, West won the third of four events that comprised the 2020 PBR Canada Monster Energy Tour Finals Week in Grande Prairie, Alberta, compliments of a monstrous 90-point score on 2018 PBR Canada Bull of the Year Happy Camper.
"This is the season for me, West said. "I have needed this. I've been battling injuries for a long time and I've always said if you can stay healthy you can win, and things are feeling good finally.
"It sucks not being able to come here to the fans and big lights and stuff, but, at the same time, I was telling my buddy Ty Prescott, we've been doing this since we were 9 or 10 years old, every year. So they break has been good, but I'm glad to be back.
The 90-point score is now the high-marked ride of West's career and propelled him to finish the season No. 6 in the national standings.
No. 3 (tie): West rides Finning Lil Shorty for 89.5 points at the first-ever Tanner Byrne Invitational in Prince Albert, Saskatchewan
Before West had his milestone moment in Grande Prairie, he had a standout moment at the inaugural Tanner Byrne Invitational, part of the Touring Pro Division, in Prince Albert, Saskatchewan.
Having ridden at just three events to date, West had only experienced success once prior, finishing eighth at the second of two closed Monster Energy Tour events in Lethbridge, Alberta.
However, that all changed in Prince Albert.
Going a flawless 2-for-2, West captured his first victory of 2020 and catapulted from No. 27 to No. 13 in the national standings. After riding Broken Trigger for 86 points in Round 1, West solidified the victory with a massive 89.5-point score on Finning Lil Shorty.
RELATED: Lonnie West Dominates in Prince Albert to Win Inaugural Tanner Byrne Invitational
The picture perfect ride at the time tied for the high-marked ride of West's burgeoning career, having first been marked 89.5 points in August 2014 at the Livingston, Montana, Touring Pro Division event when he rode Cooper Tires Semper Fi for a matching score.
No. 3 (tie): Jared Parsonage rides Homegrown for 89.5 points at the Monster Energy Tour's South Country Co-op Showdown in Lethbridge, Alberta
While he may not be the flashiest rider in the league, Jared Parsonage is one of the most consistent cowboys, capable of recording monstrous scores.
And despite the shortened season in 2020, Parsonage delivered one of those moments, reaching the 8-second whistle for what tied for the third-highest score on Canadian soil throughout the season.
On the heels of his career-first PBR World Finals in 2019, where he went a near perfect 4-for-6, and finishing third to the PBR Canada Championship, Parsonage picked up right where he left off.
The Saskatchewan man started the 2020 PBR Canada season with two consecutive Top-5 finishes and a third-place result in the first ever 5/5 Bucking battle as the nation's elite Monster Energy Tour prepared to travel to Lethbridge, Alberta.
A city where he has experienced great success, Parsonage was the defending winner in the city, having topped the field in 2019.
RELATED: Gear Bag Reunion Propels Parsonage to No. 1 Ranking in Canadian National Standings
While Parsonage was unable to defend his title, finishing fourth overall, he won the championship round with the second-best score of his career, an 89.5-point effort on Homegrown.
As the season unfurled, Parsonage continued to excel, once again finishing inside the nation's Top 10, ranked No. 7 at year-end.
No. 3 (tie): Logan Biever rides Big City Nights for 89.5 points at the Touring Pro Division's event in Dawson Creek, British Columbia
One week after Daylon Swearingen was crowned the 2019 PBR Canada Champion, the 2020 Canadian season got underway with a Touring Pro Division event in Dawson Creek, British Columbia.
Quick to get back to work, Logan Biever wasted no time in showing the global PBR fandom he would be a top contender for the year's national championship.
Delivering a perfect 2-for-2 performance, Biever captured his career-first PBR victory, surging to the No. 1 ranking in the national standings.
RELATED: Logan Biever Surged to No. 1 in Canada with Career-First PBR Win in Dawson Creek
In addition to the aforementioned career milestones the Albertan rider reached at the British Columbia event, he also recorded what remains the high-marked ride of his career, an 89.5-point score on Big City Nights.
"I feel like I can ride a lot of them bulls, but capitalizing on every bull that you get on is very important,' Biever said. "A long round bull is just a long round bull and you've really got to capitalize in the short round. Keeping your consistency up and always having at least a Top-5 finish, getting points every weekend. That's definitely probably the biggest thing that's going to come into play is just really keep that consistency up."
RELATED: Attitude Change Propels Biever to New Heights
"You want to keep climbing the ladder and go bigger and better places every chance you get, but if you keep your consistency up, you're winning more money, you're going more places, whether that's down south or wherever it's at. I want to go down there and then the end game plan is to end up at the World Finals."