Eno Turns Heads in Monster Energy Tour Debut at Lethbridge Double-Header
By: Covy Moore Wednesday, August 12, 2020 @ 6:51 PM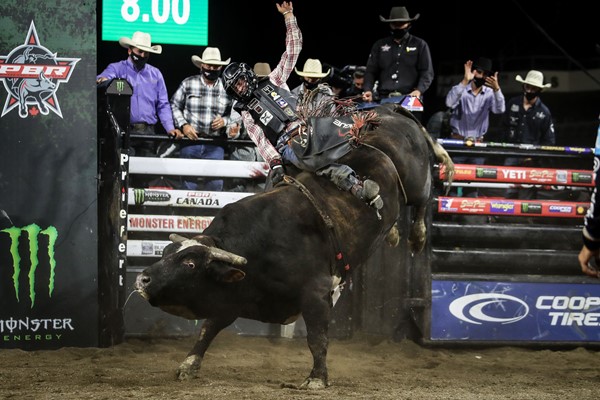 AIRDRIE, Alberta – For Tanner Eno, Lethbridge was a coming out party.
The 21-year-old bull rider entered the PBR Canada Monster Energy Tour Cooper Tires Invitational having entered only one PBR event prior.
Eno, son of stock contractor Darin Eno, says that despite getting a late start into bull riding, coupled with not rushing through the ranks, he's been set up for a successful debut.
"I never started getting on bulls seriously until I was about 16 years old," Eno began. "My dad said, 'I know you want to ride bulls, but I don't want you riding bulls until you know that's everything you want to do. You have to be thinking about it when you go to sleep, when you wake up, everything.'"
With an offer to attend one of Canada's highest paying open bull riding events in Edson, Alberta in 2018, Eno respectfully turned down the opportunity, instead travelling to the United States to spend time with Cody Custer and learning more about the bull riding world than one could at most schools.
"I told dad that it's a big bull riding, and he replied, 'Do you want to ride bulls for one bull riding, or do you want to ride bulls to be the best at it,'" Eno said.
"In three days I think I got on at least 22 bulls, sitting and visiting with Cody. The big thing he preached was that you can do and turn 18 and go. But, he was always of the mindset that I want to come here and turn heads and make people know I am here to stay. You had better be ready in my opinion."
For the first of the two events in Lethbridge, the PBR Cooper Tires Invitational, Tanner was the second rider to reach the 8-second mark in Round 1, marked 83.5 points Muddy Water.
The big down-horned bovine athlete is a veteran of the PBR Canada ranks, and an ideal draw for Eno.
"It was a relief," Eno said of recording a qualified ride in his first out on the Monster Energy Tour. "I knew the bull and have seen him lots. That one is perfect. He is everything you could want, he kicks and spins and is big. I am ok with the big ones because it gives me a little room for error."
"Once I got off of him, it set in," Eno continued.
"I don't know if the whole day set in till I was on my way home, but it was a relief. I had worked all those years and I was finally there. It was just a relief. It was dang sure a feeling you can't really explain."
Despite bucking off his championship round bull Swagger, Eno tied for fourth, taking home a cheque for $882.19, in addition to 25.5 Canadian and 3.5 world points.
RELATED: Brock Radford and Ty Ellis Tie for Win at PBR Canada's Historic Return to Competition in Lethbridge
Later that day, the evening featured the second event, the PBR Built Ford Tough Invitational, which unfolded very similarly for Eno.
While Eno got on a jammy bull from the Flying Four pen named Finning Twitch in Round 1, bucked off in 4.3 seconds in Round 1, he advanced to the final round on time.
Initially drawing Power Dozer, Eno earned a re-ride, with his finish resting in how he handled PBR Canada Bull of the Year contender Whiskey Hand.
"To be honest, after I got the re-ride, I was pretty soreor tired, or both," Eno recalled.
"I don't know what it was, but I quit being sore and tired and said alright lets go when I heard what the re-ride bull was.  I said to my dad, if that bull knew where I have been and where he has been, that bull would think this is a day off. He laughed, and said he is just a bull. It helped me for the fact that he is just a bull, no matter the hype behind him."
"At the end of the day, my dad has always said, 'A bull is a bull and they are only as bad as you make them. They go up and they go down and if you keep it that simple there isn't going to be a bull that ever gets inside your head,'" Eno added.
Coupled with the beliefs of his father, Eno also received some last minute advice from a two-time PBR Canada Champion Zane Lambert, just what was needed for the young cowboy.
"Before I got on him, Zane came over to me and said that this bull is going to feel really good, but the trick is to not get ahead of him because of how good he feels. When you are riding him just keep reaching for the outside horn," Eno said.
"I don't remember thinking about it, but that really helped me," he continued.  
"I sort of knew what to expect. When you watch it, it looks like I'm spurring him, but I am hustling, and I could have been spurring him, but he was surely yarding my foot out there and I was having to reset it. At about 4 or 5 seconds it started slowing down for me. I was able to breathe.
"When I got off, the feeling was amazing. You want them to run more in, the adrenaline is so high. It's hard to really describe."
Reaching the 8, Eno was marked 87.5 points, propelling him to fourth in the event, and netting him a check for $1,085.03, 32 Canadian and four world points.
RELATED: Garrett Green Dominates the PBR Built Ford Tough Invitational to Win PBR Canada's Historic Return to Fan-Attended Events
Earning a collective 57.5 national points, Eno went from unranked to No. 9 in the Canadian standings.
With a locker room full of great bull riders to draw experience and inspiration from, including Lambert, Eno says that there is one rider that he looks up to most.
"There are a lot of guys that I look up to and they are awesome to me. If there is any guy that I look up to the most its probably Brock [Radford] because of the simple fact that he is just Brock. He doesn't sugar coat anything and is always rooting for everybody. He is as happy as you are when you do good. And that is one thing I like him, he always makes you feel like he is pulling for you, he pumps you up. Makes you feel like you belong."
For 2020, a year which will undoubtedly go down in history, Eno left Lethbridge and set some goals. Being a rookie, anyone would want to nab that PBR Canada Rookie of the Year title, but he said that seeing a bit of success at PBR's top stage in Canada has put a little bit more fire into his veins.
"My goal for the year is to be the PBR Canada Rookie of the year and end the year in the Top 5 in points," Eno said.
"If you asked me before Lethbridge I don t know if it would be the same. Definitely that Rookie of the Year title though. To be able to make so many points in one event, that goal isn't out of reach. At the end of the day every time I show up I want to win. The very biggest goal is to end up No. 1, but that main goal for this year is that Top 5 and be the Rookie of the Year. I am just happy to be able to get on the best bulls in Canada and go, and hang out with all your friends."
Fans can relive all the action from the PBR Cooper Tires Invitational and PBR Built Ford Touch Invitational today on at RidePass.com or via the RidePass app available on iOS, Android and Roku.