Tanner Byrne Forecasts Successful Conclusion to 2020 after Fast Start to Season
By: Covy Moore Wednesday, April 1, 2020 @ 5:44 PM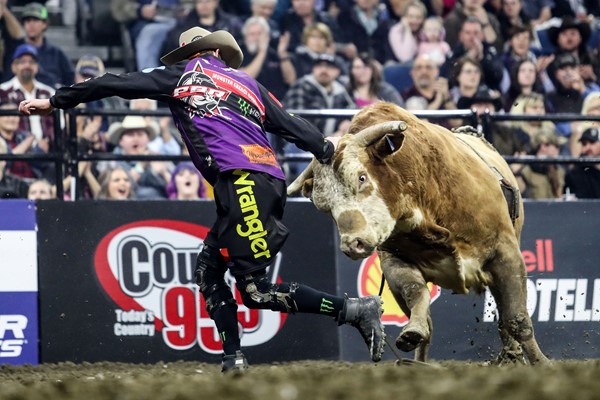 AIRDRIE, Alberta – Bull rider turned bullfighter Tanner Byrne admitted that he was a hermit before this unprecedented slowdown began.
Despite the pause, however, which has slowed the entire world of professional sports, the Saskatchewan man says that it's giving those in the bull riding world a chance to recuperate and focus on their fitness, both mental and physical.
"To tell you the truth I am a bit of a hermit, so none of this has really been different, most of the work I do is inside my house as it is," Byrne remarked. "I've been doing lot of yoga, which is great for your body and your mind.
"It's sort of the same things that I have always done, the physical and mental side of it, and it's going to be the same as with everyone else.
"When we get going again, you're going to see the best bull riding you have ever seen in the history of the sport. I don't know anyone in this sport has ever had time off like this to heal your bodies."
While each and every bull rider takes their health and wellness seriously, Byrne expanded on what this slowdown can really mean for riders who at times will ride through soreness.
"When I took the time to be ready to go after an injury when I was still riding, I was the best I ever was when I came back. A lot of these guys don't even know what normal feels like because you can't take too much time off in this sport. Riding through injuries, you see the wear and tear on them and you don't get to see some guys' full potential."
And nowadays, while that time at home for Byrne still remains a great recovery window, it is also a newfound opportunity to spend more time with his two his two young daughters, something he admitted was tough when he was riding bulls.
"I spent a lot of the years of Layla's life, from when she was born till about she was three-and-a-half, on the road," Byrne reflected.
"It's amazing to be able to spend every minute with them," he added as he thought of the present.
"When you have kids, people say everything changes, and they're right. I have a whole new outlook on life. I want to make sure I do everything I can for these kids to make sure they have the best life possible.
"It's a learning experience every day, and they are always on the go. It's been a quiet quarantine, but it's been very busy inside these four walls that is for sure."
Looking back at the start of 2020, which was busy for him as one of the primary PBR Canada Monster Energy Tour bullfighters, Byrne couldn't help but to still be left in awe by some of the incredible displays of athleticism he had seen. From the dominance of Canada's No. 1-ranked bull rider Dakota Buttar, to his own successes as a bullfighter, Byrne says the season started off on a fantastic note.
"We had two great events to start the year off in Calgary and Lethbridge, where Dakota Buttar went on a roll and rode everything, doing things that we all know Dakota Buttar does. He is on pace for a record setting season," Byrne said.
One of the standout moments from a bullfighting perspective was Shay Marks' wreck on the second night of competition in Lethbridge.
Unable to defend himself, Marks had three of Canada's best looking after him and controlling the chaos.
"It is something I do not take lightly at all," Byrne said. "When there is a wreck that comes about like the one with Shay, it's forget about everything you have in regards to your own self and do your job."
"Once Shay hit the ground that bull was more or less wanting to get out of there," Byrne said further of the intense moment. "Me and Junior [Loring] took off after him. If he had a little fight in him, we were standing right there in the way and he wasn't getting to Shay. He would be taking us down before he ever got to Shay.
"[The bull] took off past us and [Ty] Prescott was sitting overtop of Shay in case he come back over that way, he would be stepping on Prescott instead of Shay."
Adding to Byrne's already long list of roles in the industry, and that of fulltime dad, he is also a major part of the Flying Four Bucking Bulls operation with his family, including father, and famed bullfighter, Ryan.
"We were having a good winter, we had a lot of young guys interested in practicing this winter," Byrne said of the stock company's busy practice pen. "I like to help out the young guys and the guys who want to get on practice bulls to elevate their game."
"We have a lot of potential out of the Flying Four pen with some coming four year olds," he continued.
"There will be a bunch more Evil Genius calves on the ground this year that will get bucked and we will see what we have.
"I am pretty excited about the future."