Rank Reports: Minion Stuart
By: Covy Moore Tuesday, April 7, 2020 @ 4:43 PM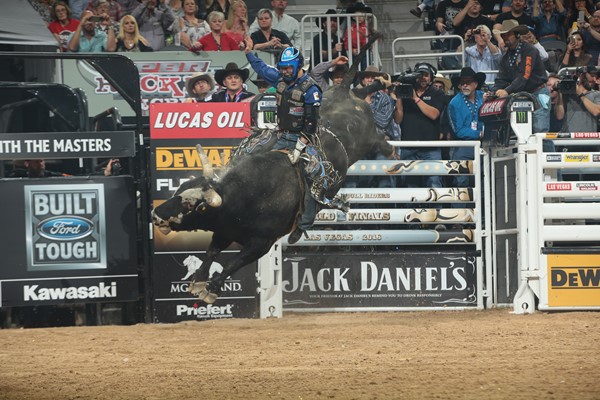 AIRDRIE, Alberta – Since launching in 2006, PBR Canada has had countless incredibly talented bovine athletes take to the dirt to do battle against the country's finest. 
But before those bulls ascend to stardom, each is named, resulting in a unique story.
Some contractors work with sponsors to help pave the way for new money and support for the sport, such as Tykro Pound Sand from the Wild Hoggs. 
Others have heartfelt origins rooted in sentimental meaning, such as Cooper's Comet named in honor of a fallen member of the Vold clan. 
But for 0819 Minion Stuart, a standout from Ellie and Lane Skori, his name came easy when the then three year old was brought to his first PBR Canada event in 2013, the season's finals.
"When we took him to Saskatoon in 2013 we told Jason [Davidson] he was just a number, right hand delivery. Jason wanted a name, and we told him we hadn't thought of one yet. Jason said he'd care of it," Lane Skori said. 
"We showed up and that was his name. Dad always went by the rule that you don't change a bull's name. He has always been like that. Jason said he walked into [his son] Sutton's room, and asked what he would name a bucking bull. He said 'Minion Stuart' and that was it. He said he never even hesitated for a second or anything, just blurted out Minion Stewart."
Minion Stuart was officially retired at the end of the 2019 season.
RELATED: Minion Stuart Retires as One of Canada's Greatest Ever
The 2015 PBR Canada Co-Bull of the Year, along with Wild Hoggs' Hey Jack, was known as one of the longest running, most consistent bulls the country had on offer. 
"As a dummy calf he was pretty good, he wasn't the best out of the group with the dummy, but we figured he might do good with a rider because of how hard he tried and how hard he kicked, he was a little wild and a little mean," Skori said.
"He was the one that fit the part, but he hadn't been to a PBR," Skori added as he emphasized the bull's prestigious selection to make his PBR debut at the Canadian Finals.
"Jason trusted us, and that first trip just happened to be the Canadian Finals. We knew then he was reliable. Lachlan [Richardson] went 86 in his first trip.
"I think that was his only long round trip for the next four years."
On the opposite side of the draw, and now regarded as one of the nation's top talents, Brock Radford was beginning his career just as Minion Stuart was cementing himself as one of the nation's top bovines.
In the time that past prior to Minion Stuart's retirement, the two meet on six different occasions, with three resulting in a qualified ride, and three a buck off.
"He was everything you wanted in a bull," Radford said.
"I don't know his exact percentage or how much a guy won on him, but it was very high. If you had your name next to that bull, you had a chance to win. You had to definitely do your part.
"He had that mental aspect," Radford continued. "He could really get in your head. He is big, big huge horns and likes to mess with you a bit in the chutes."
"He was just an ultimate athlete year after year. Not only was he one of the best bulls for those years, but he was putting on more trips than any other bull too. Those Skori bulls are serious bucking bulls, they handle it, and they go."
Smack dab in the middle of the Radford vs. Minion Stuart saga was an unforgettable matchup in London, Ontario where Radford finished the job for 88 points after being drawn back to the short round.
After the whistle blew, however, Radford was sent flying over the fence and into the crowd. 
"Back then, I was bull riding cheque to cheque, and I was definitely stepping out of my comfort zone then," Radford said. "I remember being bummed I had bucked off in the long round. Jason Davidson came to me and told me I had Minion in the short round. I was instantly excited. 'There we go, one bull that can save my event,' I thought. If I can get by him again that will save my event, andI can probably win the short round on him.
"I did not expect him to throw me into the first row in the crowd, that's for sure," Radford continued. "That was one of my most memorable rides, not just cause he threw me over the fence, but because he was the first Canadian Champion Bucking Bull I had ever ridden."
Current PBR Canada No. 1 Dakota Buttar also saw Minion Stuart in competition on two occasions, however was never able to make the 8 seconds. 
"Me and old Minion didn't get along so well," Buttar remark. "Once I got on him I got to about 7.7 seconds and the other time it was pretty quick. He was one of those bulls that truly loved what he did and playing the game, and it showed."
In addition to making his mark in Canada, Minion Stuart also excelled stateside. Selected to buck at the PBR World Finals three times, Minion Stuart earned two trips during each of his trips to Las Vegas for the sport's most prestigious event. Of those six outs, five yielded scores, all placing the respective rider in the Top 4 for the round.
 "It is cool to finally get to go to Las Vegas with one," Skori said.
"He puts you on the map, and helps make some contacts for sure. That is how we got to know Gene Owen and sell him Two Point Oh.
RELATED: Star in the Making – Two Point Oh
 "It's all genetics. Our cow herd is getting pretty good now. Only a matter of time until we see the next Minion Stuart," he said. 
And while Minion Stuart has plenty of life left in him, the decision for him to retire was one that took great thought to ensure that he concluded his career on a note fitting for a bull of his stature.
"You want to retire them before they go out of their prime," Skori said. "You don't want to have guys remember him as something not as good as he was. You don't want to see them have lower scores, or getting sent to the long round. You don't want to send them out on that note."  
Nowadays, Minion Stuart is enjoying retirement, however remains busy as the Skori Bucking Bulls operation is hoping to see a few Minion Stuart sons come up.
And with four yearling bull calves already to his name, Skori says the bloodlines are on their way.
"They are just turning one, so we will buck them next summer, or maybe later this year because they are looking pretty big," Skori said. 
"They definitely have the look and the aggression. I think we might have some good ones in there."