Rank Reports: Johnny Ringo
By: Covy Moore Friday, April 24, 2020 @ 12:52 PM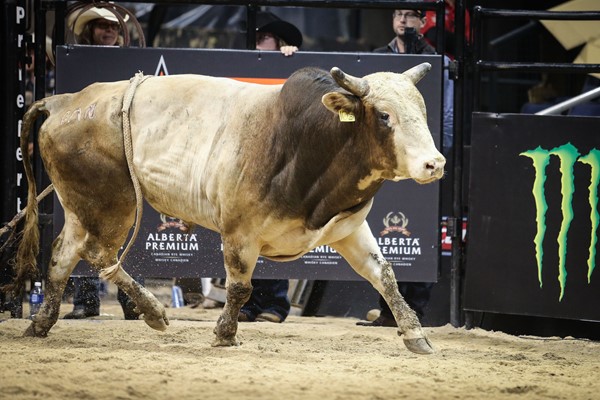 AIRDRIE, Alberta – When you look back through the history books of the standout Vold owned bucking bulls, the list is extensive. With the outfit's pen producing the likes of VJV Slash, Cooper's Comet, Nailed and Canadian Mist, it's without question that they are known for world class bucking bulls. 
But there is one standout bovine athlete from the Volds, however, that often slips through the cracks. 
A two-time PBR Canada Bull of the year, Johnny Ringo has helped carry some of Canada's biggest names to titles and cheques across his career which is still ongoing. 
Originally owned by Jackie and Nate Gardner of Rafter G Cattle Company in Arrowwood, Alberta, Nansen Vold says that bull is memorable not only for his titles, but for how he easily punched above his weight in the arena. 
"He really bucked from day one," Vold said. "Nate was still packing bulls back then, and he was starting to slow down with the kids starting to rodeo. A couple bulls were up for grabs and I liked that bull a lot. We made a deal with him for [Johnny Ringo] when he was four or five."
"We went hard with him that first year we had him and he ended up winning the bull of the year," Vold said further, specifically of the 2016 season. "He is just a little jersey Brahma, he had a good heart. He was slab sided and hard doing."
Purchased from Gardner in 2015, Vold clearly remembers the trip that solidified his want of the bovine athlete.
Bucking in Coronation, Alberta on the Touring Pro Division in August 2015, Johnny Ringo made quick of Shay Marks, sending him to the dirt in 2.33 seconds to earn a 43.5-point score.
"That was the trip I said I need to have that bull on my truck. That is what sold him to me," Vold said. "He was very fast, he was under marked that day."
"He had another good trip with Garrett Green in Winnipeg in 2016 that stands out too," Vold added of the bull's 1.54- second trip that was marked 44.5 points.  
"He made quick work of him and he was toward the top on top bull that day."
And Johnny Ringo's performances only continued to improve as he logged more outs.
In his very next trip following his standout performance against Green, Johnny Ringo carried Ty Pozzobon to an 89 point score, and event win, in Abbotsford, British Columbia on the Monster Energy Tour. Not only did the trip solidify Pozzobon's event victory, but also allowed him to clinch the year's PBR Canada Championship, one full event prior to the 2016 PBR Canada Finals. 
"That Pozzobon ride was one of his best," Vold said. "Hometown, home province, home crowd and we got that handled for a bunch of points." 
And what characteristics does Vold credit for making Johnny Ringo a two-time PBR Canada Bull of the Year?  
His work ethic in the arena, and tall, yet slender, build. 
"He was a long-legged, narrow-backed, hard-doing, son of a gun, but he had lots of fire," Vold remarked.
"He always looked like he was underweight, but he never slowed down. He always had lots of go to him. That's what made him buck hard, he wasn't packing around as much weight as some others."
That fire was never more evident than the bull's trip in September 2017 at the annual Glen Keeley Memorial Touring Pro in Stavely, Alberta. Matching up with PBR Canada title contender Jared Parsonage the two teamed for a 90-point score, earning the Saskatchewan rider not only a piece of the event tile, tying with Zane Lambert, but also a $12,500 bonus.
 "There were no bad comments for that bull," Vold said. "He might be a little bad in the chutes once in a while, hip himself once in a while too, he didn't always get away clean, but once you make the corner on that bull he was all there, especially for a little guy." 
"For a big guy like Jared to get on him, it's not always the easiest for a bull, but he powered through and was still 90 points. He had a lot of heart that bull did."
While Johnny Ringo no longer calls Canada home, now bucking for Kruger Bucking Bulls based in Missouri, the impressive bull is still logging both PBR and rodeo outs alike. 
In 2020 alone, Johnny Ringo has made three trips on PBR's Pendleton Whisky Velocity Tour. Delivering his high-marked trip of the year at his first out of the season in Grand Rapids, Michigan, Johnny Ringo went on to also buck in Worcester, Massachusetts, and Bangor, Maine.
"He isn't in the big leagues anymore, but he is also 9-years-old. He has still got it. At the Velocity level he is really really good there."