Chotowetz Returns to Farming Roots, Patiently Awaiting Bull Riding's Return
By: Covy Moore Thursday, April 9, 2020 @ 2:47 PM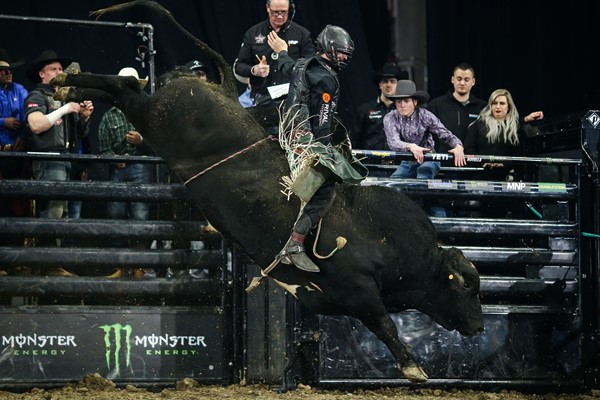 AIRDRIE, Alberta – Major, Saskatchewan's Todd Chotowetz is a perennial favorite in PBR Canada competition.
Recording two event wins in 2019 on the Touring Pro Division in Falher and Teepee Creek, Alberta, Chotowetz, who concluded the year with a career-best finish at the Canadian Finals, is only getting stronger.
RELATED: Chotowetz's Climb Continues – One Bull at a Time
But with an unexpected hiatus after a self-proclaimed tough start to 2020, Chotowetz is focusing on his farming and ranching operation with his family, while supporting his girlfriend Catherine, a Registered Nurse through a very tough time for medical professionals.
"They are really in the danger zone now while we all sit back and stay home and stay safe," Chotowetz said. "They are the ones risking quite a bit for all of us."
"I think people just have to use their heads and follow what's being said with staying home. All of the other stuff can wait."
With a loved one on the front line of this pandemic, Chotowetz reiterated that what the majority of the world's population is being asked to do is very easy in comparison to other crises that have come and past.
"I saw a thing that rang true to me, that said, 'Our grandfathers went to war to keep us safe, now our grandparents are asking us to sit at home on the couch to keep them safe.' When you put it like that it's pretty simple."
A global concern echoed across Canada is the need for personal protective equipment (PPE), a necessity to keeping front line workers safe.
"It's been pretty good so far out here from what she is telling me," Chotowetz said.
"People aren't coming into the emergency rooms just for any little thing like they usually do. People have taken that message. But at the same time they are really running low on their PPE equipment. That is pretty scary because if they don't have what they need to deal with these sick people then you lose your frontline workers and who knows where this all goes from there."
Chotowetz, alongside his brother and father, are currently calving 500 cows before hopefully taking to the fields in early May to begin seeding. The bull rider, known as "Farmer Todd" has his hands full with work at home, but is keeping a close eye on when bull riding, as well as many other professional sports, will resume.
"I am planning on getting on some practice bulls here soon," Chotowetz added. "Staying in shape too, I am finding a bit of time to do some drills and riding the Buckrite and whatnot," he said.
"This last little while I would head down to the Carlier's [X6 Ranch] and Tristen and Lindsay would run up whatever a guys wanted.
"[Bullfighter] Scott Waye is right around there, Wacey Finkbeiner and Jared Parsonage are right around there, so we always seem to pull a few guys together and make a fun night of it."
"For me it is all mental," Chotowetz added.
"I feel like I'm at the age where my body doesn't forget what we are doing, I just have to speed things up in my mind. I don't know it helps a lot, but it sure makes me feel better having a few bulls under my belt when you get going again."
Chotowetz admits he was a little rusty when 2020 season launched with stops in Lloydminster, Calgary and Lethbridge.
Going 2-for-6, the 26-year-old recorded his best finish at his first event, delivering a ninth-place result in Lloydminster.
"The off season was short, but is sure felt long. It was only a month off, from the last one till that first one of the year," Chotowetz said.
"I got off to rough start, the first two events I didn't do that well. Then I found it, and got it turned around at Calgary and got a good start to the year, but then this all started happening."
With the newfound time to refocus, Chotowetz is confident he will be turning heads when the PBR Canada season gets going again.
"When we get going again it is going to be better than ever, I know myself included, and everyone else, we are as hungry as we've ever been. The competition is going to be something you haven't ever seen before in bull riding."