Built Ford Tough Top 50: Zane Lambert Calls His Ride to Become Second Multi-Time Champion in League History
By: Kacie Albert Thursday, April 9, 2020 @ 10:27 AM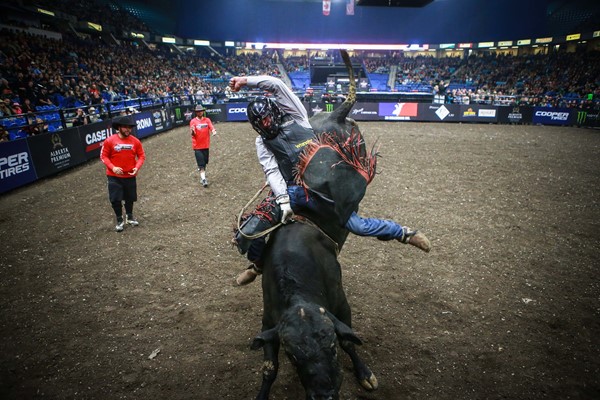 NEW YORK CITY – In sports, it is unusual for an athlete to accurately call their shot.
With the most iconic instance of this rare feat being Babe Ruth's home run from the fifth inning of Game 3 of the 1932 World Series between the New York Yankees and Chicago Cubs, in 2017 one was witnessed in bull riding.
Seeking what would be his historic second PBR Canada Championship, Zane Lambert entered the 2017 PBR Canada Finals No. 2 in the nation, 379.16 points behind then No. 1 Brock Radford. Having won the Finals event title the season prior, Lambert entered the season-culminating event amidst a hot streak, having gone 9-for-12 at the four events prior, covering his past three bulls.
RELATED: Lambert Makes History with Second National Title
In Round 1 of the Canadian Finals, while Lambert recorded a score, covering Finning Lil Shorty for 86 points, Radford expanded his lead atop the rankings, widening his lead of Lambert to 504.16 points.
Then Lambert made what would become a historic comment.
In a pre-event interview with sidelines reporter Jason Davidson, Lambert predicted he would not only cover his Round 2 draw Crooked Nose, but that he would ride the Vold Rodeo/Prescott bull for 88 points.
"I had seen that bull a lot, we've seen a lot of bull riding, and I know how to mark bulls," Lambert said.
"So if you mark that bull the way he does, he kicks and he's strong, I don't know where you wouldn't get an 88 there. He's a 22 all day, and so when you add up his bull score and if I match him I kind of had that number in my head."
While close, when the scores were tallied on Saturday night, Lambert was awarded 87.5 points on Crooked Nose to win Round 2.
And while the score was historic in that Lambert called his shot, it also led him to etch his name in the record books as just the second rider to win the PBR Canada Championship in multiple seasons, joining three-time PBR Canada Champion Aaron Roy, and first-ever athlete to win the PBR Canada Finals in multiple seasons, let alone back-to-back years.
RELATED: Lambert Wins 2017 PBR Canada Championship
Going 2-for-3 overall, Lambert, who was bested in the championship round by Evil Genius, was able to claim the No. 1 ranking in the standings when the dust settled courtesy of the event win, which he split with Edgar Durazo, finishing the year 645.84 points in front of the No. 2-ranked Radford.
Not seen since, will 2020 be the year, Lambert, or another rider calls their score?