Built Ford Tough Top 50: Three-Time PBR Canada Champion Roy Makes History at 2019 PBR Global Cup USA
By: Kacie Albert Wednesday, April 15, 2020 @ 1:02 PM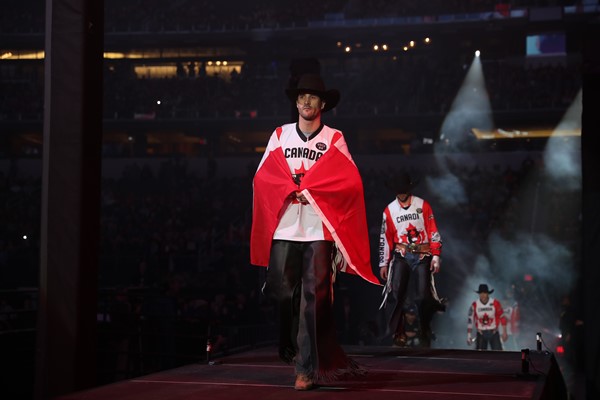 NEW YORK CITY – When Team Canada boarded their flight for the first-ever PBR Global Cup on U.S. soil in February 2019, they had one thing on their minds – victory.
RELATED: PBR Global Cup Debuts in Edmonton, Alberta in 2017
Following a heart-breaking defeat on home soil in Edmonton, Alberta in November 2017, for the inaugural edition of the event akin to the "Olympics of bull riding," Team Canada finished a slim 19.75 points behind the event-winning Team Brazil at the then most recent Global Cup in Sydney, Australia in June 2018.
RELATED: Roy Eager to Lead Team Canada to Victory in Arlington
Under the consistence leadership of three-time PBR Canada Champion Aaron Roy, returning to pilot the team for the third edition of the event, the team also possessed one of their strongest rosters including Tanner Byrne and Jared Parsonage who had been perfect the season prior in Australia, and Jordan Hansen, poised to make his Global Cup debut.
RELATED: Perfect Byrne and Parsonage Headline Team Canada at 2018 PBR Global Cup Australia
With the talent-packed roster also including the likes of Dakota Buttar, Zane Lambert and alternate Wacey Finkbeiner, the final rider for the contingent made history with his qualification.
After being selected to coach the nation in August, Roy made history four short months later when he also qualified to compete for Team Canada courtesy of his ranking in the Canadian national standings.
As a result, Roy historically became the first rider to ever both coach and compete.  
RELATED: Roy Eager for Historic Dual Role at Upcoming PBR Global Cup
"I'm excited to be able to do both, ride and coach -- that was the first thing I asked was if I could do it," Roy explained following his qualification.  "I think it is going to be challenging, but I'm definitely up to it."
 "Super excited for our team this year and I think that we're going to be strong contenders. We're going to be one of those teams to look out for."
RELATED: Team Canada Hopes to Put Global Cup Opponents on Ice
And while the Canuck contingent had momentum at their backs entering the event, their finish was not what they had hoped for, concluding the stop sixth.
RELATED: Team Canada Sixth at 2019 PBR Global Cup USA
However, in the midst of the disappointing result, Roy accomplished yet another career milestone no other Canadian has been able to achieve – surpassing $1 million in career earnings.
"I was excited I got to be able to do it," Roy said humbly. "It's a big feat and took a lot of years to be able to do it, more years than it should have."
In the history of the PBR, 40 different riders have eclipsed the $1 million mark in career earnings.  The ever-growing million-dollar club includes the sport's all-time greats, including Mr. 600 and 2008 PBR World Champion Guilherme Marchi, two-time World Champion Justin McBride and three-time World Champion Adriano Moraes.
"It's something I really appreciate," Roy said as he reflected on his career. "It's pretty cool, to be right in there with an elite group of guys, like L.J. Jenkins, Justin McBride, all of those guys, you're right up there with them. And to be in the same category as them means a lot."
And to be the first Canadian to achieve the feat adds extra sentiment for Roy.
"It shows people that it is doable and you can make a really good living riding bulls. And being from Canada, you can go places and have goals to achieve."
Fans can relive all the action from the 2019 PBR Global Cup USA on RIdePass at RidePass.com or via the mobile app.
While Team Canada remains on the hunt for their first-ever PBR Global Cup Championship, they have remained formidable foes at each edition of the international spectacle.
Tune into CBS Sports this Sunday, April 19, at 1:00 p.m. ET to relive the hard-fought effort at the most recent edition of the Global Cup this past February inside AT&T Stadium in Arlington, Texas.