Built Ford Tough Top 50: Tanner Byrne Makes Historic Transition from Bull Rider to Bullfighter in 2019
By: Kacie Albert Thursday, April 30, 2020 @ 1:01 PM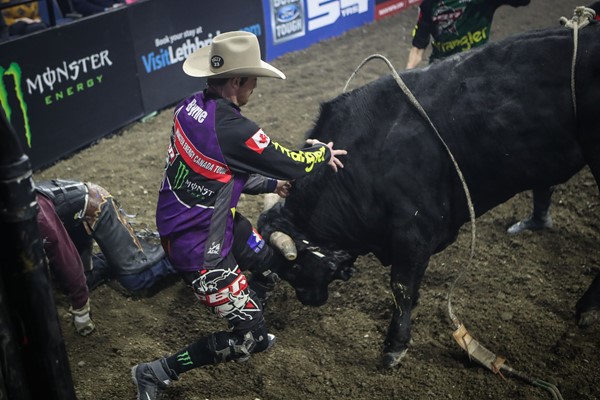 NEW YORK CITY – In the western sports world, the last name Byrne is synonymous with bullfighting excellence.
Ryan Byrne, a professional bullfighter from 1983-1998, not only qualified for the Canadian Finals Rodeo 14 consecutive times, but in 1987 became the first-ever Canadian to cowboy protect at the National Finals Rodeo (NFR).
Following in his footsteps, Ryan's sons Bo and Jesse were quick to take to the family business.
Much like his dad, Jesse, now one of the principle bullfighters on the elite Unleash The Beast, made history of his own, in 2008, becoming the first Canadian to work the PBR World Finals.
However, Ryan's third, and youngest, son, Tanner, blazed a different path, instead pursuing a career as a bull rider.
A four-time PBR World Finals qualifier, Byrne additionally rode his way to the 2015 PBR Canada Championship and three Unleash The Beast event wins, recording his best year-end finish in 2015 when he concluded the year No. 8 in the world.
RELATED: Dominant Tanner Byrne Excels on Both Canadian and World Stage in 2015
Byrne, however, decided to change course in 2019, hanging up his bull rope in order to pursue a career in bullfighting.
RELATED: Byrne to Retire at End of 2019 Season to Pursue Bullfighting Career
"The deal is since I was a little kid – since I can always remember – I always had a plan of riding bulls and at some point switching over and joining the family business of fighting bulls," Byrne said.
"I just want to follow my dream. Life is too short not to go out after something full-heartedly. It is time for me to do what it takes, enjoy what I am doing and go after it. It was a lifelong goal and dream of mine that I am going to go at now and start this new chapter and see how we can get it done."
Byrne made his PBR bullfighting debut on July 2 at the PBR Canada Touring Pro Division stop in Calgary, Alberta.
Following his debut, the Prince Albert native worked additional PBR events in cities such as Lloydminster, Saskatchewan, and Magrath and Grande Prairie, Alberta.
Then, Byrne etched his name in the history books alongside those of his dad Ryan and brother Jesse.
Selected by rider vote to work the 2019 PBR Canada Monster Energy Tour Finals, Byrne became the first athlete to have ever ridden and fought bulls at the season-culminating event.
RELATED: Tanner Byrne to Make History at 2019 PBR Monster Energy Canadian Finals as First Former Qualifier to Cowboy Protect
Also serving as his Monster Energy Tour debut, Byrne has been a mainstay on Canada's top tour ever since.
At the 2020 season-launch event in Calgary, and subsequent stop in Lethbridge, Byrne added another element to his job, mic'd up to serve as an in-arena commentator for the RidePass and TSN telecasts.
RELATED: PBR Canada Extends Broadcast Partnership with TSN for 2020 Season
"We had two great events to start the year off in Calgary and Lethbridge, where Dakota Buttar went on a roll and rode everything, doing things that we all know Dakota Buttar does. He is on pace for a record setting season," Byrne said.
One of the standout moments from a bullfighting perspective was Shay Marks' wreck on the second night of competition in Lethbridge.
Unable to defend himself, Marks had three of Canada's best looking after him and controlling the chaos.
"It is something I do not take lightly at all," Byrne said. "When there is a wreck that comes about like the one with Shay, it's forget about everything you have in regards to your own self and do your job."
"Once Shay hit the ground that bull was more or less wanting to get out of there," Byrne said further of the intense moment. "Me and Junior [Loring] took off after him. If he had a little fight in him, we were standing right there in the way and he wasn't getting to Shay. He would be taking us down before he ever got to Shay.
"[The bull] took off past us and [Ty] Prescott was sitting overtop of Shay in case he come back over that way, he would be stepping on Prescott instead of Shay."
RELATED: Tanner Byrne Forecasts Successful Conclusion to 2020 After Fast Start to Season
And while the western sports world may now be amidst an unprecedented hiatus, Byrne forecasts what may be the some of the most intense competition ever witnessed when bull riding returns in Canada
"When we get going again, you're going to see the best bull riding you have ever seen in the history of the sport. I don't know anyone in this sport has ever had time off like this to heal your bodies."
Relieve the 2020 PBR Canada season to date today on RidePass. Tune-in to the broadcasts from Calgary and Lethbridge and RidePass.com or via the mobile app.