Built Ford Tough Top 50: PBR Canada Hosts First-Ever International Major in Quebec in 2017
By: Kacie Albert Wednesday, April 29, 2020 @ 11:09 AM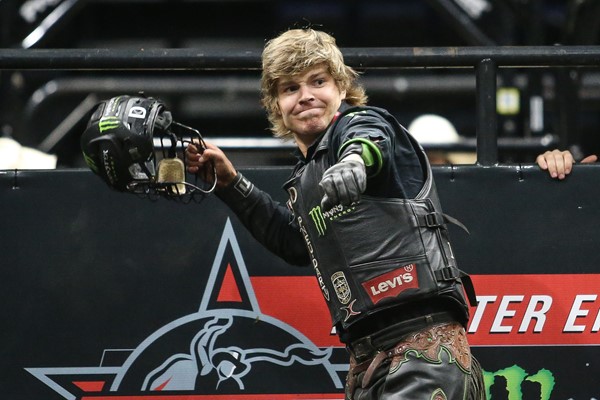 NEW YORK CITY – After launching in 2016, the PBR Canada Monster Energy Tour continued to make league history in its second year of competition.
Further paving the way for new opportunities in the Great White North, the Canadian Monster Energy Tour not only made national history in 2017, but altered the league record books as well.
Travelling to Quebec and the Videotron Centre in early June, the Monster Energy Tour held the first ever International Major in the league history.
RELATED: PBR Canada to Open 2017 Monster Energy Tour with Major Event in Quebec City
As a Major, the event offered both increased world points and prize money.
With 300 world points set to be awarded to the winner, the Quebec International Major also debuted as the richest PBR Canada event ever held, with a $100,000 CAD purse awarded at the conclusion of the two day stop. The event held the record until November, when the PBR Global Cup debuted in Edmonton, Alberta with a $750,000 CAD purse.
"This is huge," Matt Triplett said. "Not only to be able to win the amount of money you can, but 300 points. You can't get that amount of points in one event this whole summer. To get that opportunity when there is no Unleash The Beast going on, you have to take advantage of the opportunity given to you."
Exciting the western community in both Canada and abroad, the event attracted a star-studded line-up of bull riders from around the globe.
RELATED: Kolbaba and Outlaw Highlight Field of International Invitees for PBR's Monster Energy Tour Canadian Major in Quebec City
The international contingent of riders set to compete was headlined by four of the world's then Top 10 including No. 4 Derek Kolbaba, No. 5 Chase Outlaw, No. 6 Jess Lockwood and No. 8 Triplett, in addition to the likes of Fabiano Vieira and Brennon Eldred.
And matching that line-up, was a formidable list of Canadians, including some of the nation's top established riders and rising young guns.
Leading the Canadian field were the top two riders in the then national standings in Jared Parsonage and Lonnie West, alongside PBR Canada Champion Zane Lambert. The draw also included the likes of Jordan Hansen, Brock Radford, Wacey Finkbeiner and Jake Gardner.
RELATED: Triplett Returns to Canada Looking to Replicate Early Career Success
"Canada puts on good bull ridings and there are a lot of people that attend them," Triplett added prior to the event. "The Canadian side of the border likes to get a little wild and have fun. It is fun. It just makes it fun when everyone is like that."
Following the months of anticipation, the jaw-dropping, awe-inspiring moments began to instantly play out on the dirt from the moment the first bull bucked inside the Videotron Centre.
Washington cowboy Kolbaba surged to an early lead when he rode Funky Junk for 89.5 points to win Round 1.
He was followed closely by Outlaw in second, who covered Second Hand Chance for 87 points, and Eldred in third, who rode The Joker for 86 points.
Saskatchewan's Parsonage was the top-finishing Canadian on the first night, tying with Lockwood for fourth after they delivered matching 85-point rides aboard Jaw Breaker and One Cool Dude, respectively.
 RELATED: Kolbaba Takes Round 1 in Quebec City
Then, on Championship Saturday the action got even more intense.
Not only did Kolbaba continue to dominate, but veteran Brazilian Vieira delivered one of the top-marked rides in Monster Energy Tour history.
For Kolbaba, his second night in Quebec began with yet another round win courtesy of his 87.5-point trip aboard Time Bomb.
He then punctuated his flawless performance with an 88.5-point ride on Pneu-Dart's Doomsday in the championship round to cement his event win.
RELATED: Kolbaba Wins PBR's First International Major in Quebec City
"It's a great feeling to be over here and have the success that we did," Kolbaba said. "When these guys go to cheering and you can hear it, it fires you up."
For the win, Kolbaba earned $34,100 Canadian dollars and 300 points towards the world standings.
Those 300 world points came in handy, elevating Kolbaba from No. 4 to No. 3 in the world standings, inching him within a mere 915 points behind then world No. 1 Eduardo Aparecido.  
"It doesn't get any better than that," Kolbaba said. "I had a great weekend, I got on three great bulls and I was able to do my part."
RELATED: Kolbaba's First Trip to Eastern Canada Pays Dividends
For Vieira, while he may have finished second, his championship round ride made sure anyone who watched or tuned-in to the event on TSN knew his name.
Going a perfect 3-for-3, Vieira completed his flawless effort with a monstrous 90-point ride on Jammin' Jackson's Handsome Jeff, the first-ever 90-point ride on the Monster Energy Tour.
Lockwood, who went on the become the youngest PBR World Champion in league history at year's end, was third as the final rider to go a perfect 3-for-3, while Hansen was the event's top-finishing Canadian in fourth. Outlaw rounded out the Top.
"If you're not coming to this event you're crazy," Kolbaba said. "You've got great bulls, a great atmosphere the money is awesome. It was a great event."
In the years that have passed since the first-ever edition of the event, the PBR has returned two subsequent times to Quebec with an International Major in both 2018 and 2019.
Tune-In to RidePass today, at RidePass.com or via the mobile app, to relive these events and see the historic moments that have continued to playout inside the Videotron Centre.