Built Ford Tough Top 50: Minion Stuart Retires at 2019 PBR Canada Finals
By: Kacie Albert Tuesday, April 21, 2020 @ 11:37 AM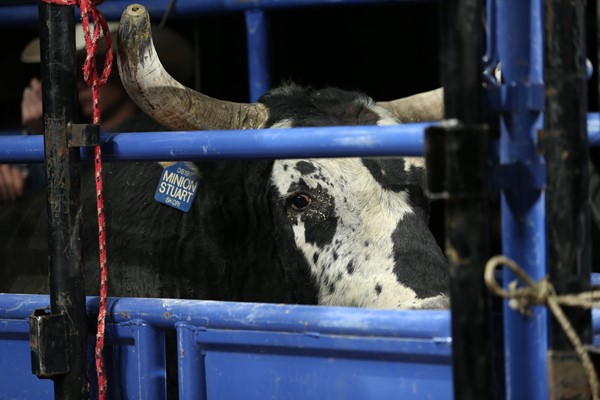 NEW YORK CITY – For Skori Bucking Bulls' Minion Stuart, Saskatoon will forever be the place that his career both began and concluded.
In 2013, the bovine athlete made his PBR debut in the Saskatchewan city for the PBR Canada Finals.
Bucking in Round 1 of the season-culminating event he made quick work of Australian sensation Lachlan Richardson to earn a 42-point score.
While the Skori family already knew they had a special athlete in their ranks, Minion Stuart's debut performance proved his abilities to the broader PBR Canada community, with him subsequently appearing in the championship round for each Canadian event he competed at until the Spring of 2018.  
RELATED: Rank Reports – Minion Stuart
"He was just cool right off the bat," Ellie Skori remarked.
The 2014 season was quick to begin, and at just the second PBR event of his career, Minion Stuart showed that he could propel riders to big scores.
Bucking in Lethbridge, Alberta, a two-day event, Jordan Hansen became the first rider to cover him, but for a mere 80.5 points. The next-day, however Minion Stuart teamed up with Edgar Durazo for an 88-point score, with the bull's score improving by 2.5 points.
As his first full season amongst the PBR ranks progressed, Minion Stuart continued to deliver trips that turned heads. In April, he posted a 46-point bull score when he bested Jason Malone in a swift 3.4 seconds in Fort St. John, British Columbia. A month later, he earned a 45.5-point score when Josh Birks hit the dirt in 5.16 seconds in Prince Albert, Saskatchewan.
Earning a selection to that year's Calgary Stampede, Minion Stuart once again delivered a bull score in excess of 45 points, marked 45.5 points at the "Greatest Outdoor Show on Earth" when he bucked off 2004 PBR World Champion Mike Lee.
Bucking seven additional times across all levels of competition in 2014, Minion Stuart then embarked on a season that would etch his name in the PBR record books.
Throughout the regular season for PBR competition, Minion Stuart recorded 13 trips, averaging a 43.69-point bull score. Ridden in three of those trips, with the lowest score being Tim Lipsett's 87-point trip in Lashburn, Saskatchewan, Minion Stuart logged his best trip in his final out of the regular season when he bested Dakota Buttar in a close 7.74 seconds in Stavely, Alberta to earn a 45-point score.
"He was one of those bulls that truly loved what he did and playing the game, and it showed," Buttar said. "Minion was as consistent as one could come."
In addition to his PBR accomplishments, Minion Stuart also earned his second trip to the Calgary Stampede. Ridden by Sage Kimzey for 89.5 points, the trip was instrumental in the Oklahoman's march to his first-ever win at the prestigious event.
As a result of his consistent top performances, Minion Stuart earned one of the most coveted invites in western sports – a berth to buck at the PBR World Finals.
Adding to the sentimentality of the moment, in his first trip, Minion Stuart was matched up against fellow Canadian Tanner Byrne.
"Minion has the heart of a lion," Byrne said. "He never had a bad day and always tried and tried."
Prior to the World Finals showdown, Minion Stuart and Byrne had met twice. They first squared off in 2014 in Ponoka, Alberta, when bull beat rider, besting Tanner in 4.42 seconds for a 43.5-point score. More than a year later, in North Battleford, Saskatchewan, the two again went head-to-head, this time with Byrne reaching the 8 for a massive 88 points, Minion Stuart contributing 44.
A rubber match in Las Vegas, Byrne covered Minion Stuart for 86.75 points in Round 3. The ride was one of three for Byrne, leading to what would be his career-best finish at the PBR World Finals, a third-place result.
"He helped me win a bunch of money over my career and also put my head in the dirt on a few occasions," Byrne said further. "One of my favourites of all time." 
The performance, was also a pivotal moment for Minion Stuart, earning him a second trip at the World Finals. Bucking again in Round 5, he was ridden by Ryan Dirteater for 86.5 points.
Minion Stuart's season, however didn't come to an end in Sin City.
Returning home to Canada, Minion Stuart bucked in the championship round of the Canadian Finals before he was crowned Co-Bull of the Year alongside Hey Jack.
"That year he was pretty outstanding, just the number of trips he took," Lane Skori said of the bull's 2015 season. "When he was four and five both years he had 29 short go outs each year, which is, I mean, compared to the other bulls that were in the Bull of the Year race with him that was like the other ones were ten max, he just had damn near 30, which is pretty special to see a bull go from Ottawa, to Vancouver, all the way to Fort St John, all the way south to Vegas. It's a pretty big spread."
From 2016 until his last trip in 2019, Minion Stuart made two additional trips to the PBR World Finals, bucking a combined four times, and in 2017 was selected to buck at the inaugural Global Cup in Edmonton, Alberta.
RELATED: Minion Stuart Retires as One of Canada's Greatest Ever
As the 2019 season continued, the Skori family made the decision to retire the accomplished bovine athlete at year's end.
"You want to retire them before they go out of their prime," Lane Skori said. "You don't want to have guys remember him as something not as good as he was. You don't want to see them have lower scores, or getting sent to the long round. You don't want to send them out on that note."  
In a ceremony at the 2019 PBR Canada Finals, inside the very building his career began, Minion Stuart was fondly sent into retirement as the packed SaskTel Centre erupted in raucous cheer.
Nowadays, Minion Stuart is enjoying retirement, however remains busy as the Skori Bucking Bulls operation is hoping to see a few Minion Stuart sons come up.
And with four yearling bull calves already to his name, Skori says the bloodlines are on their way.
"They are just turning one, so we will buck them next summer, or maybe later this year because they are looking pretty big," Skori said. 
"They definitely have the look and the aggression. I think we might have some good ones in there."