Built Ford Tough Top 50: Memorable Moments in PBR Canada History
By: Kacie Albert Monday, April 6, 2020 @ 7:55 PM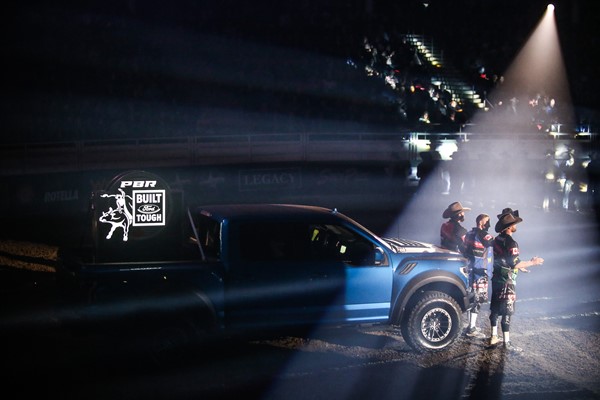 NEW YORK CITY – In 2006, the PBR launched its Canadian division.
In the years since, countless moments have happened that has left the league's ever growing fandom in shock, speechless from the incredible display of athleticism, perseverance, strength and courage that is essential to the sport and embodied in every cowboy.
As PBR Canada embarks on its 15th season, we look back at 50 of the most memorable moments in league history.
Radford Grits through Torn ACL/MCL amidst Incredible Campaign to Vie for 2018 PBR Canada Championship
Dominant Tanner Byrne Excels on both Canadian and World Stage in 2015
Daylon Swearingen Rides Tykro Pound Sand into the Record Books in 2019
Zane Lambert Calls His Ride to Become Second Multi-Time Champion in League History
Scott Schiffner Crowned First-Ever PBR Canada Champion in 2006
PBR Global Cup Debuts in Edmonton, Alberta in 2017
Perfect Byrne and Parsonage Headline Team Canada at 2018 PBR Global Cup Australia
Three-Time PBR Canada Champion Roy Makes History at 2019 PBR Global Cup USA
Hansen Makes Global Cup Debut in 2019 as Top-Performing Rider for Team Canada
PBR Canada Bull of the Year Pound The Alarm Retires at Inaugural PBR Global Cup in Canada
Happy Camper Crowned 2018 PBR Canada Bull of the Year After Dominant Season
Minion Stuart Retires at 2019 PBR Canada Finals
Canadian Born Bad Touch Retires Having Never Been Ridden
Canadian Bull Power Propels Riders to 90-Point Scores at 2018 PBR World Finals
Consistent Homegrown Earns 2019 PBR Canada Bull of the Year Title
Dakota Buttar Begins 2020 Season in Perfect Fashion
Jess Lockwood Earns Crucial World Points in Canadian Competition en Route to Historic Second PBR World Championship
PBR Canada Hosts First-Ever International Major in Quebec in 2017
Tanner Byrne Makes Historic Transition from Bull Rider to Bullfighter in 2019
Shay Marks Returns to Competition in 2019 with Banner Season
Monster Energy Tour Launches in 2016
Red Hot Radford Wins Four in a Row in 2017
First-Ever PBR Canada Champion Scott Schiffner Retires in 2018
Three-Time PBR Canada Champion Aaron Roy Wins 2014 PBR Canada Finals in Historic Return to Competition
Coy Robbins Earns First-Ever PBR Canada Rookie of the Year Title in 2017
Lambert Victorious at First-Ever PBR Event in Front of Home Province Crowd
PBR Canada Launches 5/5 Bucking Battles in 2020
Marcos Gloria Becomes First Rider to Win Consecutive Monster Energy Tour Events
Klayton Lakevold Walks In Arena at Lethbridge Ahead of Retirement from Professional Bull Riding
Jesse Byrne Becomes First Canadian Bullfighter to Work the PBR World Finals in 2008
Liquid Fire Bucks The Competition as 2016 Monster Energy Tour Bounty Bull
Aaron Roy Wins Historic Third National Championship in 2012
Four-Time World Finals Bucking Bull VJV Slash Retires
Scott Byrne Retires as One of Nation's Top Bullfighters
Stay tuned in to PBRCanada.com and follow the tour on Facebook (PBR Canada), Twitter (@PBRCanada), and Instagram (@PBRCanada) for the latest results, news, stats and more.