Built Ford Tough Top 50: Hansen Makes Global Cup Debut in 2019 as Top-Performing Rider for Team Canada
By: Kacie Albert Thursday, April 16, 2020 @ 1:42 PM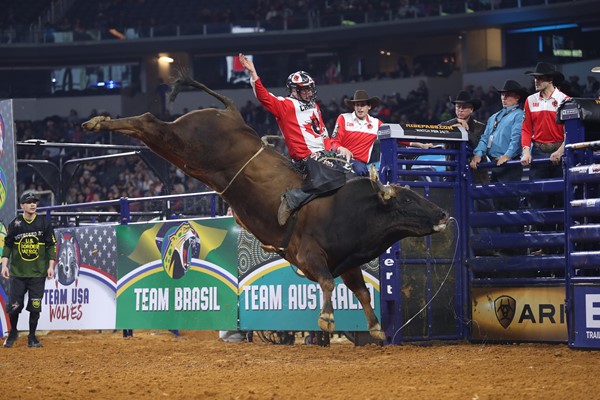 NEW YORK CITY – For Okotoks, Alberta's Jordan Hansen, 2019 was finally the year he'd compete for Team Canada and make his Global Cup debut.
After a conflicting competition left him unable to compete on home soil for the inaugural edition of the event in Edmonton in 2017, Hansen was relegated to the sidelines for the 2018 PBR Global Cup Australia as he recovered from a broken vertebrae and hip.
RELATED: Finkbeiner to Replace Hansen on Team Canada
"It's been a few years in the making," Hansen said prior to his debut.  "I'm definitely looking forward to it. It was a definitely a bummer last year getting the call from the doctor two weeks before and said I couldn't go anywhere. But now I am actually feeling healthy, so I am looking forward to it. "
RELATED: Hansen Excited for Global Cup Debut in Arlington
Once inside AT&T Stadium, Hansen proved why he had been a perennial pick for the team.
Despite a 6.66-second buckoff from Jaywalker in Round 1, Hansen rebounded in the bonus round becoming the first, and only, Canadian to record a qualified ride on the opening night of competition.
Matched up with Bottoms Up, Hansen was marked 87 points.
RELATED: Hansen Helps Canada End on Good Note Following Rough Start
"It took us a little longer than we wanted, but we got it done at the end," Hansen said moments after the ride. "That is one of the few bulls I knew a little bit about. I was lucky enough [coach] Aaron [Roy] and the team had enough faith in me to put me on him. He had the first pick in that second round and I was happy to pull through for the team."
Canada returned to AT&T Stadium for the final day of competition determined to reverse course, and Hansen left everything he had on the dirt in an effort to help the contingent achieve its ultimate dream of global dominance.
In Round 3, Hansen climbed aboard three bulls after earning re-rides for different infractions by Cool Customer and Lethal Larry.
Once atop Check It Out, however, the magic continued to flow.
Reaching the 8-second whistle, Hansen earned a score of 85 points, invigorating new confidence into his team.
Hansen once again received the nod from Roy to compete in the bonus round, however wasn't able to add a third score to the nation's total when he was bested by Legit in 3.49 seconds.
Despite the buckoff, however, Hansen contributed 172 of the nation's 258 overall points.
RELATED: Hansen Leaves It All Hanging for Canada
"I let a couple slip by me that I shouldn't have, especially that first day [with Jaywalker]," Hansen said following the event. "I feel like I should've rode that bull all day. Even today. [Legit] is an awesome bull, but that's still one I feel like I can ride.
"I rode half of them. I'm not terribly disappointed, but I'm definitely not happy either."
Fans can relive all the action from the 2019 PBR Global Cup USA on RIdePass at RidePass.com or via the mobile app.
After being selected to ride for Team Canada at the most recent edition of the Global Cup in February 2020, Hansen, like the rest of the world, is now at home, eagerly awaiting for the sport to return.
RELATED: Appreciative Hansen Salutes Healthcare Workers as He Awaits Bull Riding's Return
"Stay home, stay safe and healthy. Hopefully we can all push through this, the more folks stay home and avoid spreading this, the quicker we can all get back at it."
While Team Canada remains on the hunt for their first-ever PBR Global Cup Championship, they have remained formidable foes at each edition of the international spectacle.
Tune into CBS Sports this Sunday, April 19, at 1:00 p.m. ET to relive the hard-fought effort at the most recent edition of the Global Cup this past February inside AT&T Stadium in Arlington, Texas.