Built Ford Tough Top 50: Dominant Tanner Byrne Excels on both Canadian and World Stage in 2015
By: Kacie Albert Tuesday, April 7, 2020 @ 9:51 AM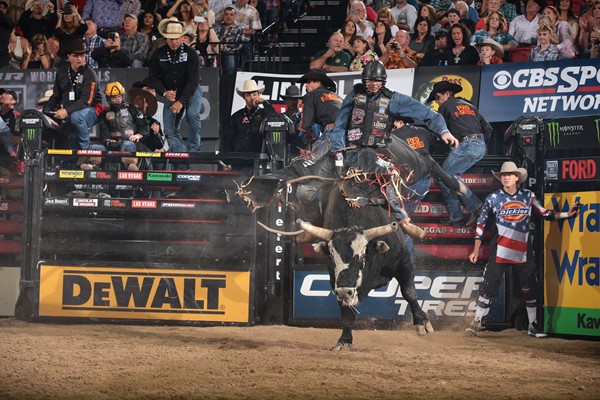 NEW YORK CITY – While Tanner Byrne had long been known in Canada as one of the sport's top up-and-coming talents, in 2015 he delivered a season that ensured bull riding fans around the world would know his name, while also securing his place in the record books.
After becoming a regular competitor on the elite Unleash The Beast in 2014, Byrne entered the new year with momentum at his back. Finishing seventh at the first-ever PBR World Finals of his career in 2014 to conclude the year No. 15 in the world, and No. 4 in the PBR Canada national standings, Byrne began the 2015 season hungrier than ever to continue his successes.
And not only did his successes continue to flow, but Byrne assembled the greatest season ever by a Canadian on the premier series, while also riding supreme on home soil.
On the elite Unleash The Beast, Byrne went a career-best 35-for-78 (44.87%) to finish No. 8 in the world standings, capped by a career-best third-place finish at the 2015 PBR World Finals. His breakthrough performance at the World Finals even included an all Canadian match-up in Round 3 when the Saskatchewan man covered Skori Bucking Bulls' Minion Stuart for 86.75 points.
At home, competing at 17 events on the schedule of more than 30 stops, Byrne earned three event wins and 11 Top-5 finishes prior to entering the PBR Canada Finals.
During the regular-season, Byrne notably recorded his second, and what would be his last, 90-point ride in PBR competition. Earning his first in July 2012 when he covered 2008 PBR Canada Bull of the Year Unabomber for 90 points in Kinsella, Alberta, Byrne was again marked 90 points in May 2015 in front of a hometown crowd in Prince Albert, Saskatchewan. Reaching the 8 aboard Rockaholic for 90 points, the monstrous ride propelled Byrne to his first Canadian event win of the season.
Continuing to shine in Saskatoon, Byrne went 2-for-3 at the Canadian Finals to conclude the year atop the rankings, 140 points ahead of No. 2 Josh Birks, claiming his first PBR Canada Championship. His victory was cemented after he covered Blue Stone, now a top bull in the United States on the elite tour, for 85 points in Round 2, leading him to a ninth place finish overall at the event.
Riding for four additional seasons before he elected to retire from bull riding to pursue a career as a cowboy protection bull fighter, Byrne continues to make history, leading many to wonder what his next awe-inspiring career moment will be.