Built Ford Tough Top 50: Daylon Swearingen Rides Tykro Pound Sand into the Record Books in 2019
By: Kacie Albert Wednesday, April 8, 2020 @ 10:20 AM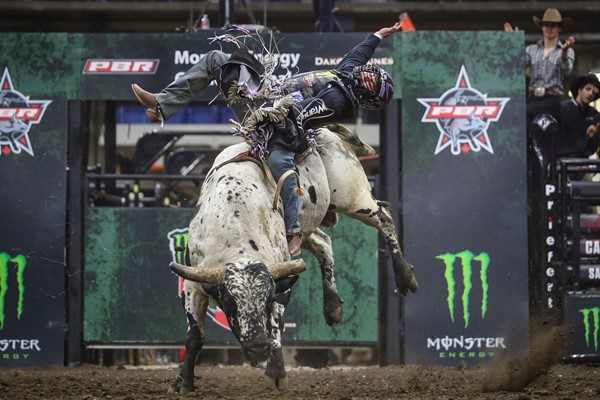 NEW YORK CITY – In 2018, Daylon Swearingen found his name next to that of Tykro Pound Sand's on the draw sheet for the first time, squaring off in the championship round of the Monster Energy Tour's first-ever trip to Moncton, New Brunswick.
While their first meeting ended with the New Yorker reaching the 8-second whistle for an event-best 88.5 points to finish second overall, few could have predicted the storied rivalry that would emerge between the two world class athletes that would propel Swearingen to new career heights in 2019.
Nearly a year to the day from their first showdown, Swearingen once again found himself matched up with the Wild Hoggs' bovine athlete in the championship round of a Monster Energy Tour event in the Maritimes.
This time meeting in Halifax in June 2019, Tykro Pound Sand evened the score, sending Swearingen to the dirt in 7.76 seconds to deny the young gun his second Monster Energy Tour win of the season.
Finishing runner-up once again due to the outcome of his showdown with Tykro Pound Sand, the event finish was still pivotal in what would become a historic season for Swearingen. While he rose from No. 3 to No. 2 in the national standings, Swearingen gained even more ground in the broader PBR world ranking, climbing from No. 22 to No. 18.
While it would be another four months until the two would meet again, in their time apart, each athlete punched their ticket to the PBR World Finals, with Swearingen also becoming the youngest rider in history to qualify for both the Wrangler National Finals Rodeo and PBR World Finals.
RELATED: Ten Canadian Bulls Selected to Buck at 2019 PBR World Finals
And when the two met again in Edmonton, Alberta in late October, Swearingen inched closer to adding yet another accolade to his long list of accomplishments earned in 2019, which also included winning the Intercollegiate Rodeo Association National Championship with Panola College and individual collegiate bull riding championship.
Returning to Canada for the final weekend of competition prior to the 2019 PBR World Finals, Swearingen began the Monster Energy Tour stop in Edmonton with the third-best score of Round 1, and 85-point trip on Snap Shot, architecting his third match-up with Tykro Pound Sand.
In the grudge-match showdown, Swearingen prevailed, covering him for 86.5 points, to win the Monster Energy Tour stop.
The victory gained the New Yorker crucial ground in both the PBR World and Canadian national standings. Ranked No. 12 in the world prior to the event, Swearingen rose to No. 11. In the hunt for the 2019 PBR Canada Championship, Swearingen climbed to No. 4 in Canada, 689.57 points behind the No. 1 ranked rider, after starting the event in Edmonton No. 5.
RELATED: Swearingen Ready to Pursue Once Unthinkable Canadian Dream
In the month's time that stood between the conclusion of the Edmonton event and first round of Canadian Finals, both Swearingen and Tykro Pound Sand travelled to Las Vegas to compete at the World Finals.
Swearingen went 2-for-5 to finish 28th at his career-first appearance at the most prestigious event in bull riding, with his event ending early after he sustained a concussion following his 3.85-second buckoff of Safety Meeting in the fifth round. For Tykro Pound Sand, who travelled to T-Mobile Arena every day in the re-ride pen, he finally bucked in Round 5, marked 41.75 points when he was covered by Luciano de Castro for 86 points.
Both titans then turned their sights on Saskatoon.
In what was one of PBR's most fiercely contested national title races in league history, the 2019 Canadian Champion wasn't decided until the final out of the 2019 PBR Monster Energy Canadian Finals, presented by Dakota Dunes Casino in front of the record-setting, Saturday night crowd inside SaskTel Centre.
And that out, was none other than the fourth career meeting between Swearingen and Tykro Pound Sand.
Despite delivering two qualified rides on the opening night of competition, and 83-point trip on Twist of Barbwire in Round 1 and 87-point effort aboard Kubota's Big Orange Tractor in Round 2, Swearingen lost ground in the title race. Despite maintaining his No. 4 ranking, he slipped from 687.57 points behind the top ranking to 987.08 points.
Needing to win the event title to capture the national championship, Swearingen responded to the heightened pressure in dominant form. In Round 3, the New Yorker rode Muddy Water for 86 points to catapult to the top of the event leaderboard and draw Tykro Pound Sand as his final bull.
On the heels of his event-winning ride aboard the bull in Edmonton, Swearingen once again proved the supreme competitor. As the high-marked ride of the fourteenth annual PBR Canada Finals, Swearingen conquered Tykro Pound Sand for a massive 89 points.
The score allowed Swearingen to erase the lead Aaron Roy had claimed moments prior atop the aggregate, winning the Canadian Finals event title en route the PBR Canada Championship. Including the unprecedented $50,000 bonus, Swearingen left the SaskTel Centre with a check for a career-high $69,600. He finished 450.42 points in front of runner-up Buttar.
RELATED: PBR Canada Championship Propels Swearingen to Career-Best Payday
"That sucker has been good to me and this is kind of what would cut us even," Swearingen explained of his renewed match-up with Tykro Pound Sand in Saskatoon. "This time I felt like I just kept moving to that outside and just kept kicking loose and he didn't drop me down in there and I knew he was gonna buck. He was just, you could see in the back that he wanted to go, he was feeling good."
"You have to capitalize on opportunities. I didn't know what it would come out to, I just knew if I did what I had to do, then it would all just work out and God had a plan." 
Both still top contenders in the various 2020 races, while a match-up between Swearingen and Tykro Pound Sand has yet to be seen in the new season, it is assured that next time it is seen, it will be one of the record books.