Built Ford Tough Top 50: Dakota Buttar Begins 2020 Season in Perfect Fashion
By: Kacie Albert Monday, April 27, 2020 @ 11:57 AM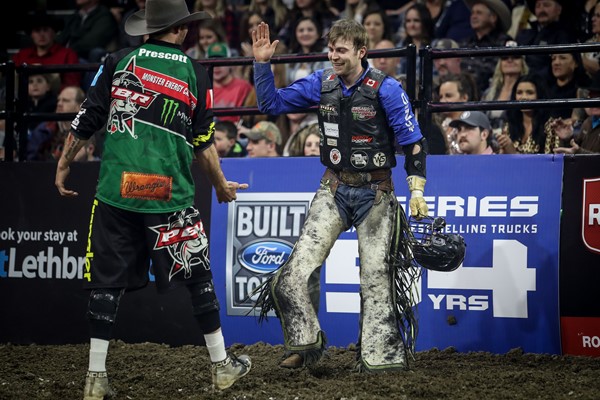 NEW YORK CITY – When the 2020 season went on abrupt hiatus, one rider was on the verge of making history – Dakota Buttar.
Stringing together three event wins, Buttar had not only surged to the No. 1 ranking in the Canadian national standings, 100.5 points in front of No. 2 Brock Radford, but had yet to buckoff, riding 10 consecutive bulls.
"I want to get as many points each weekend as I can, ride every bull," Buttar said after logging his tenth consecutive 8-second effort. "It sure is pretty cool to keep a streak going that long. It's not the easiest thing to ride that many in a row."
One out away from tying the record for most consecutive rides in PBR Canada competition, Buttar is chasing himself in the history books. The current record, held by the Kindersley, Saskatchewan man himself, is 11, logged between November 2018 and July 2019.
"It was something I never really thought about, "Buttar added. "It's cool to accomplish something like that."
RELATED: Dakota Buttar Eyes Canadian Ride Streak Record
Buttar's 2020 season began early, riding just 14 days after he narrowly missed out on capturing his first PBR Canada Championship at the 2019 PBR Monster Energy Canadian Finals in Saskatoon in November.
In front of a home province crowd in Lloydminster, Saskatchewan, Buttar delivered an 85-point trip on Obvious Enterprises Savage Sensation in Round 1, and championship-round winning 89-point effort aboard Kubota's Big Orange Tractor to secure the victory at the Lloydminster PBR Winter Classic.
RELATED: Dominant Dakota Buttar Wins Lloydminster PBR Winter Classic to Claim No. 1 Ranking in Canada
"I was pretty disappointed the way it ended in Saskatoon, so it was good to go and get on a couple more and finish the year on a good note, and I guess start the New Year too," Buttar said. "I want to have another good showing this year, it would be nice to have the year won before I got to Finals." 
In addition to earning a cheque for $3,878.13, Buttar also earned crucial national point courtesy of the win inside Lloydminster Exhibition which hosted the second Canadian event of the season.
As a result, he eclipsed Logan Biever in the national standings, concluding the 2019 calendar year atop the national standings.
RELATED: Resilient Buttar Eyes First Canadian Championship in 2020
And Buttar's "good showings" continued to flow.
Following the Touring Pro Division event in Saskatchewan, PBR Canada competition did not resume until January 24 when the Monster Energy Tour launched its season in Calgary, Alberta.
Not missing a beat, Buttar delivered his third consecutive qualified ride when he rode Scarecrow for 85.5 points in Round 1 of the event.
Later that evening, Buttar recorded the fourth ride in the streak when he covered Hanna Motors Homeboy for 86 points in the first-ever 5/5 Bucking Battle.
RELATED: Dakota Buttar Wins PBR Canada Monster Energy Tour's Calgary Classic
On Championship Saturday, in front of a sold-out crowd inside the Nutrien Western Event Centre for the Calgary Classic, Buttar not only logged two additional qualified rides, and 85.5-point trip on Mish Mash and 87.5-point effort aboard Tykro Pound Sand, but he also earned his second event victory, further extending his lead atop the national standings.
 "I think I've got to keep doing what I'm doing," Buttar said of his efforts in Calgary. "Going and taking it bull for bull. And when I get those good draws, I've got to use them like I should and not get too far ahead of myself. Just stay calm and keep having fun."
RELATED: Buttar Remains Perfect in Canadian Competition with Win in Calgary
Remaining in the province of Alberta, PBR Canada competition next travelled to Lethbridge for the Monster Energy Tour's South Country Co-Op Showdown.
There, the 27-year-old's winning ways continued.
The seventh ride in the streak was recorded in Round 1, an 84.5-point trip on Big Tymer, followed by the eighth when he rode VJV Whiskey Hand for 86 points in the tour stop's 5/5 Bucking Battle.
Buttar then secured his third event victory of 2020, and inched closer to the ride streak record, when he made the 8 aboard Kubota's Big Orange Tractor for 87.5 points in Round 2, and Tykro Pound Sand for 86 points in the championship round.
RELATED: Dakota Buttar Remains Perfect in Canadian Competition to Win the PBR Monster Energy Tour's South Country Co-Op Showdown in Lethbridge
As a result, Buttar is now in firm possession of the Canadian No. 1 ranking, 100.5 points ahead of No. 2 Brock Radford.
Notably, two of the Saskatchewan man's wins came at the hands of Wild Hoggs Bucking Bulls' bovine athlete Tykro Pound Sand – a bull who greatly contributed to Daylon Swearingen's record 2019 season.
RELATED: Daylon Swearingen Rides Tykro Pound Sand into the Record Books in 2019
"He is as solid as one comes," Buttar said of Tykro Pound Sand. "I don't know I have ever seen him have a bad day.
"He feels so good, you almost can't do anything wrong, but he gives you enough that you can have fun on him too, and loosen up a bit."
After Buttar's win in Lethbridge, the 2020 PBR Canada season came to an unanticipated halt as the world continues to responds to the unprecedented effects of the global pandemic.
However, when competition resumes, it will be sure Buttar will be keener than ever to continue his march to the 2020 PBR Canada Championship.
Relive some of Buttar's 2020 PBR Canada season today on RidePass. Tune-in to RIdePass.com or the mobile app for on-demand replays of the Monster Energy Tour events in both Calgary and Lethbridge.