Built Ford Tough Top 50: Consistent Homegrown Earns 2019 PBR Canada Bull of the Year Title
By: Kacie Albert Friday, April 24, 2020 @ 5:23 PM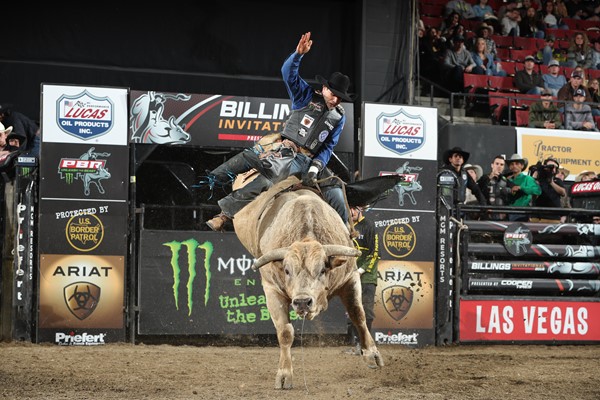 NEW YORK CITY – In PBR Canada history, the 2019 season bore witness to one of the fiercest title races in league history – for both riders and bulls.
In the bull pen, not only did the rank contingent of Canuck bovine athletes provide a captivating race, but for the first time in league history, the Bull of the Year honor was decide on average score, as opposed to rider votes.
To be eligible for the 2019 PBR Canada Bull of the Year honor, a bull most have logged a minimum five outs at PBR events on Canadian soil. The top bull was then determined by the best average score of his top five regular-season outs and high-marked trip at the 2019 PBR Monster Energy Canadian Finals.
RELATED: PBR Canada Bull of the Year Contenders Announced Ahead of 2019 PBR Canada Finals
At the conclusion of the regular-season in Canada, Eno Bucking Bulls' Homegrown emerged the top contender for the title.
Concluding the season with a league-best 44.5-point average, Homegrown recorded 18 outs across all levels of competition.
Among his Top 5 scores on Canadian soil in 2019, the Eno Bucking Bulls' athlete was twice marked a career-high 45 points.
Homegrown first recorded the marks in June in Falher, Alberta when he dispatched Logan Biever in 5.47 seconds. He repeated the top score in August in Stavely, Alberta, for besting Nick Tetz in a swifter 3.99 seconds.
His Top 5 scores were rounded out by matching 44.5-point efforts in Nipawin (Tanner Byrne in 2.94 seconds) and Marwayne (Lonnie West in 3.09 seconds), along with one of his 43.5-point scores which he registered four times during the regular-season in 2019 (Coronation, Elnora, Prince Albert and Brooks).
"He's a steady Eddy," Darin Eno said. "That's him. If you take all his trips and you look at him, they're all pretty close."
While not a factor in the 2019 PBR Canada Bull of the Year race, Homegrown also wowed stateside on the elite Unleash The Beast.
After making his regular-season debut in 2018 at the event in Nampa, Idaho, Homegrown returned to bull riding's premier series three times in 2019 (Tacoma, Billings and Minneapolis) before earning his first selection to the PBR World Finals.
RELATED: Ten Canadian Bulls Selected to Buck at 2019 PBR World Finals
Once in Vegas, Homegrown topped the scoreboard amongst his fellow Canucks, recording a 43.75-point out alongside Outlaw Buckers' Fish Camp.
Homegrown recorded the score when he bucked off 2016 PBR World Finals event winner Ryan Dirteater in a close 6.65 seconds in Round 3.
After continuing his consistent ways in Sin City, Homegrown returned to Canada where one trip stood between him and becoming just the second bull ever from the Eno outfit to be crowned bull of the year.
Taking a 0.4-point lead over No. 2-ranked Uptown Funk and Happy Camper into the event, reigning PBR Canada Bull of the Year Happy Camper ratcheted up the pressure when he bucked inside the SaskTel Centre.
Dispatching Thor Hoefer II in 3.48 seconds, Happy Camper registered a 45-point bull score.
Homegrown, however, bucked to the occasion.
Marked 43.5 points for his 2-second buckoff of two-time PBR Canada Champion Zane Lambert in the championship round, Homegrown was able to hold off a hard-bucking Happy Camper by 0.08 points, earning the coveted PBR Canada Bull of the Year honor.
RELATED: Consistency Key for 2019 PBR Canada Bull of the Year Homegrown
"Anytime for anybody to win that is pretty special," Darin Eno remarked after receiving the buckle and $3,500 prize. "So just be thankful you got lucky enough to have one."
Eno Bucking Bulls is now a two-time winner of the PBR Canada Bull of the Year honor, first winning it in 2009 with Unabomber.
"He's got a kind eye," Eno said further of Homegrown. "He looks like a big teddy bear, you just want to go hug him."
Since his title-winning trip, Homegrown has bucked twice in 2020.
After dispatching Tetz in 2.55 seconds at the season-launch Monster Energy Tour event in Calgary to earn a 42.5-point bull score, he was ridden by Jared Parsonage for 89.5 points at the most recent tour stop in Lethbridge, Alberta. Of the massive score, Homegrown was marked a massive 44 points.
Relive Homegrown's 2019 season on RidePass today at RidePass.com or via the mobile app.