Built Ford Tough Top 50: Canadian Bull Power Propels Riders to 90-Point Scores at 2018 PBR World Finals
By: Kacie Albert Thursday, April 23, 2020 @ 5:53 PM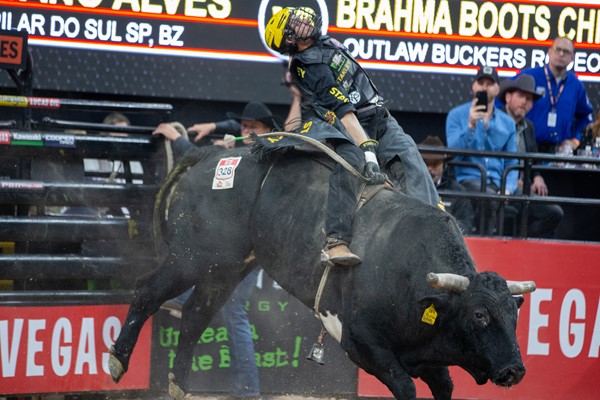 NEW YORK CITY – At the 2018 PBR World Finals, one of the most fiercely contested World Championship races in league history came to a dramatic end.
As the top riders in the world battled it out against the planet's rankest bovine athletes across the five days of competition, countless feats of athleticism, tenacity and courageousness were seen on the dirt, including 11, head-turning, monstrous, 90-point rides.
From the rank contingent of bulls that contributed half of the marks for each of those massive scores, two hailed from the nation of Canada: Stuntman Ray and Brahma Boots Chrome.
While Stuntman Ray was then bucking for the Missouri outfit, Broken Arrow Bucking Bulls, he traced his roots to Canada's Girletz Rodeo Stock.
Brahma Boots Chrome, however, made the journey to Sin City with Alberta's Outlaw Buckers Rodeo Co., one of a historic 11 Canadian bulls selected to compete at the event.
RELATED: Eleven Canadian Bulls Selected to 2018 PBR World Finals
"That was really a surprise for us," Sawyer of Outlaw Buckers said of his selection to take three bulls to the PBR World Finals. "It was very special for us. With being a family deal, we all pitch in. To be able to go there with that many meant a lot. "
For Stuntman Ray, the selection marked the second of his career after making his World Finals debut in 2017.
Earning two trips that season, the bovine athlete first bested fellow Canuck Dakota Buttar in a close 7.77 seconds to earn a 43.5-point score in Round 2, before being ridden by Kaique Pacheco for 88.5 points in Round 5.
RELATED: Canadian Bull Power Shines in USA
Brahma Boots Chrome, however, was preparing to make his World Finals debut. While he traveled to Las Vegas in December 2017 for the Wrangler National Finals rodeo, it would mark his first appearance in the Nevada city for the season-culminating PBR World Finals.
"He's had a pretty good year for an old fart," Sawyer said of Braham Boots Chrome. "He's gonna be nine years old. He should be on the way downhill, but he's holding his own."
In a Canadian-packed bull pen, both bovine athletes bucked in Round 3 of the World Finals alongside seven additional bulls from the nation.
RELATED: Byrne and Buttar Record Qualified Rides in Round 3 of the 2018 PBR World Finals
Stuntman Ray matched up with Marco Eguchi, while Brahma Boots Chrome faced off against Cody Teel.
For the second consecutive night, Eguchi posted a spectacular 90-point ride to win the round, tying with Derek Kolbaba for the top spot in the third round. After covering Spotted Demon for 94 points in Round 2, Eguchi reached the 8 on Stuntman Ray for 91 points.
In addition to being his second-consecutive round win, it was Eguchi's third ride in as many days at the World Finals. For Eguchi, who went on to win the 2018 PBR World Finals, the score aboard Stuntman Ray was tied for the fourth highest at the event.
In Teel's match-up with Brahma Boots Chrome, he recorded his first qualified ride of the World Finals when he rode the Outlaw Buckers bovine athlete for 90 points.
For their efforts, both bulls, Stuntman Ray and Brahma Boots Chrome, earned a 44.25-point bull score.
RELATED: Outlaw Buckers Makes Strides in 2018
Additionally, the impressive trips earned each bull another out at the World Finals, both selected for the Round 5 pen.
While Stuntman Ray was ridden again, covered by Claudio Montanha Jr. for 88.75 points, Brahma Boots Chrome bested three-time PBR World Champion Silvano Alves in 7.34 seconds.
Stuntman Ray's trip was marked 43 points, while Brahma Boots Chrome earned 41.75 points.
Fans can relive all the action from the 2018 PBR World Finals on RidePass at RidePass.com or via the mobile app.