Appreciative Hansen Salutes Healthcare Workers As He Awaits Bull Riding's Return
By: Covy Moore Tuesday, April 14, 2020 @ 3:27 PM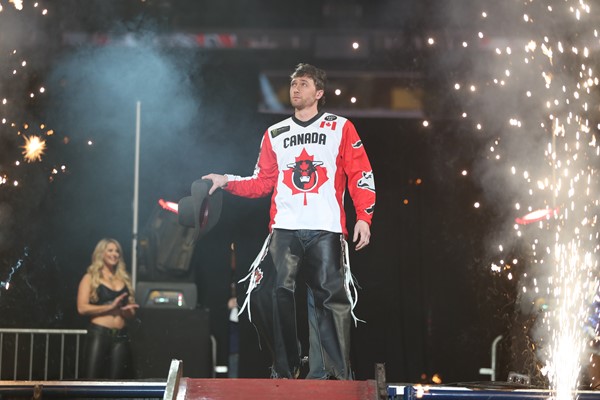 AIRDRIE, Alberta – When discussing some of the top bull riding talent to emerge from Canada, Jordan Hansen's name is a quick pick for many. The 2016 CPRA Champion has not only anchored Team Canada at multiple editions of the PBR Global Cup, but is also a perennial contender for the PBR Canada Championship, leading many to liken him to being a rock star of the sport. 
But he puts that "rock star" title somewhere else during this global pandemic that has seen professional sports worldwide grind to a halt. 
Engaged to long-time girlfriend Sara West, part of the West family which included fellow Team Canada rider Lonnie West, Hansen says the true heroes of today are those on the frontlines of the medical industry.
"She is a rock star," Hansen said. "Her being a registered nurse, things are pretty crazy right now. We are all sure thankful for the work she does, and the rest of the nurses around Alberta do.
"Things are pretty crazy at each and every hospital, lots of precautions being taken. I know I couldn't have done as good as she has through all this."
Adding to the workload now being carried by the young couple, coupled with the inherent stress of Sara's job, Hansen added that their lives have been busier than normal this past month. Purchasing their first home together, they are also amidst wedding planning, making the tough decision last week to postpone their big day, initially slated for May. 
"We have a chunk of land and a house that we planned on doing a couple renovations on, that turned into a lot of renovations," Hansen explained. "We are redoing a lot of stuff and that is keeping us busy." 
"Looks like the wedding is going to get pushed back, so that puts a little bit of a damper on things. We have this new place to look forward to though, so that is good. Everyone has been really good, we get a lot of messages from folks, supportive stuff. It's too bad it's come to this, but there is a lot of support from a lot of people."
With a loved one on the frontlines, who is also practicing isolation going from home, to work and straight back home daily, Hansen says following directives put out by the medical community is imperative. 
"Stay home, stay safe and healthy. Hopefully we can all push through this, the more folks stay home and avoid spreading this, the quicker we can all get back at it."
And it is undeniable that the bull riding community wants to get back at it.
Hansen is a full-time bull rider, and while his statistics show he is keen on the rodeo side of the sport, he admits that earning a PBR Canada title is firmly on his list of goals.
"To say you won the PBR Canada title is a part of my goals," Hansen explained. "I am sure not showing up to those events and trying to win second."
Competing in the PBR since 2012, the 26-year-old Ponoka, Alberta resident has claimed 6 event wins across both the PBR Canada Monster Energy Tour and Touring Pro Division. And while those event buckles have a place in his home, Hansen says he looks forward to being a part of Team Canada for the PBR Global Cup. 
A two-time Team Canada rider, Hansen said the team made great strides this year at the 2020 edition of the event in Arlington, Texas.
"We definitely felt a lot more like a team this year," Hansen said.
"We were there as a group, there were no individuals. There wasn't a time where we were apart from the group. We even went and rented a van just so we could go to the arena back and forth together. We did everything as a group.
"When it came to helping guys on, your whole team was there. It just seemed like a tight knit group this year."
Positioned second on the event leaderboard entering the final day of competition for the 2020 event, Hansen said that while everyone stubbed their toe in some way, the lessons learned will be carried into the 2021 edition of the Olympic-style bull riding event.
"That first day we showed them what we are made of. It didn't quite go our way the second day and we dropped the ball a little bit.
"I am certainly one to blame for that. I had my fair chance on a few bulls and I screwed up. We did do better than we did last time, and I am looking forward to being a part of that same group for next year."
Possessing a new coaching staff in Scott Schiffner and Tanner Girletz was important for the Team Canada efforts in 2020, but Hansen said that even away from that event, each member of that team learned something about the other guys and gained teammates for life beyond the Global Cup. 
"It grows a guy closer to the community for sure. Shay [Marks] and Jake [Gardner] were with me at San Antonio the week leading up. We really did everything together," Hansen said. 
"You get to know some guys you may not know as well a bit better. Luckily in Canada we do all know one another pretty good, you don't have to worry about that as much as some other teams."