Parsonage Relinquishes No. 1 Spot, Remains in Contention for Canadian Title
By: Ted Stovin Friday, September 27, 2019 @ 5:35 PM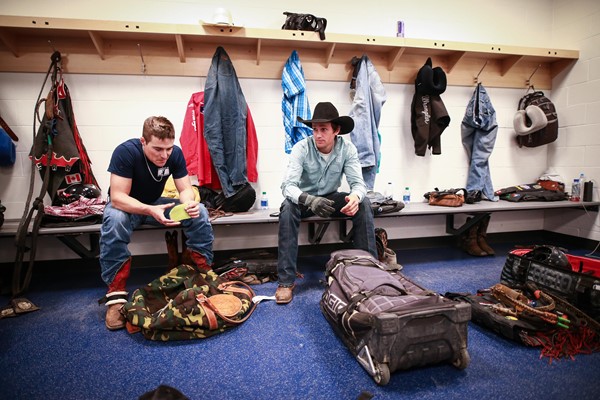 CALGARY, Alberta – Even though Jared Parsonage has held the No. 1 spot in the PBR Canada for most of the season, he doesn't think he's had as good of a year as he did in 2018.
"This summer honestly hasn't been that good by my standards or expectations," Parsonage said. "It hasn't been as good as I hoped it would have been."
Parsonage won early on, at the second Monster Energy Tour event of the season in Lethbridge, Alberta. His last win came in Halifax on June 1, also on the Monster Energy Tour.
In 2018, he won at the Ranchman's in Calgary in July, the Two Bit Ranch in Magrath in early September and again in Abbotsford, British Columbia in mid-October. Competing at only 18 PBR Canada events that year, he won five. This year, he's been to 33 and won two. On the riding percentage front, he's 1.02% behind last season even with double the events. 
Lately, things haven't been ideal as he relinquished the lead in the national standings to Dakota Buttar, now No. 2 by 205.01 points.
RELATED: Click here to view the latest PBR Canada National Standings
"I fell off in the short round, shoulda rode one at Stavely," Parsonage reflected. "I fell off at Magrath and then Dakota did good. He went to St. Tite and I didn't. Which I expected him to do good very well out there in that format for sure as he should."
Parsonage took the weekend of September 13 off to attend Wacey Finkbeiner's wedding.
"I had something I would never miss in Wacey's wedding," the Maple Creek man said, going further into his recent events.
"Lately I've been getting into the short rounds, but I haven't been putting the rides together in the short rounds like I usually do and that's what's been probably costing me the most. I've just been winning fourth or fifth instead of winning first. It's been a good year, but I'm really not that pleased with it myself because I haven't had the wins that I usually have."
With only four events to go on the 2019 schedule North of the 49th, the race to the Canadian title and $50,000 bonus to be awarded on November 22-23 in Saskatoon, Saskatchewan is still almost anyone's game.
"I need to string together a win or two," Parsonage said.
Next on the schedule is the first-ever PBR event to take place in Grande Prairie, Alberta on October 5 as part of the Touring Pro Division. For Parsonage, both events on the Monster Energy Tour remain in Abbotsford on October 19 and Edmonton on the October 26. He will have to make up the remainder of his points at the finals if he qualifies for the PBR World Finals as the last event before Saskatoon takes place November 8-9 in Yorkton, Saskatchewan. 
"There's definitely lots of opportunity I guess," Parsonage said of sliding back into the No. 2 spot in Canada. "As much as it frustrates a person looking at that, it definitely frustrates me anyway, but you can't let it eat you alive, it's just kinda one of those things you look at and tell yourself: 'Well, gotta find a way to do better.'"
With his ranking in the world standings, No. 37 and 36.5 points back from the Top 35, Parsonage could actually skip Grande Prairie and go to Minneapolis, Minnesota for the PBR's elite Unleash The Beast.
"I'm leaning towards going to Grande Prairie," Parsonage admitted. "I think I'll probably go to these Canadian ones, that's what said I wanted to do was win a Canadian title so I'm probably just going to stick to it. That's kinda been the main goal and the World Finals is definitely a goal, but I've been qualifying for the World Finals just by trying to win a Canadian title so I'm going to stick with that for now."
Looking at what it might take to get back to his form in the spring, Parsonage had an idea that fits with the time of year.
"I've never really thought into it too much, maybe less bulls might not hurt and a little bit of work at home always makes a person want to win a little more," he laughed. "It's a busy time of year, I guess just refocusing and just cut the excuses and just stay on and do your job and stop worrying about all the petty bullshit and just stay on."
In the No. 37 spot on the planet, Parsonage has a very real opportunity to qualify for his first PBR World Finals. 
"It's definitely one of my goals and I don't see any reason why I can't do it if I do what I plan on doing at these next few events in Canada," he said. "It would be neat to say I qualified for them I guess in a way just going in Canada. It just shows the opportunity we have up here and the people we have, it's pretty neat to say we have that much opportunity as bull riders up here."
Follow Ted Stovin on Twitter @TedStovin