World Finals Hopeful Parsonage Reclaims Canadian No. 1 with Fifth-Place Finish in Edmonton
By: Kacie Albert Wednesday, October 30, 2019 @ 2:08 PM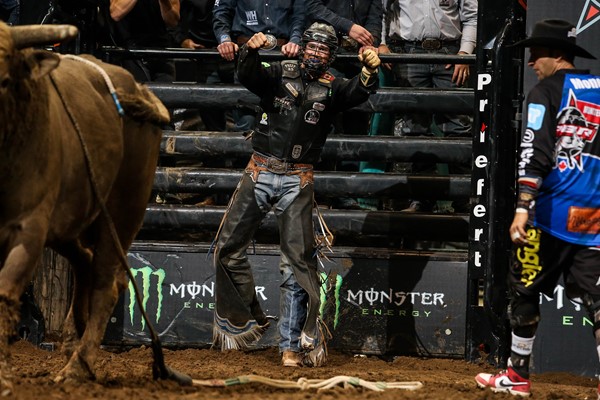 NEW YORK CITY – While a fifth-place effort in back-to-back weekends on the Monster Energy Tour may not have been the desired result for Jared Parsonage in Abbotsford, British Columbia and Edmonton, Alberta, it did yield him something every man in the nation is after -- the No. 1 ranking in Canada.
After reigning atop the national standings for the majority of 2019, due large in part to his two wins on the Monster Energy Tour in Lethbridge, Alberta and Halifax, Nova Scotia, the Saskatchewan man was overtaken on Sept. 13 when a strong-summer push by Dakota Buttar was capped by his league-leading fifth event win in St. Tite, Quebec.
RELATED: Parsonage Relinquishes No. 1 Spot, Remains in Contention for Canadian Title
Undeterred, Parsonage, who is arguably one of the country's most consistent riders, began to chip away at Buttar's 205.01-point lead.
Covering Finning Medicine Man for 83 points at the debut Touring Pro Division event in Grande Prairie, the 26-year-old finished fifth to pick-up 82.5 national points and nearly halve Buttar's lead to 122.51 points.
With the return of the Monster Energy Tour on Oct. 19, and Buttar stateside to fulfill obligations on the elite Unleash The Beast in Nampa, Idaho, the door was wide open for Parsonage at the Abbotsford Classic.
And the significance of the event to his season's trajectory was never more visible than in Round 1.
After reaching the 8 aboard Semi Mental for 79.5 points, Parsonage was given the option of a re-ride.
Despite the low score, Parsonage was guaranteed a spot in the championship round as the 10th man to record a score, and was poised to face a familiar foe. As the final rider in the round he would attempt Grey Tower III, the very bull he covered for 89 points during the final round of the 2019 Calgary Stampede.
RELATED: A Student of the Game – For Halifax Event Winner Parsonage It's All About the Stats
A firm believer in the power of stats, Parsonage kept the score.
"I kind of kicked myself a little bit," Parsonage said after. "Thought I should have taken the re-ride, but it's hard to say. With Grey Tower, if I took him in the short round, I knew I stood a really, really good chance of riding him. He didn't have quite as good a day, I thought I would be a few more points, but I stood a really good chance to win it."
And while the bull was marked slightly less in their most recent match-up, 42.5 points instead of the 44 points the Vold Rodeo bull earned at the Calgary Stampede, Parsonage again made the buzzer, this time for 86.5 points.
As the defending Abbotsford event winner, Parsonage left the Abbotsford Centre fifth overall in 2019, collecting 80 Canadian points, and decimating Buttar's lead to a slim 42.51 points.
With the entirety of the nation's Top 12 on hand for the final regular-season Monster Energy Tour event of 2019 on Oct. 26 in Edmonton, Parsonage's return to the top was finally realized.
And an uncharacteristic 4.87-second buckoff of Time Well Spent in Round 1 by Buttar left Parsonage in the driver's seat.
Having previously covered Boomerang for 82 points, Parsonage punched his ticket to the championship round where he recorded his fourth consecutive qualified ride with an 84.5-point ride on Stuntman Hank.
"That's always a good thing when you can ride them and you're staying on," Parsonage said of his current streak. "I definitely expect that out of myself, but it's always good when it actually happens."
On a night that saw 21 qualified rides, the 2-for-2 effort placed Parsonage fifth and netted him 75 Canadian points, allowing him to leap-frog Buttar and leave the Edmonton EXPO Centre with a 32.49-point lead.
"He bucked me off last time," Parsonage said of Stuntman Hank who bested him in 3.78 seconds during May's Touring Pro Division event in Prince Albert, Saskatchewan. "Kind of dropped me in there, so I kind of knew what was coming. But, yeah he's a tough bull to ride, the score never really reflects how the ride is on those kind of bulls, but that's part of it. It's your job as a bull rider to ride them."
And while the three fifth-place results in the month of October allowed Parsonage to position himself as the top man in Canada with less than a month remaining before the 2019 PBR Monster Energy Canadian Finals, presented by Dakota Dunes Casino, on Nov. 22-23 in Saskatoon, Saskatchewan where the coveted 2019 PBR Canada Championship and accompanying $50,000 bonus will be awarded, he is also now situated to potentially compete at the 2019 PBR World Finals on Nov. 6-10 in Las Vegas.
"Last guy in at the moment," Parsonage remarked.
Currently No. 38 in the world, Parsonage is poised to qualify for the most prestigious event in bull riding, with three-time PBR World Champion Silvano Alves and Cannon Cravens out due to injury, and Aaron Kleier ineligible to compete.
"It will just come down to what shakes out this weekend," Parsonage said who turned down his invite to compete at the 2019 PBR Pendleton Whisky Velocity Tour Finals in order to ride at the already-in-progress Canadian Finals Rodeo (CFR).
"It's a good but shitty situation I kind of ended up in, having to choose, and then being so close to one. I'd have a little cushion in the PBR ideally, but it didn't work out that way, and that's alright too."
The 2019 CFR got underway with Round 1 on Tuesday, October 29. Parsonage sat fifth at the start of the event having earned $28,837.33 during the regular season.
Bucking off Outlaw Buckers' Fish Camp, one of 10 Canadian bulls selected to compete at the 2019 PBR World Finals, Parsonage, who remains fifth, will attempt C5 Rodeo's Moo Cha Cha in Round 2.
RELATED: Ten Canadian Bulls Selected to Buck at 2019 PBR World Finals
"I still rode quite a few of my bulls, just didn't have some luck to go that way," Parsonage said while reflecting on his season. "I looked the other day and I rode dang near 60% of the bulls. Just some rides that didn't line up like they're supposed to.
It would have been really nice to win better than fifth at one of these last two events. That's just bull riding for ya. It is what it is."
Be sure to stay tuned to PBRCanada.com and follow the tour on Facebook (PBR Canada), Twitter (@PBRCanada), and Instagram (@PBRCanada) for the latest results.