Vegas Bound Marks Eyes Berth to Career-First PBR World Finals
By: Kacie Albert Thursday, October 31, 2019 @ 12:14 PM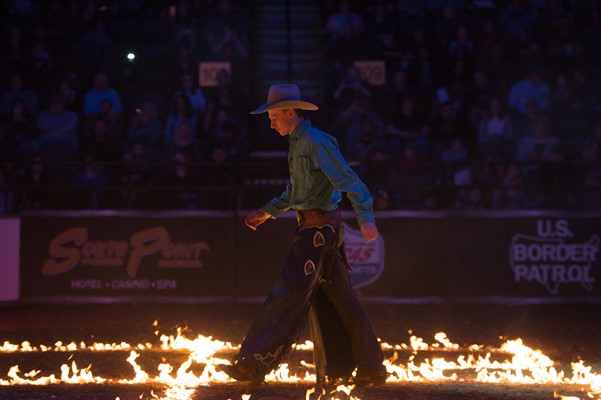 NEW YORK CITY – The last time Shay Marks was preparing to travel stateside for a season-culminating event, the year was 2015.
After then Canadian No. 1 Tanner Byrne declined the invite, and No. 2 Josh Birks was unable to accept as an Australian native, No. 3 Marks accepted the bid to the Velocity Tour Finals for the first-time in his career.
"I feel like I've got a lot better shot this time than last time," Marks said. "I'm more experienced and I'm better this time."
Going 0-for-2, Marks' 2015 season concluded with him No. 62 in the world, and No. 3 in Canada, a slim 172.5 points shy of his national title.
Fast forward to 2019 and Marks is having a banner year.
Making his return from reconstructive shoulder surgery, initially underwent in 2017, Marks won the season-launch Monster Energy Tour event in Winnipeg, Manitoba, in dominant fashion to briefly surge to the No. 1 ranking in Canada.
RELATED: Marks Looks to Unleash The Beast After Winnipeg Victory
Presently the No. 3-ranked rider in Canada, trailing No. 1 Jared Parsonage by 452.49 points, Marks has since recorded an additional 11 Top-5 finishes on home soil.
In his most recent outing, the 23-year-old finish seventh at the Command Tubular Edmonton Classic after going 1-for-2.
His qualified ride in Round 1, however, was an important rematch for the Albertan. Drawing Buck Nasty, the Foley Bucking Bulls bovine athlete has previously bested Marks in a swift 5.13 seconds in July at the Czar, Alberta, Touring Pro Division stop.
This time, however, their match-up ended with Marks reaching the 8-second whistle to earn an 84.5-point score.
"It felt pretty good, until the end it got a little hairy," Marks explained. "But I managed to just sneak by him so it wasn't too bad. He's kind of one you don't overly want to see your name beside, but you've got to do what you've got to do. You've got to stay on."
RELATED: Marks Looks to PBR Canada Title and World Finals Qualification
Venturing south of the border in 2019, Marks also had success stateside, competing at six regular-season Pendleton Whisky Velocity Tour events.
His top performances included a seventh-place result in Worcester, Massachusetts on Feb. 23, and ninth-place finish in Casper, Wyoming on March 30.
The 2019 season also included Marks' first trip back to the Unleash the Beast after he made his debut in Billings, Montana in April 2014. He competed on the elite tour twice, making his first appearance at a Major in Nashville, and at the October event in Greensboro, North Carolina.
RELATED: Marks Returns to Elite Level for First Time in Five Years
Five crucial PBR World Finals berths are available at the Velocity Tour Finals, which will be awarded to the 2019 PBR Pendleton Whisky Velocity Tour Champion and runner-up, 2019 PBR Pendleton Whisky Velocity Tour Finals event winner and runner-up, and the top finishing international invite. Should any of these individuals already be qualified via the Top 35, the next rider in either the tour standings or event leaderboard will earn the berth to the most prestigious event in professional bull riding.
One rider has the chance to win 440 world points at the 2019 Pendleton Whisky Velocity Tour Finals: 80 points are awarded to the winner in each of the three rounds, and 200 points to the event winner.
Currently No. 47 in the world, Marks is 385 points outside of the Top 35 in the world standings.
"It's super exciting," Marks said of the opportunity in front of him.
The 2019 PBR Pendleton Whisky Velocity Tour Finals get underway with Round 1 on Saturday, November 2 at 7:00 p.m. PDT. The action concludes on Sunday, November 3 with Round 2 and the championship round at 4:00 p.m. PST.
Fans can watch all the action live on RidePass at RidePass.com or via the mobile app.
The 2019 PBR World Finals will then buck into T-Mobile Arena on Nov. 6-10 where the 2019 PBR World Champion will crowned, earning the $1 million bonus and coveted gold buckle.
Be sure to stay tuned to PBRCanada.com and follow the tour on Facebook (PBR Canada), Twitter (@PBRCanada), and Instagram (@PBRCanada) for the latest results.