Swearingen Looks to Multiple Titles as 2019 Season Winds to a Close
By: Kacie Albert Tuesday, October 29, 2019 @ 5:55 PM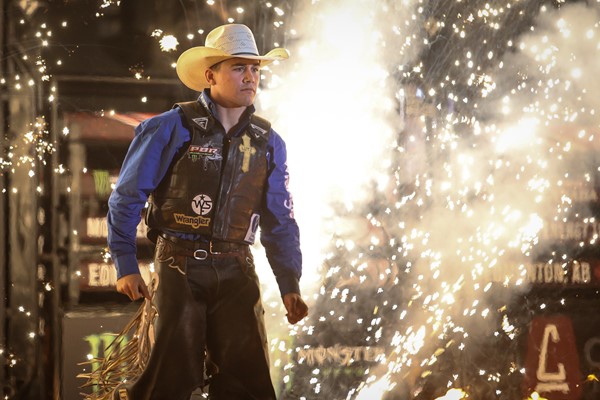 NEW YORK CITY – Already crowned the Intercollegiate Rodeo Association National Champion Bull Rider, Daylon Swearingen stands poised to contend for several additional prestigious titles this winter.
In addition to making two trips to Las Vegas as the youngest rider to qualify for both the PBR World Finals (Nov. 6-10) and Wrangler National Finals Rodeo (Dec. 5-14) in the same season, Swearingen is also set to challenge for the 2019 PBR Canada Championship on Nov. 22-23 in Saskatoon, Saskatchewan.
"It's been a blessing to come up here," Swearingen said of riding in Canada. "I always enjoy coming up here."
While he was solidly ranked inside Canada's Top 20 ahead of last weekend's final regular-season Monster Energy Tour event of 2019, the New York native travelled to Edmonton, Alberta in search of points to better position himself for a shot at the national title and accompanying $50,000 bonus, in addition to crucial world points.  
The decision proved to pay dividends.
On a night that saw 21 qualified rides, Swearingen went a perfect 2-for-2 to capture his second Canadian Monster Energy Tour event victory of the season, winning the Command Tubular Edmonton Classic.
RELATED: Daylon Swearingen Wins PBR's Command Tubular Edmonton Classic to Rise to No. 11 in the World
"I actually got lost," Swearingen said with a laugh as he detailed his arrival to the busy Edmonton EXPO Centre. "They [had] like a Halloween concert, and my Uber driver dropped me off up front, and I had to look at my phone, I thought I was at the wrong spot because I did not know where to go."
Once he navigated himself to the correct venue hall, it was nothing by qualified rides.
The 20-year-old began the night with the third-best score of Round 1, covering Snap Shot for 85 points. The score not only advanced Swearingen to the championship round, but architected a rematch that had captivated fans twice prior on the Monster Energy Tour.
Matched up with Tykro Pound Sand, recently selected to buck at his second consecutive PBR World Finals, Swearingen had twice prior faced off against the bovine athlete.
First covering him for an event-best 88.5 points in 2018 at the debut PBR event in Moncton, New Brunswick, where he finished second, Swearingen most recently bucked off the Wild Hoggs bull this June in Halifax, Nova Scotia in a heart-breaking 7.76 seconds.
In the grudge-match showdown, Swearingen prevailed, covering him for 86.5 points in front of the sold-out crowd.
"The first bull, he was a really good bull," Swearingen explained. "The second bull, he actually got me down earlier this year. I rode him last year, and then he bucked me off in Halifax, so I was blessed to get him rode this time.
"I was excited when I had him, he got me down a little bit right at the end. He moves forward a little bit and I was trying to ride that outside, but he got me down a little bit, but I got out and it all worked out."
And for Swearingen it worked out to the tune of $5,766.40, 460 Canadian and 170 world points, gaining him crucial ground in both the PBR World and Canadian national standings.
Ranked No. 12 in the world prior to the event, Swearingen rose to No. 11.
While he remains second in the prestigious Rookie of the Year race, he honed in on standings leader Dalton Kasel. More than 580 points behind the top spot in the race amongst the first-year pros, Swearingen is now within 410.41 points.
"I'm pretty excited," Swearingen said of his first pending trip to Las Vegas, beginning with the Pendleton Whisky Velocity Tour Finals on Nov. 2-3. "I's just been a blessing to get to spend a little bit of time in Vegas this year and be around the best guys in the world."
In the Canadian standings, Swearingen climbed to No. 4 after starting the second event in Edmonton in as many years No. 5. He trails the No. 1 ranking by a slim 689.57 points.
"I would love to win it," Swearingen said of the 2019 PBR Canada Championship. "That's why I came up here this week to try and get closer to achieving it."
For Swearingen, he credits his health as the main factor which has allowed him to be a championship-level rider on both the college circuit, and professionally with PBR, PBR Canada and the PRCA.
"This is my first year that I have ever been healthy," Swearingen said. "I'm just kind of looking at it like this is what I want to do, and I've got to be healthy to do it, and it's just been kind of working out, that mindset."
After a college rodeo Friday night, Swearingen's PBR schedule will kick into high gear with Round 1 of the Pendleton Whisky Velocity Tour Finals from South Point Arena.
Fans can catch all the action from Las Vegas, including the 2019 PBR World Finals, on RidePass.
Be sure to stay tuned to PBRCanada.com and follow the tour on Facebook (PBR Canada), Twitter (@PBRCanada), and Instagram (@PBRCanada) for the latest results.