Morning Line – Edmonton
By: Ted Stovin Saturday, October 26, 2019 @ 8:00 AM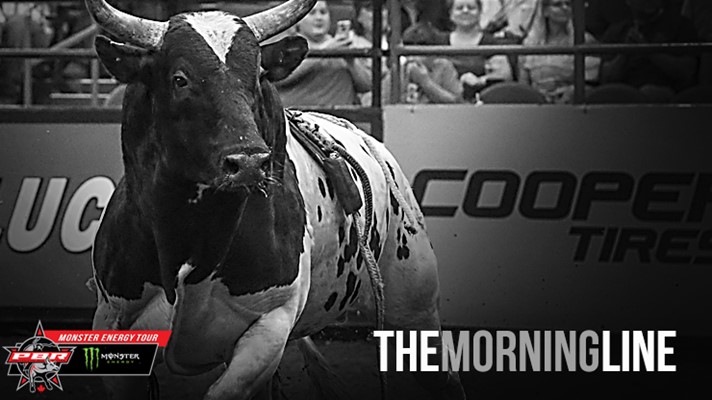 EDMONTON, Alberta – For the first time in PBR Canada history, the champion at the end of the season will win a $50,000 bonus.
With two regular-season events to go before the 14th edition of the PBR Monster Energy Canadian Finals, presented by Dakota Dunes Casino, on November 22-23 in Saskatoon, Saskatchewan, we're in the middle of what is arguably the most intense race ever for the PBR Canada National Championship.
In this article today, I'm writing about the Top 7 in the standings, all within 1,314.58 of the No. 1 spot. With 2,250 points available in Saskatoon, someone from further back could still end up the winner, however with each event, the title chase becomes clearer. A total of 550 points can be won in Edmonton along with 170 world points which could also be very important for a trio of bull riders in Daylon Swearingen, Jared Parsonage and Shay Marks.
For the Canadian standings, it's one of the last two chances for a rider to make his way into the Top 20 and a spot in Saskatoon. Riders on the outside that could move into a finals spot with an Edmonton win are: Marcos Gloria (No. 26), Thor Hoefer (No. 27), Cole Young (No. 30) and Fabian Dueck (No. 39).
With what's expected to be a full house in attendance, it's sure to be a thriller of an event. If you can't make it or didn't get tickets, remember you can always watch live on RidePass or catch our TSN broadcasts.
Here's that look into the Top 7 in the race for the Canadian title. 
RELATED: Click here for the full Saturday daysheet
No. 1 Dakota Buttar vs. 517 Time Well Spent
Buttar's lead nearly evaporated while he was in Nampa last week. Today he's only 42.51 points ahead of No. 2 Jared Parsonage. His draw, Time Well Spent is basically at his hometown bull riding event as well with owner Jim Thompson hailing from nearby New Sarepta. On record, there have only been two rides on this bull in 10 outs. Most recently he was covered by Logan Biever for 87 points in Frog lake in August of this year. The Thompson rodeo bull also bucked off Joao Ricardo Vieira in Minneapolis on the elite Unleash The Beast. Buttar needs to make a pair of rides here to fend off his chasers as he will miss the final Canadian event of the season in Yorkton as it's on overtop of his fourth world finals appearance in as many years.
No. 2 Jared Parsonage vs. 419 Boomerang
Only one route remains for Parsonage to qualify for his first PBR World Finals. It's winning this event. Currently, he's No. 39 on the planet and 126.7 points back of the Top 35. Injuries may play a role in who qualifies and the Pendleton Whisky Velocity Tour Finals will also shake things up. He may still end up there as an alternate, but his best shot is winning this event. Those Canadian points could help his case for a Canadian title as well. Boomerang from the Wild Hoggs is a second-year bovine athlete that's been rode for as many as 85.5 points. It's up to you Jared, the stage is yours.
No. 3 Shay Marks vs. 481 Buck Nasty
Also a hometown favorite, Marks should have a ton of support from the crowd, hailing from nearby Sunnybrook. He's No. 3 in the nation, 475 points back of No. 1 Dakota Buttar. This is a rematch from Czar this summer where the bull won at 5.13 seconds and was marked 44 points. Ridden twice in 26 outs on record, Buck Nasty from James Foley also bucked off Eduardo Aparecido in Minneapolis at the start of the month on the elite Unleash The Beast. Buck Nasty has yet to be ridden anywhere in the entire 2019 season. The last qualified ride was by 2018 PBR World Champion Kaique Pacheco for 87 points in Nampa last October. The only other ride on record was by Wyatt Gleeson in Marwayne in April 2018 at 86.5 points.  Those world points could make a huge difference in if Marks makes his way to the World Finals or not. With Buttar already having qualified for the World Finals, Marks could be the Canadian representative at the PBR's Pendleton Whisky Velocity Tour Finals. Every ride counts, but after covering a tough one in Lon's Lost It last week in Abbotsford, I see Shay getting the whistle here on a rank one that could win him the first round.
No. 4 Jordan Hansen vs. 451 Kalit Karma
Hansen had an unusual buck off for his standards in Abbotsford, bested by Tax Man in 5.16 seconds.  After riding in Billings the night before, I can give the guy a break. This week though he should be fresher coming into Edmonton. At No. 4 in the Canadian standings he's 1,102.51 points behind No. 1 Buttar. Kalit Karma is originally from Tyler Thomson, an early mentor of Hansen's career. Now with Vold Rodeo, he's been ridden once in seven outs on record. That one ride was by friend Parsonage in Abbotsford in October 2017 for a score of 87.5 points. A straight-black, Kalit Karma went left in the last video I saw of him against Wacey Finkbeiner last October in Edmonton. Going into Hansen's hand it's not going to be a cake-walk and it could win the round.
No. 5 Daylon Swearingen vs. 40 Snap Shot
Besides current world Rookie of the Year leader Dalton Kasel, I'm not sure there's been anyone else that has been as impressive to watch on his first full season at the PBR's elite level. Swearingen didn't only impress in the PBR however though, he also qualified for the Wrangler National Finals Rodeo this year becoming the youngest man ever to make both finals in the same year. Ranked No. 5 in Canada and No. 12 in the world, he faces a Skori bull that's been ridden four times in 11 outs on record. Those four rides came all together and were marked between 82 and 84 points. I'd bet on a few more points here from Swearingen though once he gets a spur flying.
No. 6 Brock Radford vs. 61 Finning JB Muley
Coming into Edmonton, Radford sits 1,285.83 points back of the top ranking. After finishing second in the nation the past two years in a row, he's on a mission. Going 18-for-35 in 19 events so far this season, this could be his year and it would be the best year to do so. According to Tanner Byrne from Flying 4 Bucking Bulls, Finning JB Muley is a black, white-faced muley. "Obviously," Byrne joked. Going on to say "He's co-owned with my brother Jesse Byrne. He's a three-year-old that was actually ridden by Klayton Lakevold for 87 points in Moose Jaw this summer. We've been babying him along, but he should follow the gate around to the left and be in the mid 80-'s." Tanner said it well enough, I don't think I need to add anything else.
No. 7 Garrett Green vs. 624 Red Jam
After the win in Abbotsford last weekend, Green is now No. 7 in the nation and 1,314.58 points back of No. 1, having only competed at seven PBR Canada events this year, the same number as Swearingen. Red Jam is a three-year old bull from Vold Rodeo. Nansen Vold told me on Thursday that he's a half-brother to Timber Jam, sharing the same mother. A down-horn red brindle, he's little smaller than Timber according to Vold. Edmonton marks his PBR debut after he bucked off Biever at a lower-level event in Edam, Saskatchewan earlier this month. There, he was out left a left-hand delivery and went right. As good or better than Timber Jam, this new bull could possibly propel Green to his second win in as many weeks.
RELATED: Bull Management Paying Off for Green
Stop No. 9 of the PBR Monster Energy Tour begins at 7:00pm MDT from the Edmonton Expo Centre. Limited tickets are still available at Ticketmaster.com.
Be sure to stay tuned to PBRCanada.com and follow the tour on Facebook (PBR Canada), Twitter (@PBRCanada), and Instagram (@PBRCanada) for the latest results.