Marks Looks to PBR Canada Title and World Finals Qualification
By: Ted Stovin Wednesday, October 16, 2019 @ 4:03 PM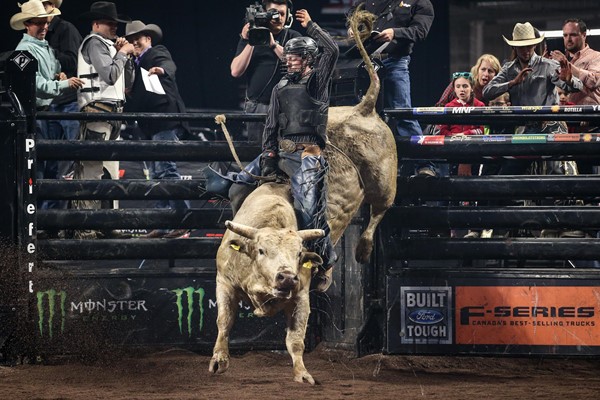 CALGARY, Alberta – Six weeks ago, the story was similar, Shay Marks held down the No. 3 spot in the PBR Canada national standings and was riding at the PBR's elite Unleash The Beast.
Today, however, only three weeks remain before the 2019 PBR World Finals and Marks has lost a bit of ground in the race to Vegas. In August he was only 165 points behind the No. 35. Today he finds himself 341.7 points behind the cut-off point, currently held down by Taylor Toves with 801.7 world points.
A cold streak will do that, and Marks, who is currently 1-for-10 since the late August event in Stavely, Alberta, has had a few of them this season.
"Everything was rolling pretty good, but during the summer there would be a slip here and there," Marks said. "But it feels like I'm starting to get back into the groove, I've [been] riding a little better again so [I'll] start rolling at these last few."
Prior to his latest streak of misfortune, which includes an 0-for-7 stretch specifically in PBR Canada competition that dates back to a Round 1-winning, 88-point effort on Dunt in Stavely, Alberta at the Glen Keeley Memorial, Marks experienced an 0-for-8 run in July that was snapped when he went 3-for-4 performance in Frog Lake, Alberta on August 4, finishing second and fourth.
RELATED: Marks Returns to Elite Level for First Time in Five Years
"Just going through a lull or a slump," Marks said of the streaks, "That just happens."
And it can especially happen in the first season back after missing more than a year after undergoing reconstructive shoulder surgery. Or when a 23-year-old bull rider tenses at the thousands of dollars available at the end of the season.
"Yeah I think I was just putting too much pressure on myself and not having fun," Marks reflected. "That's basically what it comes back to, gotta go have fun and it's a lot easier."
Despite the battle for the title, where he is currently No. 3 and 480 points behind No. 1 Dakota Buttar, Marks isn't changing his style.
"Not overly, I think I have a little more drive from taking all that time off. That definitely plays a factor," he said. "I've matured a little since then. I don't know, there's not a whole lot different. I've been trying to double-enter lots and whatnot, take every opportunity I can."
Speaking of the opportunities, where one door closes, another opens. Marks may have missed qualifying for the Canadian Finals Rodeo (CFR), but it opens the door for him to compete at the PBR's Pendleton Whisky Velocity Tour Finals, possibly as Canada's representative.
The top bull rider in the Canadian standings after Edmonton's Monster Energy Tour stop on October 26 will be invited to Las Vegas for the event prior to the World Finals. Once there, the top international contestant will advance to the five-day PBR World Finals inside T-Mobile Arena. With points on the line in Abbotsford, Edmonton and at the Velocity Finals, Marks could also make his way into the Top 35 yet another pathway to securing a spot at the PBR World Finals.
"That would be a dream come true," Marks said without hesitation. "I've looked forward to it, that's where I've wanted to be since I was a little kid. If I could do that, it would mean a whole lot and it would set up next year pretty good where I would get them first however many events and really try and push off that to get where a guy could be on tour full time."
Still only 23 years old, the Sunnybrook, Alberta athlete has already been around the PBR business for five years, but still has learning to do.
"I think I'm getting a lot mentally stronger," Marks said. "In the past I used to doubt myself a bit or look at all the stats on the bulls, but now it doesn't seem to bother me. I want to get on and I want to ride and I definitely have big opportunities to get remembered for."
But to win a Canadian title, and to be the first one that also claims a $50,000 bonus, ensuring his place in the history books, Marks has to be on top at the end of the PBR Monster Energy Canadian Finals, presented by Dakota Dunes Casino in Saskatoon, Saskatchewan on November 22-23.
Heading into the next event in Abbotsford, British Columbia, which takes place this Saturday, October 19 at the Abbotsford Centre, Marks is behind Dakota Buttar, currently holding down the No. 1 spot in the nation, by 480 points. Jared Parsonage ranks No. 2, 122.51 points behind Buttar. Winning both rounds and the aggregate in Abbotsford is worth 550 Canadian points and 170 world points.
RELATED: Click here to see the latest PBR Canada National Standings
Along with the two Monster Energy Tour events and Yorkton, Saskatchewan Touring Pro Division stop on Nov. 8-9, a total of 1,450 points are available to one rider, before 2,250 points will be on the line at the season-culminating event in Saskatoon.
"I think there's a big opportunity for really anyone. There's some people that might not even be on the radar that could jump in there and win this deal so you definitely have to have a good finals cause there's so many points there," Marks said. "You can look at it any which way, but I look at it as an opportunity because I am a little way behind them two so I might as well take full advantage of it to move ahead of them."
Despite the points left, heading into the finals No. 1 will be advantageous.
"That's the plan," Marks said. "I'd really like to go in there No. 1, I mean anyone would. But you know them guys are gonna come a riding."