Swearingen Ready to Pursue Once Unthinkable Canadian Dream
By: Justin Felisko Wednesday, November 20, 2019 @ 11:26 AM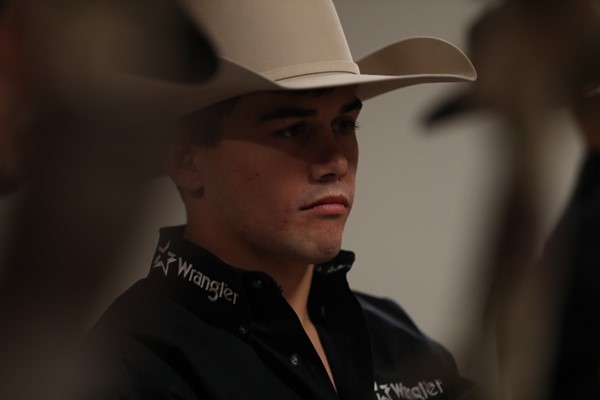 PUEBLO, Colo. – Daylon Swearingen had plenty of rodeo and bull riding dreams when he was a kid growing up in upstate New York.
When he and his brother, Colton, would haul their gear into the practice pen in Piffard, New York, with temperatures sometimes in the low teens, and certainly well below freezing, Daylon would think about riding inside the prestigious yellow bucking chutes at the National Finals Rodeo and at the prominent PBR World Finals.
2019 has been a dream come true in many ways for the 20-year-old rookie who could barely feel his fingers in that bitter New York cold.
Swearingen became the youngest bull rider to qualify for the PBR World Finals and the NFR in the same season this year after also winning the 2019 Collegiate National Finals Rodeo bull riding championship.
It's all been quite a whirlwind of accomplishments for Swearingen, and his first-year journey is not over just yet.
One thing that Swearingen can admit he never dreamt about as a kid, though, was winning a bull riding championship north of the border.
Regardless, Swearingen may be able to cap his PBR rookie year with an unimaginable 2019 PBR Canada championship.
Swearingen heads into the PBR Monster Energy Canadian Finals, presented by Dakota Dunes Casino, in Saskatoon, Saskatchewan, fourth in the PBR Canada standings and only 689.57 points behind PBR Canada No. 1 Jared Parsonage.
"That would be real cool," Swearingen said during the 2019 PBR World Finals. "I never even really thought about it."
One rider can earn 2,250 points toward the Canadian national standings at the PBR Canada Finals. The PBR Canada champion takes home a $50,000 bonus.
"No, not really," Swearingen replied when asked if he felt like he would have a shot this season. "I normally go to those events right above New York, those eastern Canada events, and it all just kind of worked out."
Fans can watch the PBR Canada Finals live on RidePass beginning at 8:30 p.m. ET on Friday and Saturday night.
Other top contenders for the Canadian championship include No. 2 Dakota Buttar (-32.49), No. 3 Shay Marks (-452.49) and No. 5 Jordan Hansen (-995).
The last foreigner to win a PBR Canada championship was Stetson Lawrence in 2014. Beau Hill (2009) is the only other American to win a PBR Canada title.
Swearingen can credit a portion of his PBR success this year to life above the border.
The New Yorker went 9-for-16 (56.25%) with two victories, three second-place finishes and a third-place showing in Canada. In fact, Swearingen earned 630 of his 1,805 world points in Canada – 34.9% of his season total.
Swearingen was able to hit the PBR Canada schedule hard in May before switching his focus back to the rodeo trail in June and July. He also won the final PBR Canada Monster Energy Cup regular-season event of 2019 by going 2-for-2 in Edmonton on Oct. 26.
"I enjoy going to those events," Swearingen said. "They are all good. That helped me move up a little bit. I am going to go to the Finals and hopefully keep moving up."
The rookie finished 13th in the world standings after concluding his first Unleash The Beast season 12-for-39 (30.77%) with one 90-point ride.
Team USA Eagles Global Cup coach Justin McBride said during the World Finals on CBS Sports Network that by looking at Swearingen's riding percentage and world ranking, you can tell he has "home run" hitting ability to win rounds, but he has not found complete consistency just yet.
Three of Swearingen's 12 rides on the Unleash The Beast were for round victories, including his 92-point ride on Cochise to split the 15/15 Bucking Battle victory in Tulsa, Oklahoma, with two-time World Champion Jess Lockwood.
Swearingen went 2-for-5 at his first PBR World Finals, and avoided possible serious injury to his riding arm when Safety Meeting bucked him off in 3.85 seconds, almost crushing Swearingen's arm with his back hoof when the bull rider hit the ground.
Swearingen said this week that he is feeling better following a concussion and that he will be ready to roll on Friday night at the SaskTel Centre.
The World Finals was another stark reminder of just how fast things can change in this sport, but Swearingen is hopeful that by competing in Canada, he will actually gain some momentum for the NFR.
Swearingen said that getting on fewer bulls during the final two months of the season was actually harder than he anticipated. He was so accustomed to getting on bulls every day that when he had time off, it threw off his routine and timing.
He is looking forward to getting on four bulls this weekend before the 10-round NFR begins on Dec. 5.
Swearingen will head into the NFR 14th in the bull riding standings with $121,837.17 points in earnings. He begins the NFR $40,584.43 behind Stetson Wright for the PRCA's bull riding Rookie of the Year title.
"I enjoy getting on bulls, and I haven't been getting on bulls, and I am just ready to start," Swearingen said. "I just feel better when I am getting on."
Follow Justin Felisko on Twitter @jfelisko