Roy Returns Home in Search of Historic Fourth Canadian Title
By: Ted Stovin Tuesday, November 19, 2019 @ 8:47 AM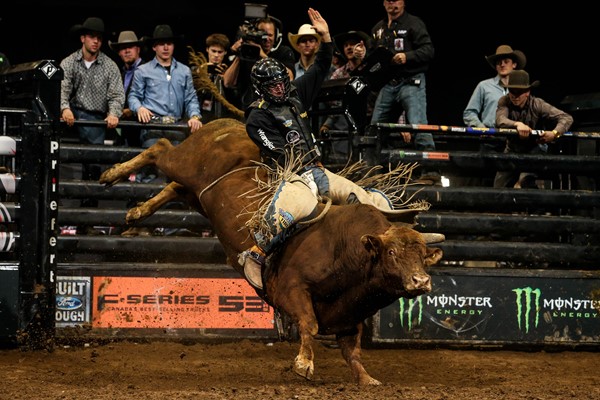 CALGARY, Alberta – Chances are, when the lights come down for the final time in Saskatoon at the 14th edition of the PBR Monster Energy Canadian Finals, presented by Dakota Dunes Casino, a new name will be added to the history books as Canadian Champion.
However unlikely, both Zane Lambert and Aaron Roy could make history, earning their third and what would be an unprecedented fourth respectively.
No. 11 Lambert is behind No. 1 Jared Parsonage by 1,659.57 and Roy, at No. 9 trails by 1,529.99.
A total of 2,250 points are available in Saskatoon on Nov. 22-23 with 250 for first in each round and 1,250 for winning the aggregate. A record $50,000 will also be presented to the Canadian Champion.
"I think it is a longshot with the guys that are ahead of me," Roy said. "Those guys don't really fall off in Canada too much. But yeah, there is the potential, things really have to go my way at the finals, but that's why I go in there. Go in there and just ride my bulls and hope it pays out."
RELATED: Click here to view the complete 2019 PBR Canada Standings
Growing up a mere 30 minutes west of Saskatoon in Asquith, Roy has enjoyed much success inside the SaskTel Centre.
After earning his first PBR Canada title in Calgary in 2008, Roy earned his second in 2010 inside the then Credit Union Centre in Saskatoon. In 2012 the Saskatchewan man earned an unprecedented third.
Only Lambert holds more than one PBR Canada Championship.
In 2014, Roy made a triumphant return in Saskatoon, winning the finals event title after coming back from a broken back suffered at the Calgary Stampede the summer prior.
"That arena has always been good to me," Roy said. "Every time I rode there, even before we had the finals there I always did good. Seems every year I go there I feed off the energy of those people in the arena and it elevates my riding a bit more and I can step up and ride those better bulls."
Since the finals moved to Saskatoon from Calgary in 2009, Roy has competed at or attended every one.
"I've been there every year the Finals been there," he said. "When I was hurt I was there as the arena director.
"I don't know how many times I rode in there for just regular PBR events when they had them. And then they used to have the CCA Finals there too for three or four years."
The home of the Saskatoon Blades of the WHL and Rush of the NLL could also be the home to a Roy banner in the rafters someday according to PBR Canada's Jason Davidson.
RELATED: Click here to view previous PBR Canada year-end honours
"I probably rode in there I'm gonna say 15-16 times," Roy said. "I won the steer riding title there once, and then, the average in the CCA in the bull riding there one year. I think I won the two long rounds when they had the one year of PBR, then it'd be two National titles, and a Finals win there.
"It's kind of hometown. My mom and dad and brothers live around there right in the area."
This year may not have been comparable to others for Roy's career, which has earned him over $1,000,000 USD since 2006, however he did earn two event wins, including the prestigious Glen Keeley Memorial PBR event on Labour Day Weekend.
RELATED: Roy Adds Iconic Title to Resume at Glen Keeley Memorial
Last weekend, he added another in Yorkton, Saskatchewan.
RELATED: Roy Wins Yorkton Grain Millers Harvest Showdown
"The first day I would have liked to do a bit better on the rematch," Roy said of Jayded from Vold Rodeo, the same bull he would draw and buck off in Edmonton two weeks prior on the Monster Energy Tour. "The second day it was good. I had a bull that I had only been out a couple of times with a rider in the long round and then a rematch in the short round on Whiskey Hand."
The previous out on Whiskey Hand, also from Vold Rodeo, didn't go as planned the first time around.
"I got on him in Abbotsford in the short round last year," Roy said. "He threw me off quite rapidly."
Turns out, it went a lot better this time around for an event-best 87 points.
"If you ride him like he is going straight he rides pretty nice," Roy said of the bovine athlete.
For only being in Yorkton now for two years, the PBR has made a positive impact.
"Yeah, that event's grown into a pretty good event," Roy said. "They sell out, it's a cool event, lots of energy there and I think it is gonna stay there for quite a while. I used to ride there at the CCA rodeo and yeah with the PBR there is it 100 times better."
For Roy, now in his 14th PBR season, many are left wondering how many more years of remain.
"Ahhh, I dunno yet, definitely slowing down," Roy said. "I think Hallie wants to start barrel racing a little more in the CCA, so I'll slow down and go to some of those with her and maybe team rope.
"'Bout time I follow her around instead of her always chasing me around."
Tickets remain available for the 2019 PBR Monster Energy Canadian Finals, presented by Dakota Dunes Casino, on November 22-23 at the SaskTel Centre in Saskatoon, Saskatchewan and can be purchased at Ticketmaster.ca.
Follow Ted Stovin on Twitter @TedStovin