Remembering Pound The Alarm
By: Ted Stovin Thursday, November 7, 2019 @ 10:32 AM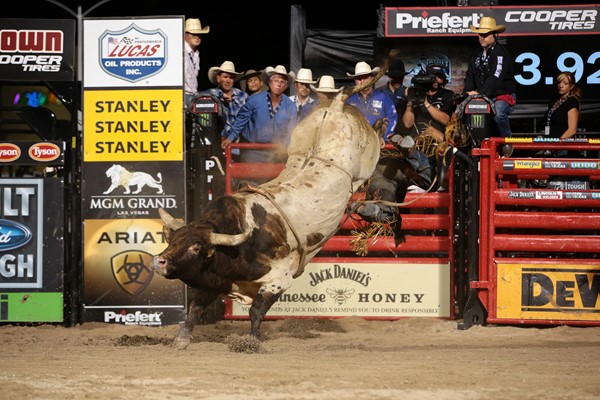 CALGARY, Alberta – With three PBR World Finals selections to his name, along with the 2013 PBR Canada Bull of the Year and PBR Canada Bull of the Finals awards, 917 Pound The Alarm will go down as one of the greatest ever from Canada.
While the bovine athlete won't likely be remembered for a long buck-off streak or shattering records on bull scores, he will be forever on the minds of many for the five 90-point rides throughout his career and another six rides of 89 points or more.
A memory-maker for countless bull riders and contractors, Pound The Alarm left an impact on the bull riding community far and wide until he retired at the conclusion of the 2017 Global Cup in Edmonton, Alberta.
RELATED: Pound The Alarm Retires on Top at PBR Global Cup
Breaking onto the scene in April 2013, "Pound," as he's known, bucked off his first foe in Max Fortmuller, in his then hometown of Marwayne, Alberta. The Northern division of Wild Hoggs Bucking Bulls stake a claim in Marwayne and are comprised of five partners including former bull riders Ty Streeter and Justin Volz.
As the young bull continued to catch the eyes of onlookers, he next dispatched 2006 PBR Canada Champ Scott Schiffner in Prince Alberta, Saskatchewan.
The very next week, Corey Chmelnyk had a choice to make. Investing in a bull as a partner to the Wild Hoggs, he had to make up his mind between Trendon, and his pick, Pound The Alarm.
"It was funny, it was between him and Trendon at the Nipawin PBR," Chmelnyk recalled. "Josh Birks won the round on Pound in Nipawin and that basically sealed the deal on Pound with myself as a partner with him."
Error loading Partial View script (file: ~/Views/MacroPartials/RichtextEmbedVideo.cshtml)
The score that night in the championship round tallied 90.5 points.
That summer, the bull became a star, bucking off 10 guys in a row, throwing up scores between 43.5 and 46.5.
His impressive campaign led him to make his World Finals debut in November 2013.
In his two trips at his first world finals, he bucked off Matt Triplett in Round 2 and was ridden by Shane Proctor for a massive 90 points in the championship round. Not only was Pound's 44.25-point out in the championship round head turning, but it was an impressive feat for the bull to even be picked as one of the Top 15 at the entire world finals in his first appearance.
From there, he would travel back to Canada for one event before heading back south to travel with Gene Owen.
"We was really proud to have him," Owen said. "When I first got him here in Oklahoma, I took him to the first event, I believe was St. Louis, Missouri."
Pound The Alarm's first event with Owen was in fact in St. Louis.
"When they loaded him, in the load-ups, boy he was on the hook and was bawlin' and snortin' and he acted like he'd never been to town before, which I knew wasn't right, because he'd been to the Finals," Owen laughed. "He'd been around Canada and was the Bull of the Year in Canada and then had made the finals and we got him after that."
"He was full of himself," Owen continued. "He was a good one, but over time, my wife likes to break them to come up and get scratched."
Starting out as a bull that would hook a rider or a bullfighter in the arena, Pound became a bit tamer over time.
"Shoot, he would come across 40 acres if he seen her," Owen said of Pound The Alarm and his wife, Dawn. "He would come to the fence for her rub his back. He turned into a big pet, but he never slowed down bucking. He was as good as long as he could be."
Among the many notable moments in Pound's career, one that shines extra bright came during his second trip to Vegas in 2014, again bucking twice.
"We won a round on him, J.W. Harris rode him here at the World Final," Owen said. "That was one of our highlights. Winning a round out here at the finals, it only happens six times a year. It's hard to come by so we was really proud he was the one that done it for us.
"I've been out here 18 times and I've won one round and that'd have been with Pound The Alarm. Like I say, it only happens six times a year and you buck em off, or your bull don't, they don't get no buckles for second. It's pretty good to win."
Error loading Partial View script (file: ~/Views/MacroPartials/RichtextEmbedVideo.cshtml)
Chmelnyk echoed the same thoughts.
"Pound he did us well, very well, he did Gene Owen well and he also did the PBR well," he said. "He represented Canada very well. He was a top bull for a long time in Canada and made it to the world finals and did very well there. There was really no lost time with him, right until he retired."
Not only was he great in the arena for the Wild Hoggs crew and co-owner Chmelnyk, but he has already started working on the next generation, like son Tykro Pound Sand making his second-consecutive appearance at the World Finals this week.
"Pound had a good life, he really did," Chmelnyk said. "We got lots of breeding off him. We got lots of calves, hopefully they do the same as what he did and what he accomplished. That's what we can only hope for, but we've got some that look pretty close to how he looked. That's always a bonus too."
Pound The Alarm even had the opportunity to return home to Canada after three seasons in the United States. Once back home, he became part of the Chmelnyk family, living out his retirement in North Battleford, Saskatchewan.
"I could be yelling some other thing but I'd yell 'Pound' and he'd lift his head up. He knew his name for sure," Chmelnyk said. "His personality was pretty amazing. I would say he was part human just on how he did things with me around our place. He was like a person.
"He wanted his daily scratches and massages which I did pretty much every day, but like I say, I'm sure he was part human."