Radford Channels Fellow Championship Athlete in Bid for 2019 PBR Canada National Title
By: Kacie Albert Friday, November 15, 2019 @ 4:30 PM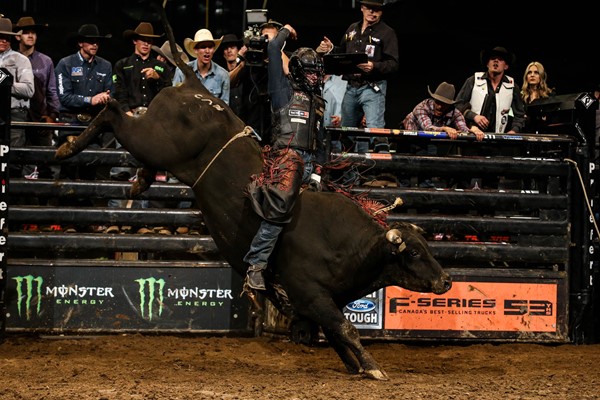 NEW YORK CITY – Regarded as a sports icon, champion thoroughbred racehorse Seabiscuit had an undeniable rags-to-riches, come-from-behind, odds-defying career.
After beginning his career in the 1930s with 17 consecutive losses, the equine athlete retired on top, beating War Admiral the year after he won the 1937 Triple Crown in a head-to-head showdown by an impressive four lengths, only to go on to win the Santa Anita Handicap in his final race in a track-record 2:01 1/5.
And while it may seem like an unlikely comparison, let alone source of inspiration, Brock Radford hopes that the trajectory of his 2019 season matches that of the famed racehorse.
"Hopefully it works out as good as it did for that horse," Radford remarked.
"I didn't really have a start out of the gate, really until July, so a slow start, and I've just been picking away and just doing my part anyway," He continued. "Trying to stay on whatever they run under me and give myself the best opportunity I can at Saskatoon.
"I've kind of just been trailing the pack all year, just kind of working my way to get into striking distance so I can make a move on them at Finals."
RELATED: Radford Eyes Return to PBR Competition
Sidelined for the entirety of the first half of 2019 after undergoing knee surgery to repair a torn ACL/MCL initially sustained in August 2018 at a CPRA event in Jasper, Radford did not attempt his first bull in the PBR for the 2019 season until July 4.
While he was unable to make the 8 at the renowned event in Calgary at the Ranchmans Cookhouse and Dancehall, following a 15th-place finish at the Calgary Stampede, his subsequent PBR event, Radford steadily began to climb the national standings.
Recording four Top-10 finishes in July, three in August and a runner-up effort in Grande Prairie, Alberta on October 5, Radford ascended from unranked to No. 7 in the national standings before the Monster Energy Tour returned for its final two regular-season events of 2019 in Abbotsford, British Columbia, and Edmonton, Alberta.
RELATED: Radford Sets Sights on Canadian Title After Back-to-Back Runner-Up Finishes
Offering augmented national points, Radford made his mark in Abbotsford, finishing one point shy of claiming the second Monster Energy Tour event win of his career.
Going a perfect 2-for-2, including tying for the championship round win with an 87.5-point trip on Vold Rodeo's Grey Eyes, Radford netted 265 Canadian points, rising to No. 6 in Canada.
Edmonton, however, was not as bountiful. Despite riding Finning JB Muley for 81.5 points, Radford did not advance to the championship round, nor did he claim any national points.
With one regular-season event left on the calendar, Radford made the most of the most recent Yorkton Grain Millers Harvest Showdown, part of the Touring Pro Division.
A two-day event, featuring a long and short round of competition and new field of riders nightly, Radford capitalized on opportunity when it presented itself, double-entering both nights.
Lighting up the leaderboard, Radford finishing second, tied for fourth, tied for seventh and tied for eleventh, to earn a cumulative $5,638.33, 299.58 Canadian and 40 world points.
RELATED: Three-time PBR Canada Champion Aaron Roy Wins Yorkton Grain Millers Harvest Showdown
"I kind of just get in that mode when I do it," Radford said of the event which bore witness to him getting on nine bulls in two days' time. "Just kind of turn everything off. I love bull riding. That makes it easier, you know, when you love something.
"I like getting on bulls and I feel like when my body is warm and I am working and I'm sweating and getting on multiple like a practice pen, I am not thinking, I am just doing.
"A greater amount of bulls has never affected me. It kind of helps me if anything."
Maintaining his No. 6 ranking, Radford rose within 1,018.74 points of No. 1 Jared Parsonage with just one event remaining before the Canadian Champion is crowned.
Next stop, the 2019 PBR Monster Energy Canadian Finals, presented by Dakota Dunes Casino, on Nov. 22-23 in Saskatoon, Saskatchewan at the SaskTel Centre where arguably the most fiercely contended national title race in league history will culminate with one rider anointed the 2019 PBR Canada Champion and receiving the coveted $50,000 bonus.
"I really don't see them guys screwing up," Radford said of the five riders ahead of him in the standings. "Jared, Jordan [Hansen], Shay [Marks], Dakota [Buttar] and Daylon [Swearingen], those guys are all champions in their own right. They're the best in the business, and by no means am I betting on them to fall off. But if they do, I am betting on myself to do my part and ride whatever they run under me."
At the Canadian finals, one rider has the chance to earn a maximum 2,250 national points, with 250 on the line for each round winner and 1,250 set to be awarded to the top rider in the aggregate.
"Obviously I do have a long shot so there will be no low scores for me there," Radford continued. "If they offer me a re-ride I will take it because I need any and every point I can get."
Historically, Saskatoon has ended in heartbreak for Radford, leaving the season-culminating event the past two years No. 2 in the nation despite being a front-runner for the national title the entirety of the season.
"I do think it will come down to whoever wins the average in Saskatoon will win Canada," Radford stated.
One has to look no further than the past two seasons to validate the trend. Evident in 2017, Zane Lambert's tie for the event win with Edgar Durazo that season subsequently propelled him to his historic second PBR Canada Championship.
"Last year, there was no one that rode four," reflected Radford. "If a guy goes in there and stays on four, that's putting, whoever it is, if they're in like the Top 10 really, if one of us goes and stays on four and the rest are three, well that's a lot of points to help us towards that Canadian title."
With less than a week remaining prior to the PBR Canada Finals, where Radford went 1-for-3 to finish ninth in 2017 and  3-for-4 to finish third in 2018, the Alberta man is more confident that ever of his abilities to reach the 8 aboard some of Canada's rankest bovine athletes.
"I feel there isn't a bull up here that could throw me off," Radford said. "Some days they do do that, but I feel when I am on my A game there isn't nothing that can throw me off.
"So if I am getting a low score, then I look at it and make my decision depending on the situation I'm in. If it's Round 4 and I'm the only guy to ride three and I ride four, I might have to make a business decision. But if it's Round 1 and I get a low score, I will probably take a re-ride."
In 2019, Radford went 24-for-44 (54.55%). While he didn't capture an event win, Radford did record an impressive 14 Top-10 finishes in four months' time.  
"Really, I would like to just go in there and sweep everything, win every round,' Radford concluded. "But I know the competition I am riding against, and they're damn sure not going to let me do that. So we'll just go in there, ride what they run under me and let the chips fall where they may and see what happens when the dust settles."
Tickets are still available for the 2019 PBR Monster Energy Canadian Finals, presented by Dakota Dunes Casino, on November 22-23 at the SaskTel Centre in Saskatoon, Saskatchewan and can be purchased at Ticketmaster.ca.