Leader of the Pack – Jared Parsonage
By: Ted Stovin Thursday, November 14, 2019 @ 8:07 AM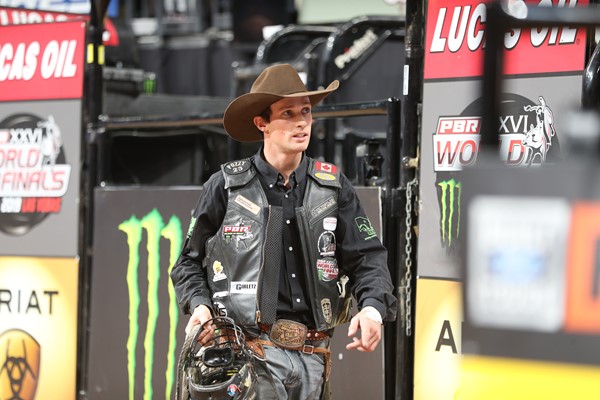 CALGARY, Alberta – There's something to be said for consistency and continual improvement in sport.
Over the past five seasons, Jared Parsonage has annually qualified for both the PBR Canada Finals and the Canadian Finals Rodeo. In the past three in PBR competition, his riding percentage has been between 52.56%, his current success rate, and 68%, his career-high from 2017.
During those three years, Parsonage has continually improved his world ranking from No. 63 in 2017 to No. 53 in 2018 and a career-best of No. 39 in 2019. In Canada, the Maple Creek, Saskatchewan finished No. 8 in 2017 and No. 4 in 2018.
Holding the No. 1 spot in the Canadian national standings with the 2019 PBR Monster Energy Canadian Finals on the near horizon, Parsonage's already banner season could conclude with his first Canadian title and the accompanying $50,000 bonus.  
A mere 32.49 points ahead of No. 2 Dakota Buttar, 2019 marks arguably the closest race ever in PBR Canada history. In 2018, then No. 1 Lachlan Richardson entered the finals 83.33 and 94.99 points ahead of No. 2 and 3.
RELATED: Click here to see the PBR Canada National Standings
"Shoot, it's more or less, might as well just make it zero," Parsonage said. "Really it is just whoever does best at the finals is what it comes down to honestly.
"You might as well just give us both 1,000 points and say go ahead, start." It's gonna be head-to-head at the finals, so it's gonna be lots of fun, it's good."
With three rounds of competition and a championship round, each round awards 250 points for first with 1,250 reserved for the aggregate winner.
"A guy can, step up and ride four bulls there and you'll do well," Parsonage said.
"There's lots of guys with a chance way down there, you know, it's a pretty, quite a set of riders, there is Dakota and Shay [Marks], but then you get down to guys like Jordan [Hansen] and Daylon [Swearingen], you know, NFR, World Finals, whatever you name it they've done er. Then there is Brock [Radford] that's come back right there. There's just a whole list of them that goes on and on and on. So, it'll be good watching."
Technically, almost every rider in Saskatoon will have a shot at the title, however those within 1,000 points have the clearest path to the championship.  
"I can't see it myself, but crazier things have happened I guess," Parsonage said. "That's bull riding, you never what is going to happen."
Adding to his already career-best year in PBR competition, Parsonage competed at the 2019 PBR World Finals as the first alternate, going 4-for-6 to finish eighth in the event aggregate.
RELATED: Parsonage Goes 4-for-6 at Career-first PBR World Finals
"It was good," Parsonage said. "I kinda got bucked off a harder one they never rode, and from there on out, got one rode in the bucker pen so that was good to get one rode in that pen because they don't ride very many. Things just kinda got rolling from there on out."
After the 3.52-second buckoff of Good Night Robicheaux Round 1, Parsonage was marked 81.5 points in Round 2 on Cool Customer, 85 points in Round 3 aboard Total Feeds Bushwacked, 85.5 points in Round 4 atop Do Wa Diddy, and 86.75 points on Bottoms Up in Round 5 on Sunday. His event, however, came to a close with an out that fell short of the 8-second whistle, bucked off by Talking Smack in the championship round at 4.62 seconds.
"I had a little bad luck with the re-ride replacements in one of the draft rounds and stuff, kinda downgraded on the bull end of things, but still did my job and rode," Parsonage explained. "Made a couple really good rides and whatnot and rode one of the big young classic bulls which was good. I was happy, did I my job and you know I stayed on and got my bulls rode and everything"
Parsonage was one of only nine riders in Las Vegas of the 40 competing to ride four of more bulls. After finishing the season No. 39, he will likely get a shot at the elite Unleash The Beast in early 2020.
"Well, I guess I'll probably end up in," Parsonage said. "There is always enough hurt guys, but to be honest I am not really too concerned about it. We will see how it all plays out. I kinda accomplished my goal, made the World Finals just staying in Canada this year."
Officially, Parsonage entered the world finals as an alternate but was only 10 points out of making it in an official spot.
"I'm gonna need to win a little more in Canada next year," he said. "The hard part is riding the fine line between the unseeded and qualifying. We will cross that line when it goes there, a guy goes every weekend wanting to win, we will deal with that hopefully with enough winning."
The 26-year-old enters Saskatoon 8-for-10 including the 4-for-6 showing at the 2019 World Finals, and a pair of Top-5 finishes at the past two Monster Energy Tour events.  Throughout the season, Parsonage has logged two event wins on the Monster Energy Tour and a second-place finish at the Calgary Stampede, riding 36-for-62 (58.06%) on home soil.
And this season, extra incentive has been added to the PBR Canada Championship, with the victor set to take home a $50,000 bonus.
"Oh it's, it's a big incentive," Parsonage said. "It's a good thing that PBR Canada has done, the guys behind PBR Canada have done to get a good incentive for us.
"It's good money, the finals helps out, you know makes it so the person finishes with the year end, you know, after last week it would be really good to put $50,000 to my name."
Tickets are still available for the 2019 PBR Monster Energy Canadian Finals, presented by Dakota Dunes Casino, on November 22-23 at the SaskTel Centre in Saskatoon, Saskatchewan and can be purchased at Ticketmaster.ca.
Follow Ted Stovin on Twitter @TedStovin