Buttar Looks to Canadian Championship after Earning Third Consecutive Glen Keeley Award
By: Kacie Albert Thursday, November 14, 2019 @ 3:47 PM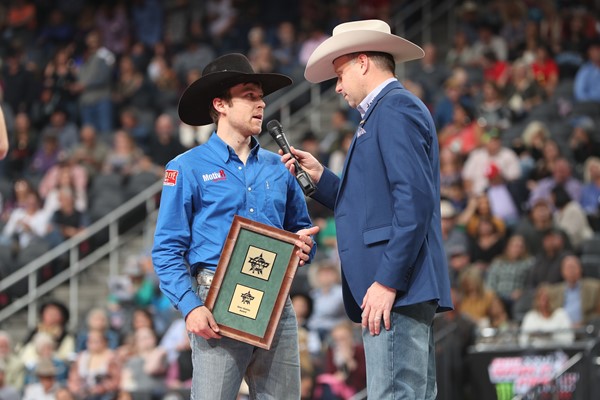 NEW YORK CITY – On Nov. 23, one man will stand atop the shark cage inside the SaskTel Centre in Saskatoon, Saskatchewan, $50,000 richer as the newly crowned 2019 PBR Canada Champion.
Who that rider will be, however, is anyone's guess.
With the year-long push to Saskatoon for the 2019 PBR Monster Energy Canadian Finals, presented by Dakota Dunes Casino, featuring arguably the fiercest national championship race in league history, the top two contenders No.1 Jared Parsonage and No. 2 Dakota Buttar, are separated by a slim 32.49 points.
RELATED: Click here for the current PBR Canada National Standings
"It'll be fun," Buttar said. "We're almost going in with a clear slate because you can't get much closer than what we are, so it will come down to every round at the finals. Really I'd say the Top 7 have a chance. If someone comes in hot, it's really anyone's game going in there."
At the Canadian finals, one rider has the chance to earn a maximum 2,250 national points, with 250 on the line for each round winner and 1,250 set to be awarded to the top rider in the aggregate.
While all of the 20 competing riders will be within the 2,250-point margin of one another, the Top 6 are separated by less than 1,020 points: No. 3 Shay Marks (-452.49), No. 4 Daylon Swearingen (-689.57), No. 5 Jordan Hansen (-995) and No. 6 Brock Radford (-1,018.74).
Despite entering the finals chasing the No.1 ranking, Buttar briefly reigned atop the national standings after delivering a career-best season on both home-soil.
Buttar made his 2019 Canadian debut on June 8 at the Touring Pro Division event in Moose Jaw, Saskatchewan. After briefly thinking his season may be over due to a shoulder injury sustained in April on the elite Unleash The Beast in Billings, Montana, Buttar returned with great fervor, going a perfect 2-for-2 to win the event.
RELATED: Acing the Test – Buttar Returns to Action, Shoulder 'Feels Awesome'
From there, he seemed unstoppable.
Winning four more event titles, and racking up an additional 10 Top-10 efforts, it was his league-best fifth event win on the Touring Pro Division in St. Tite, Quebec that allowed him to overtake Parsonage for the nation's No. 1 ranking on Sept. 13.
RELATED: Fifth Victory of 2019 Propels Buttar to No. 1 Spot in Canada
Buttar's lead remained intact despite a fifth-place result by Parsonage on the Monster Energy Tour in Abbotsford, British Columbia on Oct. 19 while he fulfilled his Unleash The Beast obligations in Nampa, Idaho, however was not enough to withstand yet another fifth-place finish by his top-challenger in Edmonton, where Buttar went 0-for-1.
"It was kind of a tough year," Buttar reflected. "Had an okay start, and then I was hurt, and then I came back and had a good couple months. I've kind of been hot and cold all year."
Despite the "hot and cold," self-proclaimed nature of his season, numerically, the Kindersley, Saskatchewan man had his best Canadian season to date.
Going 25-for-39 during the regular-season, Buttar rode 64.1% of his draws. Prior to 2019, Buttar's best season was in 2018 going a combined 7-for-11 (63.64%), however finished No. 12 in the national standings.
Looking further back, in 2016, the last season the 27-year-old made a dedicated push for the PBR Canada Championship, he went 26-for-45 (57.78%)  to conclude the year second to champion Ty Pozzobon.
And Buttar's success on Canadian soil in 2019 was more than just instrumental in putting him in contention to win a national title, but also helped him reach his fourth consecutive PBR World Finals and capture his third straight Glen Keeley Award.
"Growing up, he was the guy, even today, is still talked about," Buttar said as he received the Glen Keeley Award, presented annually to the Canadian rider that earns the most points during the regular-season. "He really made a breakthrough on the PBR for Canadians and he had a pretty unique riding style. I still look up to him today and there's lots of young guys that look up to him today."
"There's a lot of good bull riders back home and it's a pretty big honor to receive this," Buttar continued. "I'm speechless. I'm always excited to win and accept an award in such a great man's name. "
At the 2019 PBR World Finals, Buttar went 1-fo-4 to conclude the year No. 29. His event came to an early end when he sustained separated ribs when he was struck by Red Bones in Round 4 following his 5.18-second buckoff.
"The Finals were kind of the same deal how my year went," Buttar said. "I started off the first round, had a shitty go with the bull. He hipped himself hard, and whipped me down, threw me into the chutes. And the second day I had Fearless. I took him a long ways, but bucked off. Then rode my third one and bucked off the last one. So it was just kind of the same deal, hot and cold, but it was good to be back at the finals."
Despite his career-best end-of-season ranking coming in 2018 when he finished the year No. 17, Buttar once again covered a career-high 21 bulls for the third straight year on the elite Unleash The Beast, however reached the mark in much fewer attempts.
After climbing aboard 60 bulls in 2017, he attempted 70 in 2018, but only 53 in 2019. His riding percentage went from 35% to 30%, to a career-best 39.63% this past season.
"That way I would say it's a really good year," Buttar said. "I covered more bulls than I ever have down there. You got to take the positive out of what you can. It's been one of those years, it just turns out like that, but I was still pretty pumped to make my fourth World Finals, overall it was a good year."
With the 2019 Unleash The Beast season now complete, Buttar can now focus his efforts solely on Canada after splitting his time throughout the second-half.
"Just looking forward to it and being close to home to end the year," Buttar said of Saskatoon which is a short two-hour drive from his home in Kindersley. "It's always fun ending the year in basically my hometown PBR."
And while Parsonage is the lone rider ranked above him, Buttar isn't counting out the guys that concluded the regular-season beneath him in the standings.
"After that week Jared had, I would say he's riding pretty damn good," Buttar said. "And you can't really count out Jordan Hansen either the way he's been riding at CFR and everything.
"You never know going into the Finals. Someone can get hot out of nowhere too. And that's the fun thing with Finals, you never know what's going to happen."
Specific to his fellow Saskatchewan rider in Parsonage, the Maple Creek man is coming of an inspiring 4-for-6 performance as his debut World Finals, while Hansen won the Canadian Finals Rodeo to nearly win his second CPRA championship the week prior in Red Deer, Alberta.
RELATED: Leader of the Pack – Jared Parsonage
"It's going to take consistency," Buttar said of what it will take to win the PBR Canada Championship. "It's going to be how it's been all year, whoever rides the most bulls, can draw well, and you've got to use what you draw, doesn't matter what it is.
"It's just going to come down to riding, whoever rides the most and makes the most of every bull they get on."
"I remember using this term lots when I was younger," he continued. "You can't win them all, but you can try to ride them all. You can't control what you get score, but you can try to ride everything and that will usually pay off in the long run."
Adding further pressure to this season's Canadian Finals is the $50,000 bonus set to be presented to the 2019 PBR Canada Champion.
"It can really make or break the season," Buttar said. "As far back as I can remember, I don't know if there's ever been a bonus that big before.
"It really gives us guys in Canada incentive to want to stay home because we can make a lot of money just staying at home with no expenses. So it kind of gives us a lot of opportunity just to stay home and really setup our careers and what we want to do."
For fans, an even further layer of excitement will be added, with the top two contenders for the title, including Buttar, hailing from Saskatchewan.
"I think it will be fun," Buttar added. "We have a lot of good bull riders in Saskatchewan. There's lots of guys that have a shot at it, but pretty cool when two Saskatchewan guys get to duke it out right at home here."
Tickets are still available for the 2019 PBR Monster Energy Canadian Finals, presented by Dakota Dunes Casino, on November 22-23 at the SaskTel Centre in Saskatoon, Saskatchewan and can be purchased at Ticketmaster.ca.