Whitehorse Wows in Canadian Debut with Top-4 Finish
By: Kacie Albert Wednesday, May 8, 2019 @ 5:46 PM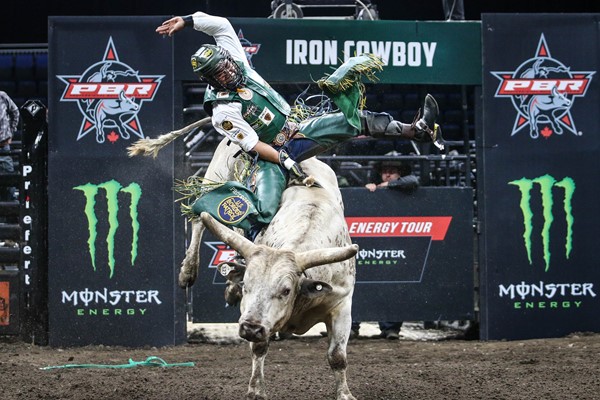 NEW YORK CITY – Canadian bull riding fans haven't seen the last of reigning Rookie of the Year Keyshawn Whitehorse, in fact, they can expect to see more of the Navajo rider.
"I kept telling myself I need to go to Canada, I need to go to a few events," Whitehorse said after competing on Canadian soil for the first time on May 4 in Quebec. "I made some good friends with the Canadian's over the last Global Cup, or two Global Cups ago, in Australia, [Lonnie West], Tanner [Byrne], Jared [Parsonage], just about the whole team I hung out with them the whole time.
"But this trip, I planned it by myself. I was like man I need to get some points, and it was a bye weekend, and I've been meaning to go here, and I had my passport ready to go, so I just went for it."
While the 21-year-old had initial plans to ride at the Canadian Iron Cowboy in 2018, he was unable due to an illness. In full health for the 2019 edition of the event inside the Videotron Centre, Whitehorse travelled north of the U.S. border for the first time in his career, enticed by the large pay day and world points the event had to offer.
"With the money available here, and the points, you mind as well go, especially if there's a break," Whitehorse said. "I don't care where you are in the world standings, you're missing an opportunity if you don't go to it."
Featuring a progressing elimination format, cutting the field of 20 to eight following the first round, Whitehorse quickly punched his ticket to Round 2 when he covered Josiah's Fire for 83 points.
Whitehorse's momentum continued in Round 2, reaching the Top 4 and International Major's third round, when he rode Rehab for 83.5 points.
His march to the event title, however, came to an end when he was eliminated in Round 3 after getting bucked off by Ripped at the Seams in a quick 1.33 seconds.
"Man tonight was going well," Whitehorse said moments after the event ended. "I had some really good bulls to get on, that first bull I got on was very nice, just that third one he had a little trick that I didn't know so kind of future reference on that bull if I ever draw him somewhere else."
"He's a little different than all the other ones," Whitehorse said further of Vold Rodeo's Ripped at the Seams. "He didn't just come out and turn back, he had a little somethin' to him."
For his efforts, Whitehorse collected a check for $3,936.20 and 10 world points. He however also gained a new found appreciation for the Canadian events and plans to be back in the near future.
"I love it up here," Whitehorse said. "The bulls are good, the guys are good, very friendly guys, I just love being around them, so I'll be back again."
"That's the plan," Whitehorse said specifically of the upcoming three-day slate of Touring Pro Division events at the Ranchman's in Calgary. "I always heard about that one. So I'll try to go to that one, pick-and-choose which ones I go to, but I am really excited to go to as many Canadian events as I can."
Paralleling Whitehorse's first time riding in Canada, was also his first experience competing at an event conducted in a language and held in a city that's principle language wasn't English.  
"Quite different than what I'm used to, with everybody speaking French and all, but it was very exciting, and a very fun experience," he said. "This is what it's about, you never thought, or at least I never thought as just a little kid from Utah, growing up basically in the middle of nowhere, would end somewhere on the north side of the border and be here riding bulls, and do it while they're speaking French. 
"Bull riding has taken me a long ways and I am very thankful for that."
PBR Canada's Monster Energy Tour continues on Saturday, May 11 with the London Classic in London, Ontario at Budweiser Gardens. Tickets are still available and can be purchased at the Courtesy Ford Gate #1 Box Office, online at BudweiserGardens.com, or by phone at 1-866-455-2849.