The Morning Line – Moncton
By: Ted Stovin Saturday, May 25, 2019 @ 3:00 AM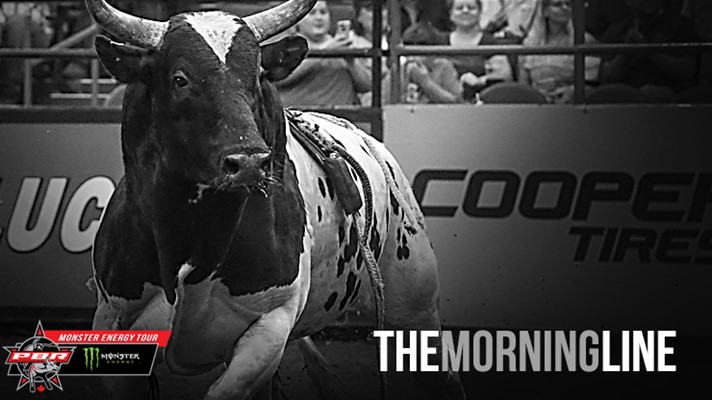 MONCTON, New Brunswick – Last year it was fun to blow the roof off the old building in front of a sold-out crowd. This year, however, we get to experience the brand-new Avenir Centre downtown.
Bull riding wise, a few of the same athletes are back, including PBR World Finals selected Tykro Pound Sand and last year's champion, Lonnie West.
New this year are the likes of World No. 2 Chase Outlaw who's no stranger to Canada, but was not at the PBR's debut last year in Moncton. Twist of Barbwire, One for the Money, Big City Nights and Ripped at the Seams highlight the championship round. In addition, All Access continues his streak in being part of every Monster Energy Tour event so far in 2019.
RELATED: Twist of Barbwire Impresses on Eastern Swing
With 15 bull riders in the draw we're going to have two rounds of 15, and 10 in the championship round. Best man on three wins. A total of 700 Canadian points are on the line, with 170 world points going to the winner.
With both No. 1 and No. 2 in Canada not making the trek east, the door is open for No. 3 Shay Marks to take over the top spot. Or will No. 4 Daylon Swearingen take advantage of the opportunity? Sitting sixth, Zane Lambert is also within range.
For even more storylines, details and numbers, check out Game Notes - Moncton.
To our friends out West in Alberta, we're three hours ahead of you in Moncton so this is late afternoon, early-evening event to watch on RidePass, we go live at 4 p.m. MT / 6 p.m. ET / 7 p.m. AT.
Let me know your thoughts and your picks by tagging @PBRCanada and @TedStovin on Twitter on in the comment section on Facebook or Instagram. 
RELATED: Click here for the full Saturday daysheet.
ROUND 1
Chase Outlaw vs. 34 Applause
With the guys 2-for-2 so far on this bull out east, I think Outlaw will get himself a score between 84 and 86 on Applause. This bull came from Darin Eno's pen, but now hangs with the Vold crew. Derek Kolbaba took him to an 86 on his way to winning in Québec, and Shay Marks rode him for an 83.5 in Round 1 from London. Currently No. 2 in the world, Outlaw can make up ground on World No. 1 Jose Vitor Leme tonight and this is a great way to start the evening.
RELATED: Outlaw: "Canada is Like a Second Home to Me"
Lonnie West vs. 225 Big Tymer
I wrote about these two last week, but they didn't make it out of the bucking chute. Let's hope this goes the other way this time. Big Tymer should be a solid draw for Lon-dart who should get out in the big pen.
Tanner Byrne vs. 218 Parachute
I just talked about Lonnie and he's the most recent guy to ride this bull. That was back in Québec in Round 1 and the score was 84 points. Parachute actually came from Pat Triplett, father of Matthew Triplett who earned his first ever-PBR victory in Halifax back in 2011. Anyway, Tanner should be pumped to have this bull. He's a parachute to help break Tanner out of this small slump he's currently in. A slump-buster, a guy needs one of these now and then to get back on track.
Shay Marks vs. 214 Original Sin
Coy Robbins bucked off this bull from Jim Thompson in London. I picked him to stay on there. A black, white-faced bull, Original Sin has been ridden four times in 16 outs. He should go right, into Shay's hand. Coming off a win last weekend, he's on a roll and should keep it going here.
Zane Lambert vs. 400 Morning Wish
This torro from the Wild Hoggs made his elite series debut in Tacoma, bucking off 2018 PBR World Champion Kaique Pacheco. Cody Lambert liked him enough to bring him back south to Billings the next month. He bucked off his match there too. In the beginning of this bull's career he was ridden more often than he is now. Zane would be the first to tame him this year should he make the whistle which I hope to see him do.
ROUND 2
Coy Robbins vs. 4070 Hammer Down
This bull was marked 43.5 points in the process of bucking off Chase Outlaw in Québec. He downright out-twisted Outlaw on that day. Coy hasn't had the season he's hoped for so far since his return. This one won't be easy, but the rewards will be worth the effort should he conquer the beast.
Tanner Byrne vs. Z1 Uptown Funk
I think this is the last bull anyone wants to have their name beside right now. Dakota Louis put up a great effort against him as a re-ride in London though and almost became the first man to make the 8-second mark. As mentioned in the Game Notes, this is a rematch from Manor last summer where the bull won, marking 42 points. The trouble here is even if a guy does ride, he probably won't get the score for what it felt like. Tanner drew such a good one in the first round, but karma bit him with his Round 2 foe.
Zane Lambert vs. 399 Flash Forward
Another one of Moncton's rematches, it's been almost two years since these two have met in PBR competition. This bull is another in Round 2 that hasn't been ridden yet in the PBR. Zane's got two tough one's here, but the event was won on two scores last year.
Daylon Swearingen vs. 492 Dylan's Devil
This is another one that Kolbaba rode in Québec, the score is the same as it was on Applause too at 86 points. Dylan's Devil from the Wild Hoggs, however, didn't have as much up and down and has more junk to him before he smooths off. Swearingen went 1-for-3 in Albuquerque and now sits No. 28 in the world. Look for a score here to bring him back to the finals. Last year he won the round at 88.5 points on Tykro Pound Sand becoming only the fourth man to cover the bovine athlete.
Chase Outlaw vs. 336 Tykro Total
This bull is in a similar boat to Uptown Funk and Morning Wish. Chase drew well in Round 1 so he needs to capitalize there. Tykro Total isn't smooth at all and isn't a bull guys like to draw. Those bulls are part of this sport however, another reason why the riding percentages of even the top guys on the planet is still often less than 50%.
PBR Canada action continues on Saturday, May 25 with the Moncton Classic, presented by GO! Store, in Moncton, New Brunswick. The event will mark both PBR's debut inside the brand-new, state-of-the-art Avenir Centre, and the league's second trip ever to the city.
Action gets underway at 7:00 p.m. ADT, and tickets are available at Ticketmaster.ca. Fans can also watch the action LIVE at RidePass.com or via the mobile app.
Stay tuned in to PBRCanada.com and follow the tour on Facebook (PBR Canada), Twitter (@PBRCanada), and Instagram (@PBRCanada) for the latest results, news, stats and more.
Follow @TedStovin on Twitter