Six Potential New Riders For 2020 Global Cup
By: Justin Felisko Wednesday, May 15, 2019 @ 1:59 PM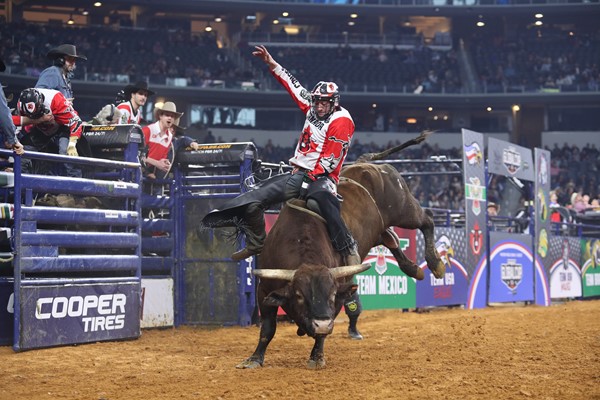 PUEBLO, Colo. – The 2020 WinStar World Casino & Resort Global Cup USA, presented by Monster Energy, will take place on Feb. 15-16 and it will feature another stout battle for bull riding global dominance between Australia, Brazil, Canada, Mexico and the United States.
The PBR announced Monday, along with the latest ticket information, that the Global Cup roster sizes will shrink to six riders and an alternate instead of seven and alternate.
There has been no announcement just yet as to when coaches will be named for the 2020 Global Cup or how the teams will be selecting their rosters.
Regardless, with the next edition of the Global Cup eight months away, here are six riders that did not compete at the 2019 Global Cup USA that may boost their respective countries in 2020 if they were to wind up making their teams.
TEAM CANADA: Garrett Green
Garrett Green's availability will likely depend on his Canadian Pro Rodeo Association schedule in 2020, but the No. 1 rider in the CPRA could be a helpful addition for Team Canada.
Team Canada completely underwhelmed in 2019 in Arlington as a talented roster on paper stumbled to 3-for-18, last-place finish.   
It was a stunning performance and changes will likely be coming for the Canadians.
Green is one of the more talented bull riders in Canada, and he is also currently No. 6 in the PBR Canada standings courtesy of his 7-for-10 start to the 2019 PBR Canada season.
The 27-year-old is 49-for-100 in his PBR Canada career with seven event victories, and he could provide a much-needed boost to the Canadians.
OTHER CONSIDERATIONS: Brock Radford, Riley Gagnon, Coy Robbins, Shay Marks
TEAM BRAZIL: Luciano de Castro
The reigning Global Cup champions shocked the United States this past Global Cup by becoming victorious despite having to field two non-Unleash The Beast riders in Bruno Scaranello and Fernando Henrique Novais.
Scaranello and Novais certainly carried their weight, though, by going a combined 2-for-3 at the Global Cup.
It will still be hard to imagine both riders making the 2019 PBR Brazil squad with how many talented Brazilians are competing in the United States full time this season.
It is still to be determined how each country's squad will be decided for 2020, but one rider to keep an eye on for the Brazilians is 2015 PBR Brazil champion Luciano de Castro.
Castro in many ways was a causality of Team Brazil having to take three riders from its national standings in 2018, but with the change in format for the upcoming Global Cup, Castro will have to be an even stronger consideration to make the 2020 squad.
Not only is Castro currently the No. 6 bull rider in the world standings, but his ability to record high-scored rides will be extremely beneficial to the Brazilians.
Brazil (11 rides) was able to hold off the USA Eagles (10 rides) in Arlington by one qualified ride this year as each team failed to reach 12 qualified rides.
Based on the 2020 format, which requires teams to only reach 10 qualified rides, the Eagles would have actually won this past Global Cup over the Brazilians 867 to 860.25*
*Both squads would have one less rider, though, in 2020
One way for Brazil to increase their average ride score is by adding Castro.
Castro is averaging 86.33 points per ride on the Unleash The Beast this year, which is actually higher than any of the Brazilians that were on Team Brazil this past February outside of world leader Jose Vitor Leme (87.95 points per ride).
The 23-year-old previously rode for Team Brazil at the 2018 Sydney Global Cup, where he was 3-for-3 and one of their best riders not named Kaique Pacheco.
OTHER CONSIDERATIONS: Silvano Alves, Dener Barbosa, Alisson de Souza, Lucas Divino, Danilo Carlos Sobrinho
TEAM USA EAGLES: J.B. Mauney
The Eagles fell one ride shy of defeating Team Brazil in Arlington, and one has to wonder if a healthy J.B. Mauney could have been the difference.
Mauney was supposed to be the alternate for the Eagles, but he was eventually replaced by five-time PRCA champion Sage Kimzey because of his broken left leg.
Kimzey did his part and came through with a qualified ride as an injury replacement for 2017 World Champion Jess Lockwood.
However, how would an Eagles squad look with maybe Mauney and Kimzey on it?
Mauney is tied with Justin McBride for the second-most, 90-point rides (74) in PBR history, and he has made a career of making monumental rides in high-pressure situations.
He very well could have come through with that final ride the Eagles needed this past February if he would have been healthy enough to be on the squad.
The 32-year-old may not be able to carry the team like he did at the 2009 World Cup in Brazil, where he was named the Team MVP thanks to a 5-for-5 performance, but Mauney could likely still be a difference maker – even as another rider-coach role like 2008 World Champion Guilherme Marchi was at the inaugural Global Cup in Edmonton.
The question will be much like this year for Mauney. Will he be healthy enough come February 15, 2020, to still be a difference maker for the Americans?
OTHER CONSIDERATIONS: Joe Frost, Matt Triplett, Mason Taylor, Ezekiel Mitchell, Koal Livingston
TEAM USA WOLVES: Latrell Long
It is still too early to tell what the future may hold for Latrell Long, but the 2018 Indian National Finals Rodeo bull riding champion (244 points) may be an option for the Wolves in 2020.
The 18-year-old will get his first shot to show what he is capable at the PBR level this weekend at the Ty Murray Invitational, presented by Isleta Resort & Casino. Long has accepted Murray's annual Native American invite for his namesake event in Albuquerque.
Long – a Dilkon, Arizona, native – is the youngest Native American invite since Cody Jesus debuted in 2017.
Jesus, of course, is one of the standout bull riders for the Wolves and is currently ranked No. 11 in the world standings.  
OTHER CONSIDERATIONS: Guytin Tsosie, Zane Cook, Wyatt Rogers, Troy Tuni
TEAM AUSTRALIA: Troy Wilkinson
Wilkinson was unable to make it to the U.S. for the 2019 Global Cup when he was offered a reserve spot for the Australians two weeks before the first Global Cup on American soil.
The 2017 PBR Australia champion was one of the veteran leaders for coach Troy Dunn and the Aussies when they hosted the 2018 Global Cup in Sydney, and he has plenty of experience in the United States as well.
Wilkinson went 1-for-2 in Sydney before shutting down his season to undergo left elbow surgery.
He has since regained his previous form and is sitting No. 6 in PBR Australia, while also finding success on the Australian rodeo circuit.
The 2017 PBR World Finals qualifier would be a great addition for Team Australia in 2020, and he will also be captaining New South Wales for the PBR Australia State of Origin bull riding competition against Queensland on June 1 in Sydney.
OTHER CONSIDERATIONS: Lawson Nobbs, Braydon Wellby, Mitchel Paton, Lane Mellers
TEAM MEXICO:Gustavo Pedrero
The two-time PBR Mexico champion led the Mexicans in Sydney with a 2-for-3 showing, but he was not a member of the 2019 Global Cup squad, which had one of its better showings in international competition with four qualified rides.
Team Mexico still has plenty of work to do to compete with the other bull riding world powers, but bringing Pedrero back into the fold may be helpful.
Pedrero could be another veteran voice alongside 2017 PBR Mexico champion Francisco Morales and two-time PBR Mexico champion Juan Carlos Contreras.
The 32-year-old is 2-for-6 in three appearances at the PBR World Finals.
OTHER CONSIDERATIONS: Arturo Perez, Saul Lopez, Ricardo Ramirez, Santiago Castellanos, Ricardo Orozco
Follow Justin Felisko on Twitter @jfelisko