Outlaw Looks To Channel Canadian Success And Take Over World No. 1 Ranking
By: Justin Felisko Thursday, May 2, 2019 @ 11:12 AM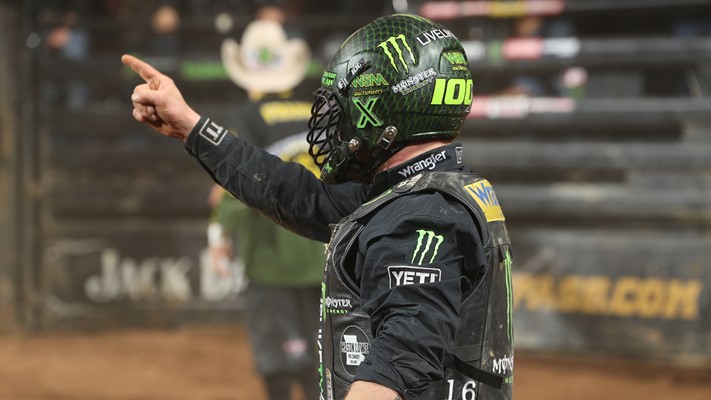 PUEBLO, Colo. – Chase Outlaw took a pause from working on his spurs in Columbus, Ohio. He glanced up from his chair and looked at Brennon Eldred.
"Remember when we went up to Quebec a few years ago?" Outlaw asked.
"Yeah, man," Eldred responded, looking perplexed.
Outlaw then let out one of his quintessential Arkansas laughs.
"I never got my check cashed," Outlaw said before shaking his head. "I was going to put it in a Canadian account. I still never got it cashed. I just kind of forgot about it."
Eldred looked at Outlaw in shock.
"Brooooo. You need to do something about that," Eldred said. "That was, what, two years ago?"
The two bull riders burst out laughing. 
Outlaw and Eldred will be returning to Quebec for the first time since 2017 on Saturday for the PBR Canada 2019 Monster Energy Tour Canadian Iron Cowboy, presented by Super Sagamie.
The event is a PBR International Major, which means that one rider can earn up to 370 points toward the world standings. The winner also can win potentially win $46,000 CAD.
Fans can watch the event on RidePass beginning at 7 p.m. ET.
Outlaw went 2-for-3 at the inaugural event two years and finished fifth overall ($6,280.09), while Eldred placed sixth, also going 2-for-3.
You can bet Outlaw will not forget to deposit a check this time around if he takes home the PBR Canada Iron Cowboy title.
They are two of nine riders ranked inside the Top 40 of the world standings making the trek to the Great White North. Joining Outlaw and Eldred in Quebec City are 2017 PBR Canada Iron Cowboy Derek Kolbaba, No. 19 Stetson Lawrence, No. 26 Marco Eguchi, No. 29 Keyshawn Whitehorse, No. 31 Scottie Knapp, No. 36 Daylon Swearingen and No. 38 Dakota Buttar.
All entered riders will attempt one bull in Round 1 with the Top 8 advancing to the second round.
Following Round 2, the Top 4 riders in the aggregate will advance to Round 3, with the Top 2 in the aggregate moving on to the fourth and final round. Through these four rounds, if at any point fewer qualified rides are recorded than positions open, the remaining slots will be filled on buckoff time.
The fourth and final round will pit two cowboys head-to-head in a winner-take-all showdown with the rider who records the top score in that round crowned the Canadian Iron Cowboy. Should neither of the advancing riders record a qualified ride, the winner will be the rider with the highest aggregate score.
World Points Available
Winner: 300 points
Runner-up: 120 points
Advance to Final 2: 40 points each
Advance to Final 4: 20 points each
Advance to Final 8: 10 points each
*Riders only earn world points if they advance via qualified rides.
*In the event that the final round ends with no qualified rides, then each rider who attempted a bull in the Round 4 will be awarded world points based on the above list as determined by the sum of their aggregate score in the event.
Outlaw – the No. 2-ranked bull rider in the world standings – can take over the world lead from Jose Vitor Leme with a victory in Quebec.
The Hamburg, Arkansas, bull rider sits only 214.16 points behind Leme, who is not competing this weekend.
"It is a one-day deal with that many points. Why not?" Outlaw said. "I like Canada. It just seems like a good place to go. Why would you go to a two-day bull riding in South Texas (Uvalde, Texas, Touring Pro Division event) for 60 (world) points? There is no need to go down there and getting on them bulls for 60 points and I can go up here."
Marcos Gloria won Quebec last year to propel himself onto the Unleash The Beast.
The 2017 season, though, showed how important Quebec could be toward the world title race with Kolbaba's victory. He earned 300 points in Quebec, which was the most points he earned all season at one event outside of his five Unleash The Beast event victories.
The Walla Walla, Washington, bull rider finished second to 2017 World Champion Jess Lockwood in the final world standings.
Outlaw, who will also be competing at the 2019 Calgary Stampede (RidePass) this July, has won nine PBR Canada sanctioned events in his career and is a 64% rider in PBR Canada.
He can't really pinpoint why he has done so well north of the border.
"I don't know," Outlaw said. "I just love it up there. Canada is up there as a favorite."
Follow Justin Felisko on Twitter @jfelisko