Outlaw: "Canada is Like a Second Home to Me"
By: Justin Felisko Thursday, May 23, 2019 @ 4:24 PM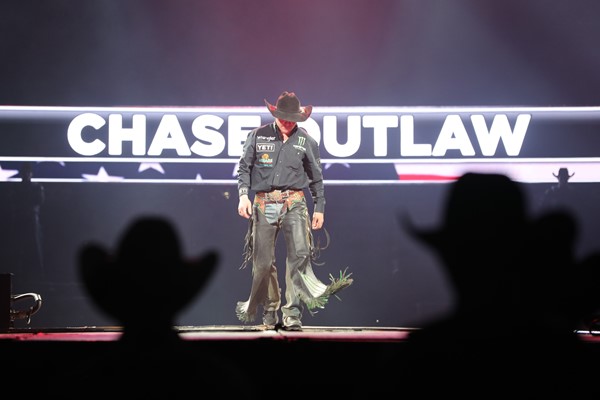 PUEBLO, Colo. – "Why is a tree green?"
"Why is the sky blue?"
Chase Outlaw, channeling his best Fred Ward impression from the 2001 movie Joe Dirt, asks, "How does the posi-trac rear end on a Plymouth work?"
Looking at his pal Matt Triplett, Outlaw then laughs.
"It just does!"
Outlaw's reason to head north of the border for the second time this season for Saturday night's PBR Canada Monster Energy Moncton Classic, presented by GO! Store, in Moncton, New Brunswick, is a simple one.
It is just what he is supposed to do.
The No. 2 bull rider in the world is in hot pursuit of a World Championship this season, and Outlaw has no problem packing up his gear bag on an Unleash The Beast off weekend and heading to Canada.
Outlaw has made it a yearly occurrence to compete in Canada ever since he first won the Ty Pozzobon Invitational in 2013.
The 26-year-old has won nine PBR Canada sanctioned events and has a 63.16% riding average in more than 30 PBR Canada events.
"I love it up there," Outlaw said. "That is like a second home up there. Them guys are great, all the stock contractors, everybody. I feel just as much at home up there as I do down here."
Outlaw won't be riding for Team Canada at any future PBR Global Cups, but the former Team USA Eagle is leading a contingent of eight American riders into the Avenir Centre Saturday.
Top riders tentatively expected to compete include No. 12 Triplett, No. 28 Daylon Swearingen, No. 44 Michael Lane, four-time PBR World Finals qualifier Tanner Byrne and two-time PBR Canada champion Zane Lambert.
Fans can watch the event live on RidePass beginning at 6 p.m. ET.
Outlaw trails world leader Jose Vitor Leme by 489.16 points following his second-place finish at the Ty Murray Invitational last weekend in Albuquerque.
RELATED: Outlaw remaining confident despite Leme's victory in Albuquerque
The Hamburg, Arkansas, bull rider has drawn Applause (0-0, PBR) for Round 1.
Outlaw, who spent two weeks atop the world standings, leads the PBR with 27 qualified rides on the Unleash The Beast and is tied for second in the PBR with two UTB event wins.
Outlaw has evolved into a World Champion contender in 2019 following a serious wreck last year in Cheyenne, Wyoming, that broke over 30 bones in his face and has required multiple facial reconstructive surgeries.
The seven-time PBR World Finals qualifier has also bounced back from three reconstructive shoulder surgeries since 2015, and only needs seven more rides on the Unleash The Beast to break his career high of 33 rides in 2017.
Outlaw made his 2019 PBR Canada debut earlier this month at the 2019 PBR Canada Iron Cowboy in Quebec, and was bucked off by Hammer Down (2.91 seconds) in Round 1.
Despite being eliminated in Round 1, Outlaw said it did not deter his love for the Canadian people.
Quebec was just another reminder of how welcoming Canada continues to be to him.
"It is the camaraderie," Outlaw said. "Everybody up there. They are so welcoming and warm. I have always loved it up there.
"I look forward to going every time."
SOCIAL SPOTLIGHT: ARKANSAS BECOMES 15th STATE TO RECOGNIZE NATIONAL DAY OF THE COWBOY
Earlier this week, Outlaw joined PBR CEO Sean Gleason and Arkansas Gov. Asa Hutchinson in Little Rock, Arkansas, as Arkansas became the 15th state in the United States to sign a bill recognizing the National Day of the Cowboy in July.