Lane Reaches Top 35 with Victory in Moncton
By: Kacie Albert Wednesday, May 29, 2019 @ 12:09 PM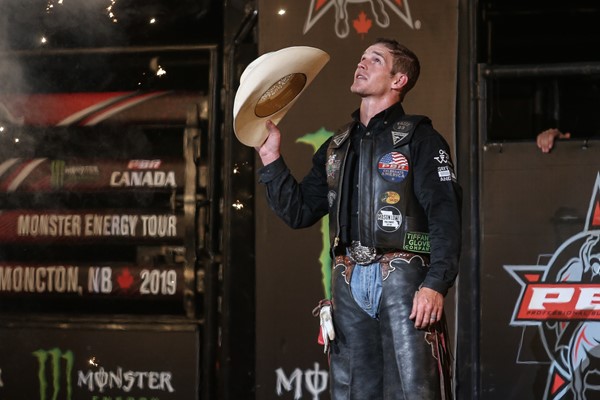 NEW YORK CITY – While the stakes are high at every event, for one rider ahead of last weekend's Moncton Classic, presented by GO! Store, part of the Canadian Monster Energy Tour, a win meant the difference between him joining the elite Unleash The Beast in Green Bay, or remaining outside of the Top 35.
Ahead of his second trip to Canada in 2019, Michael Lane was ranked No. 44 in the world, 142.5 points behind then No. 35 Junio Quaresima.
Lane made his 2019 debut on Canadian soil at the London Classic, two weeks prior to the Moncton stop, riding a streak of momentum that began on April 27 on the Pendleton Whisky Velocity Tour in Des Moines, Iowa.
Winning Round 1 with an 87.5-point trip on Mayday, Lane captured his first event win of the season on the expansion series in Iowa, garnering 220 world points and surging from No. 86 to No. 44 in the world.
RELATED: Michael Lane Wins Des Moines Invitational
Two short weeks later, while Lane netted 10 world points when he finished sixth in London, he remained No. 44 in the world.
But his position in the rankings greatly changed once he stepped foot inside the Avenir Centre in Moncton, New Brunswick.
As the first rider to reach the 8-second whistle inside the brand-new, state-of-the-art building, Lane covered Hollow Point for 80 points.
"Coming into a weekend where you've got two long rounds and a short round it's always good just to get that first one knocked out and stay focused on the next one," Lane told TSN sideline reporter Scott Byrne moments after the ride.
"No matter what your name is beside you've got to show up, you've got to ride them, so always happy just to see my name on the board."
Awaiting the Virginia cowboy in Round 2 was a fellow American athlete, Black Sails of the Maryland-based Triple R Bull Company.
Lane, the first rider out in the second round, struck fast, again recording a qualified ride, this time for 82.5 points.
"It's always good when you can just keep riding your bulls," Lane said. "Don't think about nothing, just keep running them and riding them."
The lone man to go 2-for-2 through the opening rounds, Lane entered the championship round as the rider to beat, 76.5 points in front of then second-place Daylon Swearingen.
"It's just like always," Lane explained of his mindset entering the final round. "Ride one bull at a time, and ride what bull you have under ya."
While Lane's trip with Big City Nights didn't end in a score, with the 28-year-old dispatched in 5.13 seconds, his previous two scores were enough to seal his first victory in the Great White North.
"It's such a blessing," Lane said from the arena floor after being presented with his event buckle. "To be able to come out and do what I do, I just want to start off first, thank you sponsors for staying behind me and helping me get up and down the road all these miles.
"Most of all I want to thank the great fans of Moncton so that we can come out and ride bulls and perform. Thank you all because without you, we couldn't do what we do. And I would like to thank my family and my wife at home for supporting me.
"And thank God most of all."
RELATED: Michael Lane Wins Career-First PBR Canada Event in Moncton
While Lane collected a check for $5,263.52, he more importantly garnered 170 world points and is now the No. 35-ranked rider in the world.
Next up for Lane is a return to the elite PBR Unleash The Beast, set to ride at this weekend's premier series debut in Green Bay, Wisconsin.
The Green Bay Invitational, presented by Oneida Casino and North Star Mohican Casino Resort will buck into the Resch Center on Friday, May 31 and Sunday, June 2. Fans can watch all the action LIVE on RidePass.
In Round 1 he'll attempt Happy Gimore. Unridden in 10 outs across all levels of competition, the Truth Bucking Stock bovine athlete last bucked on the premier series in Albuquerque, New Mexico, dispatching Swearingen in 2.91 seconds to earn a 43.25-point bull score.
Despite the immediate benefits of Lane's win being seen with his rise in the world standings, he also gained crucial ground in the Canadian national standings, earning 495 national points for the win in the Maritimes.
With a $50,000 bonus set to be awarded to the Canadian Champion at season's end, Lane is now No. 9 in the national standings, 530.83 points behind No. 1 Jared Parsonage.
PBR Canada Touring Pro Division action resumes this weekend with the Clunie-Cooper Memorial PBR on Thursday, May 30 and Friday, May 31 with action getting underway at 7:00 p.m. CST both nights at the Art Hauser Centre.
The Monster Energy Tour will make its fourth and final stop in the Eastern provinces on Saturday, June 1 with the Halifax Toughest Cowboy in Halifax, Nova Scotia at the Scotiabank Centre at 7:00 p.m. ADT. Tickets are still available and can be purchased at Ticket Atlantic.