Game Notes – London
By: Kacie Albert Saturday, May 11, 2019 @ 11:44 AM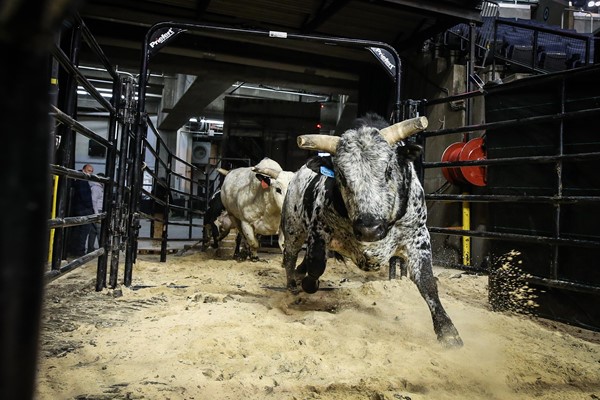 WELCOME TO LONDON– This weekend, for the first time since 2016, PBR Canada will return to London, Ontario and Budweiser Gardens with the London Classic. Action gets underway on Saturday, May 11 at 7:00 p.m. EDT.
RELATED: Click here for the complete London Classic Game Notes. 
I SPY THE TOP 35– This year the PBR's Executive Competition Committee (ECC) approved a revised PBR world points system pertaining to the Velocity Tour and International Tour events for the 2019 season and beyond. International Cup events in Australia, Brazil, Canada and Mexico will now award 170 world points to the winner.
With the increased points available, the stakes are raised for the London event, with nine riders in position to possibly earn a berth or alternate position to next weekend's Unleash The Beast event in Albuquerque, New Mexico. For the quartet of Daylon Swearingen, Michael Lane, Marcus Mast and Tanner Byrne an event win would mean climbing into the Top 35 and a possible position next weekend on the elite tour:
              Swearingen is currently No. 36 in the world and would rise to No. 27
              Lane is currently No. 44 and would rise to No. 34
              Mast is currently No. 45 and would rise to No. 34
              Byrne is currently No. 49 and would rise to No. 35
For another five riders, Cody Casper, Luis Blanco, Shay Marks, Zane Lambert and Dayton Johnston, the world points earned for the win would put them all within 170 points of the Top 35.
              Casper is currently No. 54 and would rise to No. 37, just 18.33 points outside of the Top 35
              Blanco is currently No. 61 and would rise to No. 38, just 42.08 points outside of the Top 35
              Marks is currently No. 67 and would rise to No. 40, just 65.83 points outside of the Top 35
              Lambert is currently No. 81 and would rise to No. 46, just 130.83 points outside of the Top 35
Johnston is currently No. 86 and would rise to No. 50, just 165.83 points outside of the Top 35
LAST NIGHT IN NIPAWIN– Last night, PBR Canada held the fifth Touring Pro Division event of the season in Nipawin, Saskatchewan. As one of two riders to go a perfect 2-for-2, Jake Lockwood captured the first event win of his career. Earning 350 Canadian points after winning both rounds en route to the event title, the Volborg, Montana native also rocketed from No. 34 to No. 12 in the Canadian national standings. As the only other rider to be flawless, Jared Parsonage finished second to reclaim the No. 1 ranking in the Canadian national standings. He now leads No. 2 Jordan Hansen by 45 points. Among the riders that rode in Nipawin that will also make the journey to London, Tanner Byrne was the top finisher. A double entry, the Canadian Champion tied for both third and seventh to net a total of 135 Canadian points. He went from No. 18 to No. 14 in the national standings, now 715.83 points behind the No. 1 spot. He also gained 17.5 world points in his hunt to return to the Top 35. He gained one spot in the world standings, rising from No. 50 to No. 49. He now trails No. 35 Koal Livingston by 150.83 points.  
LAST WEEK IN QUEBEC– Last weekend, for the third consecutive year, Quebec City and the Videotron Centre hosted the league's lone International Major. Featuring a progressive elimination format for the second consecutive season, Derek Kolbaba, who won the first-ever event in the city in 2017, used a 3-for-4 showing to capture the title of Canadian Iron Cowboy. Earning 350 world points, he rose from No. 11 to No. 7 in the world. He also collected 680 Canadian points to allow him to rocket from unranked, to No. 3 in the national standings. Among the finishers, Zane Lambert travels to Ontario as the top-finishing rider from the Canadian Iron Cowboy that's anticipated to ride at the London Classic. Going 2-for-3, including an 83.5-point ride on Scally Wag in Round 1 and an 85.5-point ride on Kool Aid, Lambert finished third to collect 50 Canadian and 10 world points.
INTERNATIONAL FLARE – For the first time this season, riders from six different nations will compete at a Canadian Monster Energy Tour. While 16 Canadians will ride in front of a home country crowd, cowboys from Australia (1), Brazil (3), Mexico (1), Paraguay (1) and the United States (8) will also compete. The trio of Brazilians includes two-time Monster Energy Tour event winner and 2018 Calgary Stampede Champion Marcos Gloria, while the American roster is led by No. 36 Daylon Swearingen and No. 44 Michael Lane.
LAMBERT RIDES STRONG – Since riding to a fourth place finish on March 23 at the Calgary Classic, Zane Lambert has been riding strong going 7-for-12 and rise to No. 5 in the national standings. In Calgary, Lambert's fourth-place effort was highlighted by a Round 1 win after he covered Wildlife Distillery's Riggs for 86.5 points. At his next event, the two-time PBR Canada Champion won the Touring Pro Division stop in Marwayne going a flawless 2-for-2. His 8-second efforts were atop Boomerang for 85.5 points and Wait For It for 86.5 points. Following an eighth-place finish at the Brooks Touring Pro Division event, Lambert was the top finishing Canadian last weekend at the Canadian Iron Cowboy in Quebec. He enters the London event ranked No. 5 in Canada, 402.08 points behind No. 1 Jared Parsonage.
HOME-PROVINCE FAVORITES – Of the 16 Canadians expected to ride at the London Classic, seven hail from the province of Ontari0. The contingent is led by Nick Goncalves of Oakville who has competed at upwards of 15 PBR events in his career, including four Canadian Monster Energy Tour events. He last rode on the Pendleton Whisky Velocity Tour in January at the Youngstown, Ohio stop where he was bucked off by Force Awaken in 1.6 seconds. Much the opposite, three riders, will be making their PBR debut in London: Tyler Ewart (Melbourne), Ben Peever (Simcoe) and Bret Timmermans (Parkhill). Of the three remaining Ontario riders, all have past experience competing on the Monster Energy Tour. Dylan Douglas of Waterloo rode at the 2018 event in Ottawa, bucked off by Splinter in 3.83 seconds, while Jacob Moore of Indian River, who rode at the London stop in 2016, competed at the Ottawa, Halifax and Moncton events in 2018, while James Sullivan of Hamilton, who also rode in London in 2016, last competed at the 2018 event in Ottawa.
PREVIOUSLY IN LONDON – As one of three riders to go a perfect 2-for-2, Reese Cates won the first, and thus far only, Monster Energy Tour event in London in 2016. After recoding an 84-point trip on Skori Bucking Bulls' Big Shot, the Arkansas cowboy sealed the win with an 83-point ride aboard Open Season of the Wild Hoggs. Cody Casper was the top finisher from 2016 that is anticipated to ride this season. The Washington man finished fifth after riding Indian Turtle for 84.5 points in the championship round. The only other rider to reach the 8 in 2016 that is also expected to ride in 2019 is two-time PBR Canada Champion Zane Lambert who covered Whiplash for 82 points in the final round to conclude the stop seventh.   
2016                    Reese Cates   
BULL PEN – This weekend, All Access will continue his impressive streak on the Monster Energy Tour having bucked at all five events on the premier series thus far in 2019. Specific to the championship round, he will be the only bull to accomplish the feat. At the first event of the season in 2019 in Winnipeg, All Access dispatched Logan Biever in 2.98 seconds to earn a 42.5-point bull score. In Lethbridge All Access recorded yet another 42.5-point score for his 3.14-second buckoff of Dayton Johnston. After dispatching Marcos Gloria for a 41-point score in Calgary, All Access' most recent trip in Quebec, a 7.86-second buckoff of Zane Lambert for a 42.5-point score, came after a trip to the United States to compete on the elite Unleash The Beast. In Billings, All Access had two trips, first being ridden by Cooper Davis for 88 points, winning Round 1, when he earned a 43-point score, which he followed with a 2.99-second trip against Ruger Piva to earn a 41.25-point score. The bull pen will also include 2018 PBR World Finals Bucking Bull Tykro Pound Sand. At the PBR World Finals last season, Pound Sand was ridden by Joao Ricardo Vieira in Round 3. Pound Sand last bucked in Quebec City when he dispatched Brennon Eldred in 3.86 seconds to earn a 43.5-point bull score. Rounding out the pen is One For the Money, the high-marked bull in Quebec, marked 44 points when Derek Kolbaba rode him for 88 points to win the event's $20,000 bonus.     
NEXT UP – PBR Canada's Monster Energy Tour will next travel to Moncton, New Brunswick, and the Avenir Centre for the Moncton Classic, presented by GO! Store. The event will be the third of the four-stop slate of events in the Eastern provinces and will get underway on Saturday, May 25 at 7:00 p.m. AT.  
PROVIDING PROTECTION – The bullfighters on hand for this weekend's event in London are Bo Byrne, Greg Loring Jr., and Dominic Roy.  
BROADCAST COVERAGE – Fans will be able to watch the action in its entirety live via PBR's new streaming digital platform RidePass. Coverage of the London Classic will begin at 7:00 p.m. EDT on Saturday, May 11. The event will also be broadcast on TSN2 on Tuesday, July 9 at 7:30 p.m. EDT.