Byrne: "You can't get frustrated, but yeah it pisses me off"
By: Justin Felisko Monday, May 6, 2019 @ 3:09 PM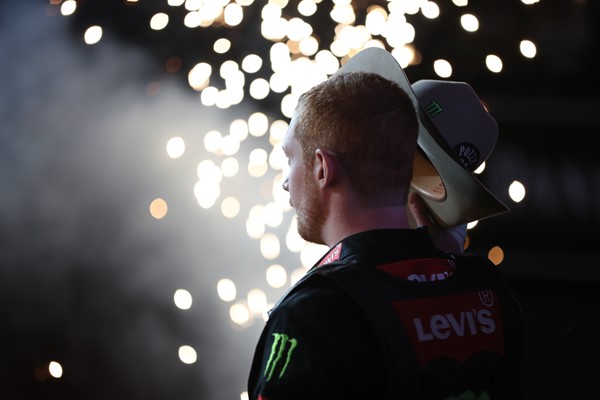 PUEBLO, Colo. – Tanner Byrne's return to competition following a month-long layoff because of a separated right shoulder did not go exactly as he would have liked.
Not only did Byrne get eliminated from the PBR Canada Iron Cowboy, presented by Super Sagamie, in Round 2 this past weekend, but Byrne was not even riding at 100 percent because of a nagging cold virus that had zapped him of energy.
"That is the thing with our sport," Byrne said on RidePass. "We are not getting paid unless we are doing our job. Fighting through sickness and injuries is part of it."
Byrne ultimately finished in eighth place, but the 26-year-old is staying optimistic ahead of this coming weekend's PBR Canada Monster Energy Tour London Classic in London, Ontario.
Fans can watch the action from Ontario live on RidePass beginning at 7 p.m. ET.
The Prince Albert, Saskatchewan, bull rider is trying to climb his way back up the world standings and onto the Unleash The Beast following a 9-for-22 start to the season led to him being cut from the PBR's top tour.
"You can't get frustrated, but yeah it pisses me off," Byrne said last month in Sioux Falls, South Dakota. "It is how I make my living. This is what I do for a living and it hits you in your pride when you are cut and see all these young kids taking over your spot."
Byrne then stopped pedaling on the exercise bike inside the Denny Sanford PREMIER Center and shrugged.
RELATED: Dynamic warm ups should be an area of focus for bull riders
The six-year veteran knows it is a long season, and that he has plenty of time to right his bull riding ship.
Byrne may be sitting No. 50 in the world standings, but he knows that a deeper look into his season shows that he is actually not to far away from regaining a Top 35 ranking.
The four-time PBR World Finals qualifier is 168.33 points behind No. 35 Koal Livingston in the standings.
However, Byrne's nine qualified rides on the Unleash The Beast is still more than 11 riders inside the Top 35. Byrne is 15-for-34 at all levels of competition, including 6-for-11 in Canada.
"I look at the stats and what I am doing and I am riding good," Byrne said. "I have one of the best riding percentages (40.91% on UTB) of anyone in the Top 35. It is one of those deals that I can't control and if I keep staying on, the cream always rises to the top. So at the end of the year we will see where I am at."
Each winner of a PBR Canada Monster Energy Tour event takes home 170 world points. Therefore, a victory from Byrne in London could place him immediately back in the Top 35.
Also tentatively expected to compete in London is No. 36 Daylon Swearingen, No. 38 Dakota Buttar, No. 44 Michael Lane, No. 45 Marcus Mast and two-time PBR Canada champion Zane Lambert.
"It is that time of year where the summer break is coming," Byrne said. "There are lots of points over that summer break. You are never out of the fight in this sport, especially with the new points system the way it is.
"You try not to let all of the added aspects of this sport get in your head. The judging, the point system and everything that can get a guy down."
The next Unleash The Beast event is the Ty Murray Invitational on May 17-19 in Albuquerque, New Mexico.
Byrne's 40.91% riding average is also actually his best since riding 44.87% in 2015.
Byrne finished eighth in the 2015 world standings, which is the highest season-ending finish for any Canadian-born bull rider.
"I have rode lots of good bulls this year – Handsome Jeff, Blue Stone, Chain Smoker," Byrne said. "It just hasn't really gone my way points wise and score wise. Bulls that usually win rounds on I may not even really place on. It is just one of them deals where things haven't gone my way, but I think with anything in this sport I am due for a hot streak. Who knows? When I least expect it maybe it will turn the other way and I will get back."
There is still plenty of time for Byrne to make his way to Las Vegas on Nov. 6-10 for the 2019 PBR World Finals, and he knows the easiest path back to the Unleash The Beast, and ultimately the World Finals, is by simply cracking that 8-second mark night after night.
 "Stay on your bulls," Byrne said. "If I ride all of my bulls, there is going to be only a couple of guys to do that. It is there for the taking. It is just stepping up to the plate and doing it.
"I am not doubting myself and I am not mad at where I am at. I feel good and I am riding good. I am due."
The PBR Canada Monster Energy Tour continues from London, Ontario at Budweiser Gardens starting at 7:00pm EDT on Saturday, May 11. Tickets remain available online at BudweiserGardens.com or the venue box office.