With the Help of a Legend, Gagnon Reaches Career-Highs in Calgary
By: Ted Stovin Thursday, March 28, 2019 @ 11:18 AM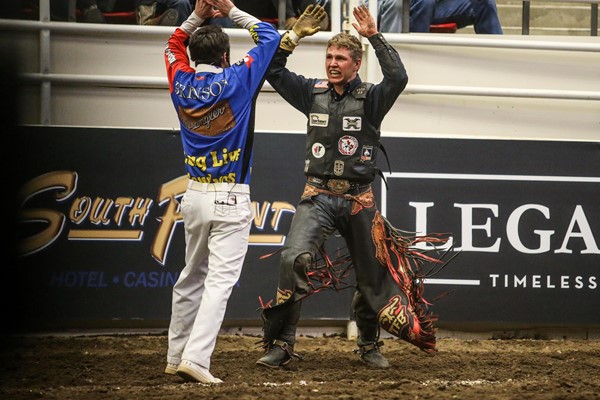 CALGARY, Alberta – On Saturday night, first-year pro Riley Gagnon achieved a huge accomplishment in the career of a professional bull rider.
In front of a sold-out crowd at the Nutrien Western Event Centre at the Monster Energy Tour's Calgary Classic, Gagnon rode reigning PBR Canada Bull of the Year and two-time PBR World Finals qualifier Happy Camper.
RELATED: Jordan Hansen Wins PBR Canada's Calgary Classic
First out of the chutes in the championship round, Gagnon recorded the fifth qualified ride aboard the Two Bit Bucking Bulls' bovine athlete, covering him for 89 points. He joined Dener Barbosa who has ridden Happy Camper twice at the PBR World Finals, Jared Parsonage and Zane Lambert as the only riders to have ever reached the 8 seconds on the bull.
Climbing the event leaderboard, Gagnon held the lead until Jordan Hansen tamed Twist of Barbwire for 87 points, becoming the only rider to go 3-for-3, capturing the event win.
Just three days later, on Tuesday morning, Gangon was back on the ground in the USA, heading to Bowie, Texas and the home of Cody Lambert.
"He's come a long ways in the past two years," Lambert said. "But he's still developing and that was a big step up, the ride that he made on Happy Camper. It's a process and it's a step in the right direction, but you don't want to crown him world champion yet because he rode one good bull."
That $4,539.85 check he earned in Calgary for his runner-up finish was Gagnon's first in PBR competition at just his seventh event. Today he ranks No. 6 in Canada and No. 81 in the world.
"As well he rode on Happy Camper, he still got bucked off his first one there," Lambert said. "He still didn't totally complete the mission. He redeemed himself on the second day, but that first one still got him right at the end and it wasn't as good a bull as he rode the next day. He shouldn't have let that happen."
And the sentiment of his mentor was one Gagnon echoed.
"On the first day I felt like I should've just cowboy-ed up a bit more and held on for just a half a second longer and I would've got a score," Gagnon said of the 7.85-second buckoff of Dirty Work. "Coming into the second day when I knew I had Moose, I just figured, all I can control is how hard I try. I figured I would just put it all on the line."
The 83.5-point score on Moose landed him tenth in the championship round, after Parsonage doctored out, meaning he would face Happy Camper.
After his score, there were eight straight buck-offs before Hansen, who as the event leader through the first two rounds was the only man who could take the victory from an antsy Gagnon.
"When I knew Jordan had Twist of Barbwire, I actually rode him the weekend before in St. Paul. I was 86 on him," Gagnon said. "When I was sitting there I knew that just any of those guys had to stay on. I wasn't hoping that anyone fell off; I did my job and I stayed on, I expect everyone else there to do their job.
"Coming up to Jordan, I was getting a bit hyped up thinking maybe, you know, who knows, but I knew Jordan was talented enough to ride that bull. I was happy for him, especially him coming back off an injury, I know all about that. For him to come off an injury and get a win like that is sure gonna help him out a pile too."
So far in his young career, Gagnon has already faced a broken neck and leg, in addition to a dislocated shoulder.
"Before I broke my neck I never broke a bone in my body," he said. "I was going to buy my PBR car as soon as I turned 18, but then I broke my neck and that put me out for a while.
"As soon as I got healed up, my first bull back I went to a place here in Texas with Cody and [Justin] McBride, he came with us. J.W. [Hart] brought some bulls and they ran some good ones under me.
"I ended up snapping the first couple back and I honestly didn't really feel like I missed a step. It was pretty awesome."
Next were the leg and shoulder.
"I was on my way to buy my PBR card and I stopped in Utah to enter a big open bull riding and snapped my leg off there," he added. "I came back, then I ended up tearing my shoulder out, then I was out again.
"Cody set me up with Tandy Freeman and he figured I needed surgery. They worked with the doctors in Canada and I started rehabbing it right away, I stayed on top of it. By the third x-ray they told me: 'Your shoulder looks like a whole new shoulder.'
"They couldn't even believe that from the first x-ray to the third, MRI's and everything that it was the same shoulder. So they said maybe don't get surgery and go on with it. They gave me a brace and everything.
"I came back and that's more or less the motivation to keep me going to the gym and staying healthy. Just cause I know if I don't then my shoulder is gonna really bother me. The sports med we have right now, I can't believe the stuff they can do for us. I'll bang my shoulder up one night, then the next day they'll have it feeling 100%. Without them it wouldn't be as easy as it has been on me."
"He's very determined and that's a real test for those guys," Lambert added. "For young guys or old guys, it doesn't matter, that's a real test and a real challenge. Injuries are part of the deal and they're a tough part of the deal. If a guy remains focused through that then he's doing some things right."
Gangon has stayed with Lambert off and on since the first school at his house in 2016.
"This winter, I've only been there for just over a month and a half, two months. Right after Winnipeg I drove here," Gagnon said.  
Jess Lockwood, 2017 PBR World Champion, has also spent a lot of time at the Lambert ranch.
"He's all married off now so he doesn't come around too much," Gagnon joked. "I wasn't around him a whole bunch. He was gone lots of the time just going to bull ridings, but a little bit during the week here and there."
The PBR Canada Rookie of the Year leader appreciates the help of PBR legend Lambert. 
"He does more than enough for me," Gagnon said. "He does a pile of mental work and just bull riding itself, just how to get bulls covered. It's hard to even put into words, he's just awesome."
This week, Gagnon is at Lambert's with 2014 PBR Canada Champion and six-time World Finals qualifier Stetson Lawrence.
"Most time it starts in the morning, we get up in decent time and we go to Fit N Wise," he said. "We usually get a good workout in there. My shoulder has been bothering me really bad since I tore it out there last year, so I get them to rehab that and get it strengthened up.
"Then we come back and most of the time we'll go over videos in the morning until afternoon and then it's just kinda help Cody around there and try to work my way to being able to let him keep letting me stay there.
"We go over a pile of videos and we stay busy with bull riding 24/7. It's on our minds all the time when we're around here. The reason I come here is to get my mind right and get everything flowing. It makes you sure a lot more confident when you go to them bull ridings when you know you got the tools to stay on."
Lambert is adamant about helping produce the future stars of the sport.
"It's not just me, I feel like I'm part of the team. It's Justin McBride, J.W. Hart and Ross Coleman and I," he said.
"What I feel like it is, is we've spent that last 25 years trying to elevate the sport of bull riding and tried to expose it to so many more people and build opportunities for bull riders, and we've got a lot of stuff done. But I looked around and every aspect was better except the bull riders. Instead of complaining because the bull riders weren't as good, I thought well maybe we should try to help 'em.
"If I've got something to offer and somebody wants to hear it, then I'll help them.
"That's what motivates me to do that, is I want to leave this sport better than I found it and that's where it looked like it needed help right now."