The Morning Line – Lethbridge – Day 2
By: Ted Stovin Saturday, March 2, 2019 @ 7:20 AM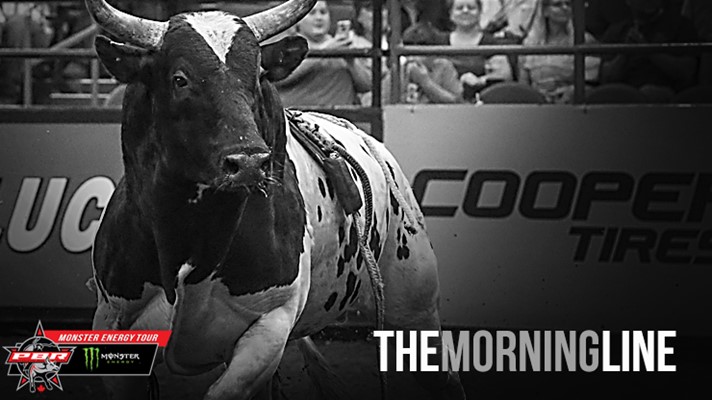 LETHBRIDGE, Alberta – Round 1 on Friday in Lethbridge featured 11 qualified rides.
Hometown superstar Happy Camper had another outstanding trip, bucking off Cody Casper in the Challenge of Champions in 2.21 seconds. We'll see Happy again in the Championship Round later this evening.
RELATED: Casper Wins Round 1 of Bridge City Chrysler/LA Towing PBR Challenge
With an expected sellout crowd, Saturday is sure to be a thriller. Make sure to grab your tickets first thing this morning or tune in to RidePass.com to watch all the action.
RELATED: Click here for the full Saturday daysheet
Cody Casper vs. 0-577 After Hours
According to my pal Slade Long's ProBullStats.com, After Hours from the X6 Ranch has been unridden in two outs so far. He bucked off Lachlan Richardson back in November at the PBR Canada Finals and dispatched Logan Biever in Abbotsford. Both were in less than five seconds. After a Round 1 win on Friday, Casper is poised to make some serious cash and points if he converts on this out.
Dayton Johnston vs. 400 Morning Wish
Dayton might not show a lot of emotion outside of the arena but I was pumped to see how fired up he was last night after riding Strong Arm from Vold Rodeo to 84.5 points. From the matchups I looked at for this piece, I think he plucked the ideal bull out of the draw for Round 2 as well. What a story it would be for the hometown guy to win one of the best events of the year and make his debut at the PBR's elite level the next week.
Morning Wish has been ridden five times in eight recorded outs. The scores have been good too, as high as 86. These two have even danced before for where Johnston picked up 77 points in Prince Albert last May. I bet the score is higher tonight.
Jackson Scott vs. C93 Rhythm & Blues
One thing I always like about Lethbridge is seeing everyone for the first time after the winter. I was impressed by Jackson's ride on Friday. He split sixth on Playing Chicken for 83 points but the end was a little rough. Rhythm & Blues from Elnora's Flying High Rodeo Co. has been ridden three times in six outs, most recently by Aaron Roy in Edmonton last fall for 84 points. After how great he looked on Friday I'm all for Scott picking up another score in Round 2.
Logan Biever vs. 174 Blow Me Away
These two met last May in Prince Albert at the Clunie-Cooper Memorial PBR where Blow Me Away blew Biever away. I always think guys are going to ride this bull more than they do. In 16 outs he's been tamed twice according to ProBullStats.com. One was by Roy in Saskatoon for 87.5 and the other was for a round win at the Calgary Stampede last summer by Jordan Hansen.
Biever is coming off a win last weekend in Claresholm and I'm thinking this could be the round if the two connect.
Tanner Byrne vs. 401 One for the Money
When I looked up this Nansen Vold product I found out that the only time One for the Money has been ridden so far was an out by Byrne last year at the Ranchman's PBR. That out was worth 85.5 points. Tanner is No. 38 in the world standings, 12.5 points back of No. 35 Emilio Resende. He really needs the points here so he can get back on tour. One thing about Tanner though is that he always steps up at pretty ideal times. My expectations are another two qualified rides this evening and a Top 5 finish at least.
The Bridge City Chrysler/LA Towing PBR Challenge, part of the PBR Canada Monster Energy Tour concludes at the Enmax Centre in Lethbridge, Alberta on Saturday March 2nd, 2019 starting at 7:00pm MT. Fans can watch live on RidePass and follow along with live scoring on the PBR Canada Daysheet. Tickets are available on the Enmax Centre website.
Stay tuned in to PBRCanada.com and follow the tour on Facebook (PBR Canada), Twitter (@PBRCanada), and Instagram (@PBRCanada) for the latest results, news, stats and more.
Follow @TedStovin on Twitter