The Morning Line – Lethbridge – Day 1
By: Ted Stovin Friday, March 1, 2019 @ 9:11 AM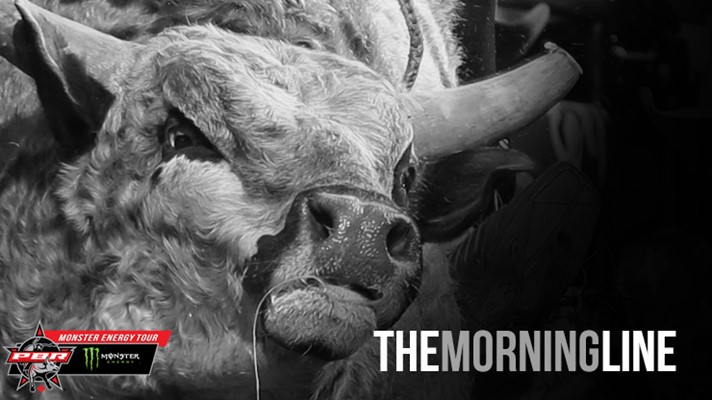 LETHBRIDGE, Alberta – I don't know about you, or where you are, but I'm sick of winter.
The good news though is whenever it's time for Lethbridge, hope is in the air. Spring is close, warmer temperatures are on the way and that means more bull riding is on the way too.
This year, for the first time, Lethbridge is part of the elite Monster Energy Tour. We're live on RidePass around the world and instead of awarding 60 world points to the winner, Saturday's event champion takes home a whopping 170 points, while the runner-up earns 90 points.
The format is as follows: All 30 riders will compete in Round 1 on Friday and Round 2 on Saturday; following the conclusion of Round 2, the Top 10 will advance to the championship round where they will attempt one more bull each in an effort to be crowned the event winner. Highest total score through those three rounds wins.
Additionally, on Friday, there's a $2,500 Challenge of Champions where our Round 1 winner will face 2018 PBR Canada Bull of the Year, hometown superstar Happy Camper from Two Bit Bucking Bulls.
I love this event and I'm pumped for it to get underway. I'm excited for the fans in Lethbridge to experience the Monster Energy Tour. Here's to another great event in the Bridge City!
RELATED: Click here for the full Friday daysheet
Tanner Byrne vs. 375 Late Night Host
Unfortunately, it's part of the business -- Tanner Byrne was cut from the PBR's elite Unleash The Beast. Different years and different points may have kept him there longer, but the short of it is that now he's looking to get back. Byrne went from here in Lethbridge directly to Phoenix, Arizona for his elite series debut in 2014 and has rarely looked back since. Why not use it as a jumping point to get back? A win here in Lethbridge would move him from No. 38 in the World Standings to No. 18.
I was excited to see a few Kesler Bulls in the draw here for the first time since I've been coming here. Late Night Host bucked off WNFR qualifier Cole Melancon in 2.98 seconds on the first day of the Calgary Stampede in 2018 for a 45-point bull score. He also threw down eight-time PBR World Finalist Stormy Wing five days later in 4.86 seconds for a 43-point bull score. Regardless, always bet on red.
Zane Lambert vs. 301 Big Deal
Zane Lambert comes into Lethbridge No. 96 in the world standings. A win here would vault him to the No. 40 spot a mere 20 points outside of the Top 35. Big Deal is a red horned bull from Cody Strandquist, ridden twice in three recorded outs. One of the scores was last year, right here in Leth-Vegas, by three-time PBR Canada Champion Aaron Roy. With a three-bull format, I like this solid draw for Zaner in the first round.
Shay Marks vs. 480 Rebel Soul
As the No. 1 man in Canada, I thought Shay Marks would have made his way back to the PBR's Unleash The Beast by now. The way the points have worked out though, today he's No. 42 in the world, 55 points back of No. 35. A win him would throw him all the way up to No. 21 and ensure his return to the elite level for the first time since his debut in Billings way back in 2014.
Rebel Soul from the Wild Hoggs has been consistently attaining bull scores between 41.5 and 44 points. He's only covered once so far in 10 outs on record, and that was by Gage Gay in Nampa, Idaho last year on the PBR's elite level for 85.25 points.
Jared Parsonage vs. 492 Dylan's Devil
So I flew back into Calgary on Tuesday night and before I even landed I somehow got a text from Jared Parsonage asking if I could pick up his gear bag at the airport. Parsonage was set to ride in San Antonio last week, but never made it. There was another event back home he also missed. His gear bag on the other hand, made quite the tour. After four tries and the help of Scott Byrne holding down my car at the curb while I ran around inside the airport, we got it back!
In a similar spot to Lambert, Parsonage is No. 91 in the world and could climb to No. 39 with a win, 17.5 points outside of the Top 35. Dylan's Devil has been ridden three times in nine outs on record. We first saw this bull in Moose Jaw, Saskatchewan last year where he bucked off Cody Floyd. Scores have been as high as 86.5 points and I'm expecting exactly that tonight.
Dayton Johnston vs. 414 Strong Arm
I'm a big fan of Dayton Johnston. This guy is a bright spot in the future of bull riding in Canada. I was excited for him last year when he quit his real job to pursue his dream. There was a time when he was skipping bull riding events because he had to work, now he's all in. He's in the gym working on himself and working on his skill. Johnston realizes that he needs to be an athlete at the highest level to compete in the PBR in 2019. I wish him nothing but success and I'm thrilled to be here in Lethbridge to see what he can do with his hometown fans behind him this weekend.
Everyone I've talked about today has a big chance to move up and get to the next level. Johnston is no different, thanks to winning the first event of the year in Yorkton, Saskatchewan back in November he sits No. 70 in the world. A win here would make him No. 31. Strong Arm from Nansen Vold has been ridden once in eight outs. He was the top marked bull at Ranchman's last year on July 4 with massive 45.5 point out. That only ride on record was by Todd Chotowetz for 84.5 points last summer in North Battleford.
RELATED: Opportunity Vast for Johnston at Hometown Event
The Bridge City Chrysler/LA Towing PBR Challenge, part of the PBR Canada Monster Energy Tour, takes place at the ENMAX Centre in Lethbridge, Alberta on March 1-2, starting at 7:00pm MST nightly. Fans can watch live on RidePass and follow along with live scoring on the PBR Canada Daysheet. Tickets are available on the Enmax Centre website.
Stay tuned in to PBRCanada.com and follow the tour on Facebook (PBR Canada), Twitter (@PBRCanada), and Instagram (@PBRCanada) for the latest results, news, stats and more.
Follow @TedStovin on Twitter