Scott Starts 2019 Strong with Runner-Up Finish in Lethbridge
By: Kacie Albert Wednesday, March 6, 2019 @ 9:19 PM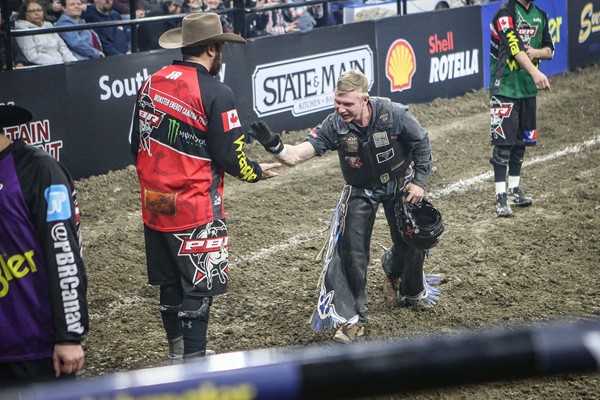 DULUTH, Georgia - As the old adage says, sport is 90% mental and 10% physical.
And while some athletes are quick to dismiss the premise, for 21-year-old Jackson Scott, he's a firm believer in the power of the mental game.
"I've been hitting the gym every single day, and not only have I been working on my physical body, but I've been working on my mind a lot," Scott detailed of his fitness regimen for the 2019 season. "They say bull riding is mostly mental so this is the first year I have ever focused on the mental side of the game and I think it's really going to help me when I come into these bull ridings feeling this good and mentally prepared for everything and anything."
"It's not just something you read and never think about again," Scott said further of the books and videos he's read on mental conditioning. "Every single day, every little thought that comes into your head, I've been programming my mind to have positive thoughts, stay motivational, and just believe in myself that I can do it this year."
And with three PBR Canada events already in the record books for 2019, it may just be Scott's year.
While the calendar still read 2018 at the time, Scott got early points towards the 2019 campaign at the season-launch Touring Pro Division event on Dec. 1 in Dawson Creek, British Columbia.
Courtesy of his 87.5-point ride on Cold Water, the high-marked ride of his career, in Round 1, the second-best score of the round, Scott finished fifth overall to collect 50 national points.
Despite being shutout in Winnipeg, Scott's season continued its upward trajectory last weekend in Lethbridge when he finished runner-up at the debut Monster Energy Tour event in the city.
"It definitely felt better," he said. "It's not where I want to finish in the second place slot, but its moving in a better direction. And to kick off the year, and start it off like this, I'm only going climb the ladder and get better."
Scott began his event inside the ENMAX Centre with an 83-point trip on Playing Chicken.
"I haven't personally seen him, but I talked to a few guys like Dayton Johnston that had been on him before and they said he is really good and kind of had the same trip every time," Scott recalled of his preparation. "So I kind of knew what I was in for and he felt good and we got him rode and that was good."
Next up for the Kamloops, British Columbia-native was Rhythm & Blues.
"I had seen Aaron Roy on him in Edmonton and a few other guys ride him, so I knew he was a good bull, right there around to the right, so I was super excited for that for sure. Once it started feeling good, I opened up my outside foot and go on with it."
Making the 8-second mark, Scott finished second in Round 2, scoring 86 points.
Scott's ability to cover his second bovine athlete opponent, however, can be attributed to the work he had put into his mental approach.
Prior to climbing aboard Rhythm & Blues, Scott earned a double-entry after Chase Thielen turned out and was bucked off in 3.04 seconds by Snap Shot.
"That unfortunately didn't go as planned," Scott said. "But as soon as it was over I knew I had another bull, so I just dropped that and focused on my next one, that Rhythm and Blues bull of Flying High."
In the championship round, Scott's mental fortitude was again put to the test. Despite initially drawing Tom Petty, Scott earned a re-ride after the bull fell around the 4.62-second mark next set to face Papa's Rockstar to contend for the event title.
"I didn't know that bull at all, but that didn't matter to me," Scott detailed. "I was pretty amped up at the time, just getting another opportunity to win an event, not many people get a second chance at that. Unfortunately it didn't go well, but that's bull riding sometimes."
When all was said and done, Scott finished second to earn 323 national points, propelling him to No. 4 in the nation where he now trails No. 1 Jared Parsonage, the very rider who edged him out for the title in Lethbridge, by 270.83 points.
With the majority of the season still to unfold, Scott already finds himself way ahead of 2018 when he finished No. 35 in the nation.
"This is actually the first year I've actually ever wrote down goals," Scott said. "Like I always set goals, but I never wrote them down on paper.
"My goals were just to be in the Top 10 in the PBR in Canada, and I actually rewrote it last night, I want to be in the Top 5 in the PBR in Canada. And then hopefully have a chance to make the CFR is another one of my goals.
"For this year I am just going to really focus on just staying in Canada. The last few years I've gone down south to the states and it wasn't working out for me. So I'm going to focus on Canada this year and put a full effort into it and then in the future I'll start going south of course.  
With early success at his back, and a clear goal set for the future, Scott couldn't help but recall the help of Ty Pozzobon which helped him reach his current standing in the sport.
"Ty definitely had a really big impact on my life," Scott said. "When I got back from college, my plan was just to amateur rodeo and get a job and just ride bulls when I could, and he sort of stopped that right away.
"I didn't have much money after being in college all year, so he actually came and picked me up in Strathmore, and I didn't even know I was entered in Ranchman's PBR, it was my very first professional bull riding event. He came and picked me up, and he said yeah I got you entered, and don't worry about money I've got your fees paid and everything, you're just going to come and travel with me this year. It was awesome.
"He picked me up, paid my fees, and my very first bull I got rode and I got some money in my pocket and got to travel with him the rest of the year.
"Just everything about Ty was awesome. How positive he was, how smiley he was. And when you're walking into a bull riding with your idol it just gives you that much more confidence."
Next on the schedule for PBR Canada is the Teepee Creek PBR Classic, presented by Lyons Production Services, part of the Touring Pro Division, on March 9.