PBR Unleash The Beast Preview – Tacoma
By: Kacie Albert Friday, March 29, 2019 @ 9:40 AM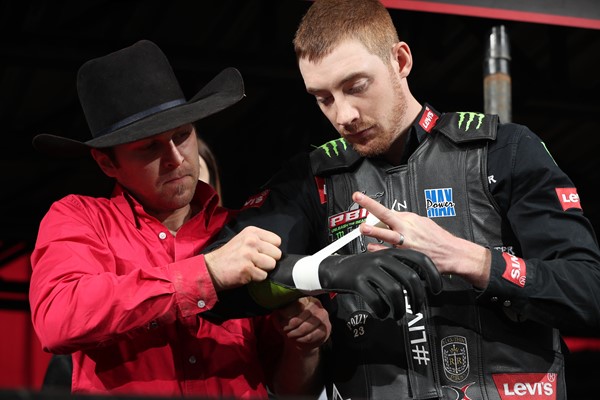 NEW YORK CITY – After competing as the lone Canadian at last weekend's PBR Unleash The Beast event in Kansas City, Dakota Buttar will be in good company this weekend for the Tacoma Invitational, presented by Cooper Tires.
Not only will countrymen Tanner Byrne and Jordan Hansen join the Kindersley native in the Evergreen state, but two Canadian stock contractors will also travel stateside bringing a combined seven bovine athletes.
Byrne and Hansen will return to the elite tour as two of eight alternates set to ride due to the number of injuries plaguing the Top 35.
RELATED: Tacoma Draw – Eight Alternates Called Up
Prince Albert's Byrne last competed on the elite tour on March 9-10 in Duluth, Georgia, where he finished 15th to earn 20 world points, before he fell victim to the cutline.
Missing just one Unleash The Beast stop last weekend in Kansas City, Byrne remained active riding on his home soil at the record-setting Canadian Monster Energy Tour event in Calgary. Despite finishing twelfth, Byrne failed to gain any ground in the world standings and heads to Tacoma ranked No. 41 in the world, 55 points outside of the Top 35.
Awaiting Byrne in Washington is a familiar match-up from last season's stop at the Tacoma Dome where he finished 11th earning 45 world points.
Last season's Byrne bid for a perfect 3-for-3 event came to a halt when Acting Crazy bucked him off in the championship round in 3.87 seconds. The duo will meet for the first time since that match-up in Round 1 of the Tacoma Invitational.  
One of the 50 bulls set to compete from the Chad Berger bull pen, Acting Crazy has been ridden 11 times in 57 attempts across all levels of competition according to ProBullStats.com.
His latest trip was seen last weekend in Kansas City when he dispatched Eduardo Aparecido in 1.38 seconds to earn a 42.5-point bull score. Prior, Acting Crazy had been ridden in consecutive outs, first by Emilio Resende for 85.75 points and then by Alisson de Souza for 87.25 points, both at the Iron Cowboy Major event in Los Angeles.
Much like Byrne, Hansen will also be making his return to the Unleash the Beast, however, he last rode at a premier series event in February 2018 when the tour travelled to Anaheim, California.
This weekend's event will mark the seventh Unleash The Beast event of the 25-year-old's career, and first in Tacoma. In his previous appearances on the tour, he has recorded two Top-10 efforts, with his career-best performance in Uniondale, New York in Sept. 2017 when he was fifth.
However, unlike Byrne, Hansen will travel to Tacoma with the momentum of a win at this back, victorious at the Monster Energy Tour event last weekend in Calgary.
RELATED: Home Province Win Propels Hansen Back to Elite Tour
The win earned Hansen 170 world points and propelled him from No. 93 to No. 48 in the world standings, just 80 points outside of the Top 35.
In Round 1 he'll attempt Big Black Cat ridden 12 times in 62 outs across all levels of competition. Thus far in 2019, through six elite tour outs, no rider has yet to reach the 8 aboard the bovine athlete. Big Black Cat last bucked in Little Rock when he dispatched Junio Quaresima in 5.97 seconds to earn a 41-point bull score.
With two of his countrymen present, Buttar will attempt Hagman in Round 1 as the second man out of the chutes.
Last weekend in Kansas City Buttar garnered 20 world points for his 11th place finish. He is currently No. 31 in the world, just 61.67 points inside the Top 35.
Joining their rider counterparts will be several bovine athletes from Canada, with Eno Bucking Bulls of Cochrane, Alberta and Wild Hoggs Bucking Bulls of Nanton, Alberta set to bring a combined seven bulls stateside.
From the Eno Bucking Bulls contingent, Thunder Road will be making his elite tour debut in Round 2, while Homegrown, who is slated for the championship round, has bucked twice on the premier tour.
Homegrown bucked twice at last season's stop in Nampa, ridden by Cody Jesus for 88 points, receiving a 43.25-point bull score, while bucking off fellow Canuck Brock Radford in 5.42 seconds to earn a 42.25-point score.
The Wild Hoggs will bring the majority of the Canadian bull contingent, with their five bulls slated for Round 1. Their pen is headlined by 2018 PBR World Finals qualifier Tykro Pound Sand, Double Major, who has yet to be ridden on the Unleash The Beast in two outs, and unridden Colt .45 who notably bucked off J.B. Mauney during the 2018 Calgary Stampede in 4 seconds to earn a 44.5-point bull score.
The remainder of the pen, Morning Wish and Stuntman Hank, will be making their elite tour debuts.
Their Round 1 matchups are:
              Joao Ricardo Vieira vs. Tykro Pound Sand
              Claudio Montanha Jr. vs. Double Major
              Taylor Toves vs. Colt .45
              Kaique Pacheco vs. Morning Wish
              Marcus Mast vs. Stuntman Hank
Elsewhere in the PBR, three Canadians will be riding at the Pendleton Whisky Velocity Tour Casper Classic in Casper, Wyoming.
Dayton Johnston will attempt Slamma Jamma in Round 1, while Shay Marks will face Chicken George and Logan Biever will square off against Bumble Bee.
This weekend's Tacoma Invitational, presented by Cooper Tires, gets underway with Round 1 on Saturday, March 30 at 6:45 p.m. PDT and concludes on Sunday, March 31 at 1:45 p.m. PDT.
CBS Sports Network will broadcast all the action from Championship Sunday on Sunday, March 31 at 8:00 p.m. EDT.
Fans will be able to watch the action in its entirety live via PBR's new streaming digital platform RidePass. Round 1 will be exclusively seen on the platform, with coverage beginning at 9:30pm EDT on Saturday, March 30. The listen LIVE stream of the final rounds will begin on Sunday, March 31 at 4:45 p.m. EDT.
The Casper Classic begins on Saturday, March 30 at 7:00 p.m. MDT. Fans will be able to watch all the action LIVE on RidePass starting at 7:00 p.m. MDT.
Stay tuned in to PBRCanada.com and follow the tour on Facebook (PBR Canada), Twitter (@PBRCanada), and Instagram (@PBRCanada) for the latest results, news, stats and more.