Home Province Win Propels Hansen Back to Elite Tour
By: Kacie Albert Wednesday, March 27, 2019 @ 10:36 AM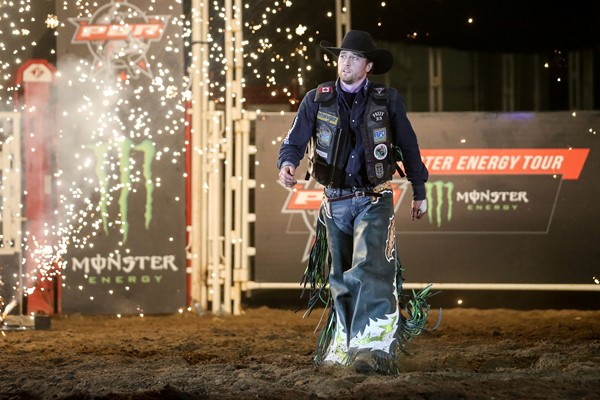 NEW YORK CITY – For Okotoks native Jordan Hansen, a tour stop in Calgary is about as close to a hometown event the 25-year-old can get.
So for the 2019 Canadian Monster Energy Tour's Calgary Classic to not only mark his return to competition after sustaining an injury at the PBR Global Cup USA, but also be the site of Hansen's first win on the nation's premier tour is pretty special.
RELATED: Jordan Hansen Wins PBR Canada's Calgary Classic
"I don't think I could have picked a better place to come back and win at, that's for sure," Hansen said. "I was off for a few weeks, or a month, with a bummed up knee. I was lucky enough to draw three good bulls, happened to stay on all three, and it worked pretty good for the first one back."
Heading into the stop, Hansen hadn't climbed aboard a bull since Feb. 10 during the second bonus round of the PBR Global Cup USA. At the event, where he attempted six bulls across the two days, he injured his knee.
"A lot better than it did a month ago," Hansen explained of his current health. "My knee feels good again, pretty happy about that.
"Getting on three bulls in a couple days it's a little bit sore, but that's par for the course, its bull riding, that's probably how it's going to be. I can't complain too much."
Hansen's march to the victory began with his 83-point ride aboard Sick Rhymes in Round 1, leaving him sixth following the first night of competition.
He quickly climbed to the top of the leaderboard when he won Round 2 with an 85-point ride on Fantastic Pet.
As one of six riders to be a perfect 2-for-2 heading into the championship round, by the time Hansen was due to attempt his final bull, it was a two man race.
With Jake Gardner, Cole Young, Marcos Gloria, Zane Lambert and Josh Frost all failing to reach the 8-second whistle, it was Hansen against top PBR Canada Rookie of the Year contender Riley Gagnon who had ridden 2018 PBR Canada Bull of the Year Happy Camper for 89 points at the start of the round.
However, all Hansen needed to do was cover his draw. Gagnon had just a 4.5-point lead in the aggregate after he was unable to ride Dirty Work in Round 1, bucked off in 7.85 seconds.
"Honestly, it doesn't faze me, it gets me more excited than anything," Hansen said of the pressure moment. "When you're the last guy out, you know you're kind of expected to win and you have a pretty good chance if you stay on your bull. "
With the sold-out crowd inside the Nutrien Western Event Centre brought to its feet, Hansen rose to the occasion covering Twist of Barbwire for 87 points to win his first event on the Monster Energy Tour.
"I literally knew nothing about them bulls whatsoever," Hansen said. "Kinda even when I was getting on them I never seen a video, I was kind of going from what people were telling me; everyone was kind of in the same boat with the ABBI deal.
But I think they were actually two pretty similar bulls, one just happened to spin right and one just spun left. Then in the short round I did see that bull a couple of times before. Everyone was telling me he was going to go left, and luckily I didn't listen because he ended up going right.
"But yeah, three pretty good bulls, and luckily I stayed on all of them."
With the event being so close to home, numerous friends and family were on hand to see Hansen excel.
"I ended up actually seeing quite a few people there," he recalled.
"There was people my mom used to work with, I think my uncle showed up, geez there was just a lot of old school friends there, I think I had one of my old teachers was there, there was a little bit of everybody. "
For the win, Hansen collected a check for $6,114.90, along with 575 Canadian and 170 world points.
The 25-year-old left Calgary as the No. 1 ranked rider in the nation after beginning the stop No. 5. He leads No. 2 Jared Parsonage, who tied for 10th at the event, by 119.17 points.
In the world standings, he rose from No. 93 to No. 48, just 80 points outside of the Top 35.
However, with the slew of injuries currently plaguing the Unleash The Beast riders, Hansen, who was the fourth alternate for this weekend's Tacoma Invitational, presented by Cooper Tires, is set to make his return to the sport's top tour for this first time since Feb. 2018 when he competed in Anaheim, California.
RELATED: Injury Updates – Nance Hopes to be Back for Albuquerque; Wing and Willingham in Good Spirits
"I'm pretty excited," Hansen stated. "I figured if a guy keeps staying on at these Monster events, it's only a matter of time. So I'm looking forward to it. I've only ever been to six of them, so Tacoma will be another one on my list."
Looking further down the road, Hansen is largely uncertain of where the next few months will take him, but knows where he wants to be come November.
"Well I didn't certainly have the winter I wanted, I know that, so I'm really unsure of what my goals are," he explained.  "I'll keep going wherever I can, just riding bulls, I don't really care what association it is. Just keep doing it. I would certainly like to make the NFR again, but I would certainly like to make the World Finals too so you know I'm just going to have to play it by ear, I guess, and wherever they let me go, just go there I guess."
This weekend's Tacoma Invitational, presented by Cooper Tires, gets underway with Round 1 on Saturday, March 30 at 6:45 p.m. PDT and concludes on Sunday, March 31 at 1:45 p.m. PDT.
CBS Sports Network will broadcast all the action from Championship Sunday on Sunday, March 31 at 8:00 p.m. EDT.
Fans will be able to watch the action in its entirety live via PBR's new streaming digital platform RidePass. Round 1 will be exclusively seen on the platform, with coverage beginning at 9:30pm EDT on Saturday, March 30. The listen LIVE stream of the final rounds will begin on Sunday, March 31 at 4:45 p.m. EDT.