Gear Bag Reunion Propels Parsonage to No. 1 Ranking in Canadian Standings
By: Ted Stovin Thursday, March 7, 2019 @ 11:01 PM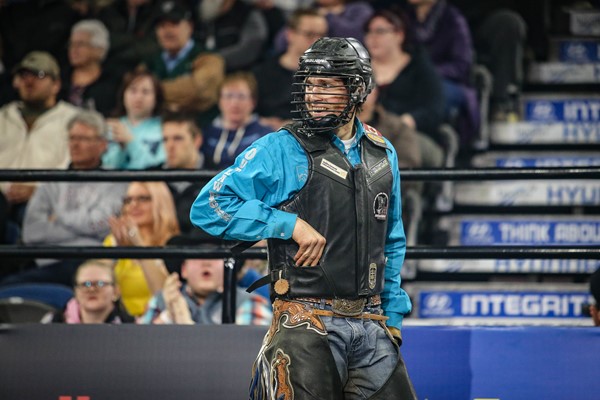 CALGARY, Alberta – Showing up to an event without a gear bag for a bull rider is akin to a tradesman showing up to work without tools, a writer with no pen or paper, and an artist with no paint or brush. It's an important piece of the puzzle.
However, on Friday night in Lethbridge, Jared Parsonage was that guy.
"That was something," Parsonage said of his gear bag that made a journey across America without him as he was stranded in Denver. "Every time I called United I never got a good answer out of them and they always told me it was sent to home here on Purolator."
And while Parsonage currently calls Medicine Hat, Alberta home between events, it was not where his bag was, nor had ever been in its international journey.
"Turns out it wasn't," Parsonage said. "You flew back in there to Calgary and you and Scott Byrne went in there and found 'er. I don't know, the way I read the bag tags I was pretty sure it was never coming to me. The way it looked, it was a lost bag.
"Everybody said they had sent it so I don't know. I wouldn't say, where you found it, was anywhere they were going to send it from.
"It was pretty frustrating to say the least and I was pretty glad to see it on Friday there."
Reunited with his gear, Parsonage earned his second victory on the elite Canadian Monster Energy Tour after a win in Abbotsford in October 2018.
"It worked out good," Parsonage said. "The winter has kind of been a little frustrating for me. I've been having a little success and picking away at 'em, but I guess a guy gets used to winning a little bit more. I just haven't been capitalizing on bulls I probably should have capitalized on here and there. Just not really stringing them together accordingly. It was kind of a big relief there in Lethbridge to finally string together three rides.
"They might not have been the best three rides, but they were still three rides none the less."
In Round 1, Parsonage rode Dylan's Devil for 81 points, while in Round 2 it was an 83.5 points on Dirty Work.
"Honestly both the 81 and the 83.5, the one was out of the left and around to the right and the other was right there to the right," Parsonage said. "The second day was a fair bit better bull. I felt like both of them felt really easy. I just sat up there square, it sure felt good.
"Sometimes it feels easy, sometimes it doesn't feel easy. Sometimes you feel like you're doing it right and it felt like I was doing it right there."
"I guess it's a good sign if it looks easy," he said with a laugh. "I wasn't really taking advantage of the opportunities that were given here in the last little while so it's nice to take advantage of it."
So far in 2019, the 6-foot-1 bull rider is 5-for-6 (83.33%) in PBR Canada competition to lead the charge for the Canadian title. Riding a high percentage of his bulls is key, finishing 2018 No. 4 in the nation converting on 53.66% of his mounts.
In 2017, he rode 68%, but only competed at 15 events to finish No. 8 in the nation. Zane Lambert, the PBR Canada Champion that season, went to 30 events, riding 46% of his bulls.
"For me, that's the name of the game," Parsonage said. "I honestly hadn't been doing that as good as I usually do so it was nice to actually take advantage of them and put them together in a row."
In order to ride a lot of bulls, sometimes a guy has to get past a bull that's harder to ride than the others. In the case of Big John from Two Bit Bucking Bulls, hard to ride is definitely the case.
"To put it simply, I wasn't too excited about drawing that one in the short round," Parsonage said. "He folded me up like a cheap tent at the PBR Canada Finals last fall trying to ride the outside shoulder, I was trying to keep him spinning there. I maybe should have just stuck with riding him. I think he made my knees touch my ears he bucked me off so hard there.
"Nobody hardly ever rides him," Parsonage said further of Big John. "They've maybe rode him once before. He's kinda hard to get by. It was a big sign of relief and excitement, I was pretty happy just to finally put it together and stay on him. It wasn't easy. It sure may not have been a big score, but it dang sure wasn't easy."
With three scores to his name after the 75-point ride on Big John, Parsonage was the first man to become perfect on the weekend with three bull riders left to go.
"I was in the lead, but I got a re-ride option," Parsonage said. "I'm usually pretty keen on taking re-rides, but I guess I looked at the re-ride before the short round just because and it was Papa's Rockstar of Nansen Vold's. He's a really good bull, but he's only ever been out of a left-hand delivery and he's not always the best in the chute. They've been having trouble with him out of a left and they had him out of a right-hand delivery there.
"My gut feeling told me it wasn't the place to maiden voyage him out of a right and test it out in a big bull riding like that. I thought I would just stick with it and roll the dice. It's kinda one of them things, you don't look very good if it you get beat, but everyone thinks it's a good business decision if you win first.
"The next time it happens, it might be completely different. I just didn't want to risk it on that, I just thought I would stay with the sure shot. There's a lot of variables with the first time out of a right. I just kinda thought that was maybe the best decision at the time."
For the win, Parsonage earned nearly $10,000.
"That's a big hit no matter where you go," he said. "Close to home and everything like that too it all helps out. That's a good payday, it helps when you're the only guy to ride in the short round too."
Now ranked No. 44 in the world standings, he is only 63.3 points behind No. 35 Stetson Lawrence, and for Parsonage, a second shot at the elite PBR Unleash The Beast is on the radar.
"I'm gonna go to Teepee Creek Saturday and there's lots of double entry spots so I'll probably double enter it," Parsonage said. "And then to be honest with ya, even if I do get an alternate spot on a whim later on, coming into Calgary I think I'll go to Calgary anyway. Because it's a Monster and the points are so good and its good points towards the PBR Canada [Championship]."
New this season, and further intensifying the title race, the 2019 PBR Canada Champion will receive a bonus of $50,000.
"When you get an alternate spot you're booking plane tickets late and last minute so it's a little more expensive going down there as compared to when you're already entered," Parsonage said. "If I'm just an alternate spot down south I'm just going to go to Calgary anyways. That's my plan."
PBR Canada's Monster Energy Tour resumes with the Calgary Classic on March 22-23 at the Nutrien Western Event Centre at Stampede Park. Tickets are available at Ticketmaster.ca
Follow Ted Stovin on Twitter @TedStovin.