Chotowetz Soars to New Career Highs in Teepee Creek
By: Ted Stovin Thursday, March 14, 2019 @ 10:55 AM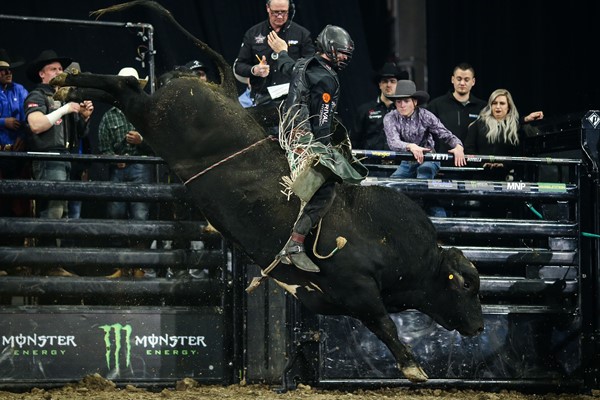 CALGARY, Alberta – So far, 2019 is shaping up to be a game changer for Todd Chotowetz.
When the Saskatchewan bull rider began his career in 2012, he finished No. 81 in the PBR Canada Standings. Fast forward four years, and since 2016, when he finished No. 42 in the nation, he has been steadily on the rise, finishing No. 38 in 2017 and No. 21 last season.
After the win in Teepee Creek last weekend, he ranks No. 6.
RELATED: Chotowetz Claims Second Career Victory in Teepee Creek
"There's a lot of year left, so I plan on climbing five more spots," Chotowetz said of his plan to chase a Canadian title. "It's a good spot to be in right now so just keep picking at 'em."
At the Touring Pro Division's Teepee Creek PBR Classic, presented by Lyons Production Services, the Saskatchewan bull rider was one of three riders to go a perfect 2-for-2.
His march to the title began in Round 1 when he faced Dan the Man of Outlaw Buckers.  
"I had a good bull drawn in the long round," Chotowetz said. "He's a good bull, I've been on him once before, but he bucked me off pretty quick. I got him rode and he had a good day. I ended up winning the long round on him so that was good."
Marked a Round 1-best 86 points for his 8-second effort, the score propelled him to the top of the leaderboard early.
"Then I got a good one in the short round, just a solid bull, like nothin' too special," Chotowetz said of Far Out from Big Stone Rodeo. "Just a bull that everyone kinda wants. Coming in high man in the short round when you see your name next to him you don't want to screw that one up. It worked out good."
With expectations high, the 25-year-old seized his moment, covering the bovine athlete for a career-high 88 points.
For the win, Chotowetz netted $7,302.05, $3,500 of which was a bonus furnished by presenting sponsor Lyons Production Services, in addition to 320 Canadian and 60 world points.
But Chotowetz also earned another prize, an Alpha Bull Fender guitar.
"They're cool and they are defiantly unique," Chotowetz said of the Chad Besplug-produced events. "With all the lights and riding in the dark and whatnot, and he always gives away something cool at the end whether it's a skull or a guitar or champagne and stuff like that. It's awesome. Any win is special, but that one was pretty cool."
Chotowetz has been competing at the highest level since he turned 18 and has always been a man on the cusp. Getting to the next level has taken some work.
"I've just been practicing, training and staying healthy and keeping my body in good shape; feeling good going into every weekend sure makes a difference," Chotowetz detailed. "Whether it's getting on practice bulls or riding my Buck-Rite, or exercising and staying flexible, all those kinda things."
During the week, Chotowetz works with his family in the farming and ranching business.
"Right now we're getting ready for calving so it's about to get real busy here. We've just been hauling grain and feeding cows and getting everything ready to go," he said. "We'll start getting everything ready here for seeding in the middle of April I suppose when we're calving then she's off to the races getting the seed in the ground."
From the farm and ranch operations in Major, it makes going down the road with friends Wacey Finkbeiner, Jordan Hansen and Jared Parsonage a little tougher.
"It's not as bad as some guys for sure, but for me, I have to drive three hours before I can meet up with my traveling partners," Chotowetz said. "But we're all kinda driving so it's just something you get used to, it's not so bad."
With Parsonage and Hansen having already spent time on the elite PBR Unleash the Beast, another win could mean a shot at competing on the premier series.  
"That's something a guy looks forward to," Chotowetz said. "But just gotta take care of business and if that's in the cards you know, if a guy gets a win and you get an invite there then you're gonna dang sure take it but just keep riding the bulls."
The PBR Monster Energy Tour resumes in Calgary, Alberta on March 22-23 for stop No. 3 of the 2019 season in the Nutiren Western Event Centre at Stampede Park. Tickets are available at Ticketmaster.ca
Follow Ted Stovin on Twitter @TedStovin