Biever Heads Stateside with Hopes of Qualifying for Career-First PBR World Finals
By: Kacie Albert Friday, March 15, 2019 @ 10:41 PM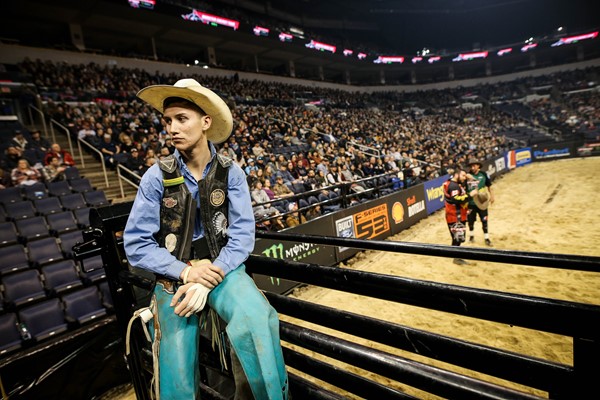 DOVER, New Jersey – For any rider competing in the PBR, the goal is to qualify for the sport's most prestigious event, the PBR World Finals.
Competing at the five-day, six-round event is a milestone achievement for all riders, and this year, Logan Biever hopes to ride at the November event inside T-Mobile Arena in Las Vegas.
"It's a very, very big goal, but that's what everyone whose going wants to get to," Biever explained. "Ride as many bulls as I can, and keep the riding percentage as high as I possibly can for sure."
Currently ranked No. 116 in the world, the Claresholm, Alberta-native will travel stateside to Dayton, Ohio this weekend to compete on the Pendleton Whisky Velocity Tour where one rider could earn up to 220 world points.
For Biever, that would mean rocketing to No. 41 in the world, just 45 points outside of the Top 35 and a berth onto the elite PBR Unleash The Beast.
"I fly our Saturday, and get to Dayton at like four o'clock," Biever said. "It's really handy that it worked out that way.
"If I go to Dayton this weekend, and next weekend is Calgary, and then the weekend after that is Casper, Wyoming so hopefully the plan is to just keep, if not win one, then pick away at them and get some points and hopefully climb up in the standings."
While two Canadians will be competing stateside this weekend, with Shay Marks set to ride at the two-day Velocity Tour event in Wheeling, West Virginia, Biever will be the lone Canuck in the Buckeye State.
"Come April there's not a whole lot for PBRs," Biever explained. "I think there might be one, but other than that there's just Pro Rodeos, so I didn't really want to fall too far behind the standings if that's possible. I hopefully want to stay amongst everybody and be able to be just a couple points behind a shot at hopefully getting on tour or anything like that."
In Round 1, Biever will attempt Blue Hurricane of Creekbend Bucking Bulls.
The U.S. event will mark the second of the season for Biever, first riding at the Touring Pro Division's 4 Bears Casino & Lodge Championship Bull Riding in New Town, North Dakota.
Biever failed to earn points at the event, finishing 15th, however did earn a qualified ride in Round 1, marked 84 points aboard Deadwood.
With Biever's focus this weekend squarely on collecting world points, the 21-year-old remains committed to achieving his Canadian centric goals.
"Definitely win Canada or be in the Top 3 for sure," Biever said of where he would like to be at season's end in the Canadian national standings.
In the present standings, Biever is No. 9 in Canada, 573.33 points behind No. 1 Jared Parsonage.
Biever has ridden at all four Canadian events of 2019, recording Top 10 finishes at the season-launch Monster Energy Tour event in Winnipeg, where he was fourth, and the most recent Touring Pro Division event in Teepee Creek, where he concluded the stop sixth.
"So far, so good," he said of his season so far in Canada. "Been getting a few bulls rode at every event it seems, we'll see if we can keep that going."
Action for the Dayton Rumble gets underway in Dayton, Ohio inside the Nutter Center on Saturday, March 16 at 7:00 p.m. ET. Fans can watch the action LIVE on RidePass.com or via the mobile app starting at 7:00 p.m. ET.
Fans can also tune into RidePass to watch Marks competing at the Velocity Tour's Neighborhood Ford Store Challenge in Wheeling, West Virginia at WesBanco Arena. The two-day event begins at 8:00 p.m. ET on Friday, March 15 and 7:00 p.m. ET on Saturday, March 16
In Round 1, Marks will attempt Simpla Man.
The LIVE RidePass stream will begin at 8:00 p.m. ET on Friday, and 7:00 p.m. ET on Saturday.
The PBR Monster Energy Tour resumes in Calgary, Alberta on March 22-23 for stop No. 3 of the 2019 season in the Nutiren Western Event Centre at Stampede Park. Tickets are available at Ticketmaster.ca.