Travelling Partners Hansen and Parsonage Locked in a Friendly Battle for Canada's No. 1 Ranking
By: Ted Stovin Thursday, June 6, 2019 @ 3:01 PM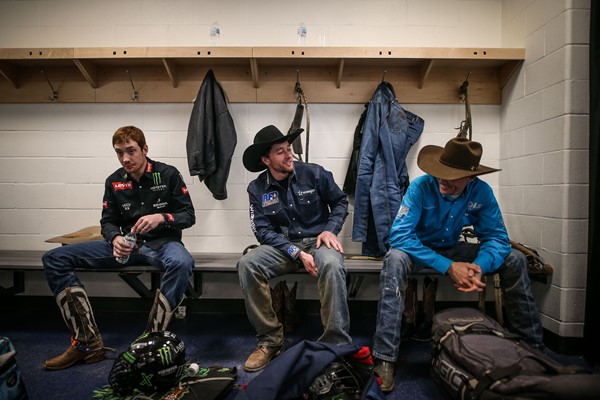 CALGARY, Alberta – After a career-season in 2017, Jordan Hansen battled numerous sidelining injuries in 2018, competing at just 10 PBR events, leading him to finish outside the Top 100 in the world standings.
The 2019 season, however, is already off to a better start.
With the intense summer run fast approaching, the Ponoka, Alberta man has already won three events, including the first of his career on the Monster Energy Tour in Calgary, in addition to a pair of Touring Pro Division event titles at season's start in Dawson Creek, British Columbia, and at the series' most recent stop in Prince Albert, Saskatchewan for the prestigious Clunie-Cooper Memorial PBR.
RELATED: Jordan Hansen and Jake Lockwood Tie for Win at Clunie-Cooper Memorial PBR
"It's definitely one you want to go to every year, so I was pretty excited to get the win," Hansen said of the Clunie-Cooper Memorial. "It is a pretty cool event. It's a cool family, you know the whole memorial and everything, and it's for a lot of good people."
In Round 1 on Friday night, Hansen's event began with an 84.5-point ride aboard Preacher Man.
"Just a really nice bull, actually, I think they ride him quite a bit, so I was a little bit nervous because everyone does stay on him, and I did," Hansen said of the bovine athlete from the X6 Ranch.
Fifth after the opening round, the 25-year-old then recorded the top marks in the championship round, marked 86.5 points on Broken Trigger.
"They said he really bucked the first day," Hansen explained. "I didn't see it, and actually I don't really know that bull all that well, but luckily he was just right there to the right and rode pretty good too."
Concluding the two-day event atop the podium, tying for the event win with Jake Lockwood, Hansen collected a crucial 260 Canadian points.
While he entered the stop No. 2 in the nation, 45 points behind then No. 1 Jared Parsonage, his winnings allowed him to surpass his travelling companion in the standings, overtaking the top ranking by 190 points.
His time atop the standings, however, was short lived.
After competing in Prince Albert on Friday, Hansen, alongside travelling partner Parsonage, who tied for sixth in Prince Albert, hopped a flight out of Saskatoon, to compete in Halifax, Nova Scotia and for the seventh PBR's Monster Energy Tour event of the year.
 "Basically running on two-and-a-half hours of sleep, just to get on two more planes here today," Hansen said on Saturday night in Halifax post-event. "I actually had to fly back to Edmonton just before we could even come out here. So I think we had five and a half hours of flying here today. And I get to do it all again tomorrow."
In Halifax, Parsonage went 3-for-3 to win the event and take back over the No. 1 spot in the country.
RELATED: Jared Parsonage Reclaims No. 1 Ranking in Canada with Halifax Monster Energy Tour Win
"Jared rode awesome," Hansen said. "He definitely did his job, rode all three bulls, so shoot, I'm pretty happy for him. I just wish in the states he'd enter a lot more with me so I didn't have to go by myself.
"That's my only complaint about my travelling partner."
RELATED: A Student of the Game – For Halifax Event Winner Parsonage it's All About the Stats
Prior to their most recent battle atop the standings, Parsonage and Hansen swapped for the No. 1 and No. 2 ranking in late March.
After Parsonage won the second Monster Energy Tour event of his career in Lethbridge, Alberta, propelling him atop the Canadian national standings, Hansen overtook him a few short weeks later when he capture his career-first win on the tour in Calgary.
RELATED: Home Province Win Propels Hansen Back to Elite Tour
Paralleling Hansen's success on the dirt, are some monumental moments back home, namely his recent engagement to Sara West. Sara's brother's include bull riders Billy, Lonnie, Bryce and their father, 1989 Calgary Stampede Champion Kevin.
"After five and a half years I finally figured it was time," Hansen said. "I've been getting a lot of grief from people saying 'finally,' and 'it's been about time,' but that's the biggest grown-up decision I've made in a while. So I know we're pretty excited about it.
"Definitely a bull riding family, you know, I'm real fortunate to be marrying into that family, that's for sure. They're just as supportive, if not more, than my family. I look at them as my own brothers, and Kevin is like another dad to me, so it's pretty cool."