The Morning Line – Halifax
By: Ted Stovin Saturday, June 1, 2019 @ 1:10 PM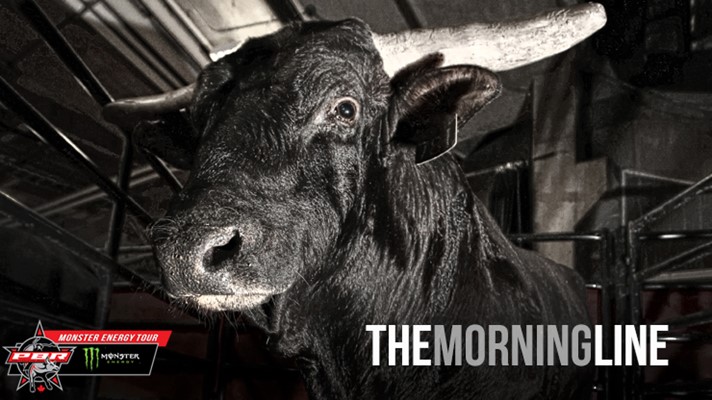 HALIFAX, Nova Scotia – Summer is here and with it comes our busiest time of the year.
It's still morning somewhere...
We kind of went from a sleepy, chilly spring so far to being full on in about a night. Some of our crew is still flying, arriving at 3:45 p.m. after traveling an hour and a half to fly out of Saskatoon, down from the Clunie-Cooper Memorial PBR in Prince Albert, Saskatchewan.
RELATED: Jordan Hansen and Jake Lockwood Tie for Win at Clunie-Cooper Memorial PBR
With rodeos on in GP, Leduc and Hand Hills, Alberta guys are coming in from everywhere. A few will also be heading back to Leduc and Hand Hills on Sunday. Bull riding is the feature event in rodeo so it's always fun when the rodeos start back up. What's even more beneficial now is how much a guy can win by staying in Canada to compete. The Monster Energy Tour has absolutely raised the level of our sport in Canada in the past four seasons.
Not only that, but London event winner and No. 3 man in Canada, Daylon Swearingen, is pulling double duty this weekend between the PBR's elite Unleash The Beast in Green Bay, Wisconsin and the Halifax Toughest Cowboy, presented by GO! Store here in Nova Scotia.
We're 0-for-20 in the Championship Rounds at the past two events but with as many bulls as our guys have been on lately that's going to change tonight.
RELATED: Game Notes - Halifax
With 12 bull riders in the draw we're going to have two rounds of 12, and 10 in the championship round. Best man on three wins. A total of 700 Canadian points are on the line, with 170 world points going to the winner.
To our friends out West, we go live on RidePass.com starting at 4 p.m. MT / 7 p.m. AT.
Let me know your thoughts and your picks for Halifax by tagging @PBRCanada and @TedStovin on Twitter on in the comment section on Facebook or Instagram. 
RELATED: Click here for the full Saturday daysheet.
ROUND 1
Zac Bourgeois vs. 487 Scallywag
Zac may not have a qualified ride on the books yet to show for his efforts on the Monster Energy Tour in 2019, but he's getting closer every week. In London he took PBR World Finals bull Tykro Pound Sand nearly to the whistle. He could have easily been 90 there. Scallywag from Mark Reed has been ridden a couple times this year already for scores of 86 and an 83.5. Zac has another bull he took to 7.34 seconds in Round 2. This could be his breakout event.
Jared Parsonage vs. 104 Night Shift
Parsonage gave up the No. 1 spot in Canada last night in Prince Albert when Jordan Hansen took the victory. He's back by 190 points, but with how many are on the line tonight that could all easily change again. Night shift is a little black bull that bucked off Riley Gagnon to score 43 points in Québec and is 2-and-0 since. Being a little bull, Jared might not make this one look as easy as he does on the bigger bulls.
ROUND 2
Jordan Hansen vs. 34 Applause
Coming off the win last night, Jordan could parlay a two-win weekend drawing bulls like this. Applause from Nansen Vold has been ridden twice in three outs so far out this way in the past month. The most unlikely buckoff was against world No. 2 Chase Outlaw last week in Moncton. It can happen to anyone, but the way Jordan is riding this is about as close as I would get to a sure thing in bull riding.
Daylon Swearingen vs. 4070 Hammer Down
This Mark Reed bull has been a stand-out so far in the first three shows. On the other hand, so has Daylon. This could be a huge score. Hammer Down was marked 43.5 points in Québec bucking off Outlaw there, and got the best of Dayton Johnston in London and Coy Robbins in Moncton. Could Swearingen be the first to tame Hammer Down on this trip? I think so.
Shay Marks vs. -522 Diesel
These next two picks are both rematches from Québec. Marks rode Diesel for an 83.5, this and more are things you can find in Game Notes each week with Kacie Albert. She knows more about PBR Canada than most Canadians. Anyway, Diesel and Shay Marks are a great match. Last time this bull went right, into Shay's hand and he made it look easy. I bet we see a similar show tonight!
Zane Lambert vs. 37 Kool Aid
I love it when these two find their names beside each other, we know we're going to see something bad ass either way it goes. I really like Kool Aid, he's a cool looking bull and he bucks solid every time. A money-bull. He's not easy, but when you ride him you're going to win some. Zane won the rubber match in Québec, in fact both times he's ridden the bull for 85.5 points. I'm thinking something similar will be the case tonight. Lambert is close enough a win could move him to No. 1 in the country.
The Monster Energy Tour will make its fourth and final stop in the Eastern provinces on Saturday, June 1 with the Halifax Toughest Cowboy in Halifax, Nova Scotia at the Scotiabank Centre at 7:00 p.m. ADT. Tickets are still available and can be purchased at Ticket Atlantic.
Fans can also watch the action LIVE at RidePass.com or via the mobile app.
Stay tuned in to PBRCanada.com and follow the tour on Facebook (PBR Canada), Twitter (@PBRCanada), and Instagram (@PBRCanada) for the latest results, news, stats and more.
Follow @TedStovin on Twitter